Nafessa Williams Interview About Black Lightning Season 1
Nafessa Williams Explains Why Black Lightning Is "Necessary For Little Black Girls"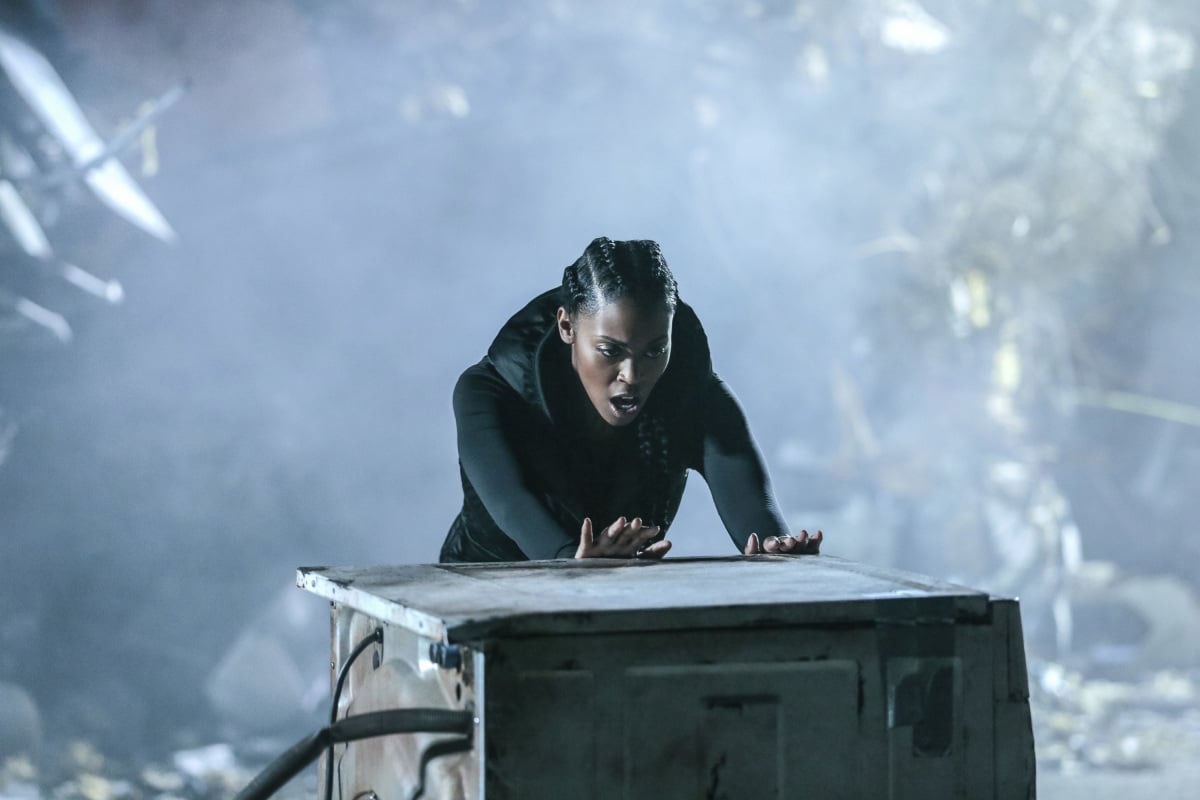 If you haven't caught up with Black Lightning yet, it's not too late. The CW series created by Salim and Mara Brock Akil follows the life of Jefferson Pierce (Cress Williams), a retired superhero who becomes principal of an inner-city charter high school. When a local gang begins stirring up trouble in his town, Jefferson is forced to put his suit back on, and attempts to balance his vigilante lifestyle while also protecting his two daughters, Anissa (Nafessa Williams) and Jennifer (China Anne McClain). As if having a black superhero at the center of his own show wasn't exciting enough, Black Lightning is also making history by featuring Anissa as Thunder. The character, whose own powers include density manipulation, invulnerability, and energy projection, is the first live-action black lesbian superhero to appear on TV.
As soon as we meet Anissa, who's just been arrested for passionately protesting the aforementioned gang, it's clear she's an advocate for social justice just like her dad. Not only that, but she's studying for medical school, serves as a teacher at her father's school part-time, and has a girlfriend. With her fully-realized character already receiving praise for being a revolutionary figure for black LGBTQ+ members, POPSUGAR recently caught up with Nafessa Williams to discuss her groundbreaking role, and why she feels the show is "pushing the culture forward" and "necessary for little black girls." Needless to say, she's about to become your new girl-power hero.
POPSUGAR: First off, congrats on the debut episode. It was the network's top premiere in two years.
Nafessa Williams: Thank you so much. It's an exciting time!
PS: Take me back to when you first found out you got the part for Anissa Pierce, also known as Thunder.
NW: I had literally just got home from the audition. I was like 'OK, I'm gonna forget about it. Let it go. If it's mine, they will call me.' And they called me 15 minutes after I left. My first question was, 'Is China Anne McClain playing my little sister?' We had such great chemistry in the audition. It wasn't forced. It was this magical thing that was happening between us. I knew it would be easy to play her sister, so I was all for it. I love the Akils, so I was really excited that this was my opportunity to work with them.
PS: What made you want to play this particular character?
NW: I did not know much about Black Lightning beforehand, but I always wanted to play a superhero. After getting the part, I went back and read the comic books. It was really cool to learn about him and to learn that he had two daughters that were on the journey with him. It was so exciting.
PS: There's been a lot of talk about how Black Lightning stands out from the other DC shows on the CW. Why do you think that is?
NW: Our show is real. It's very authentic. Most superhero shows are set in an alternative universe. Black Lightning is literally in the hood. He's going inside of the ghetto and trying to make a difference. We don't normally see that. I think it's cool that we're dealing with social issues and we're dealing with what's happening in our country today.
"When have we ever seen two little black girls as superheroes? And with their fathers?"
In most superhero shows, the superhero is pretty young. He's in his 20s, he's single. Black Lightning is a man who's middle-aged, going through a divorce, and has two daughters. A lot comes into play when you have a family. Things are affected quite differently. He doesn't respond or recoup as quickly as a younger superhero would — mentally or psychically. Also, when have we ever seen two little black girls as superheroes? And with their fathers? That image alone, to me . . . I was sold. I was like, 'I have to be a part of it!'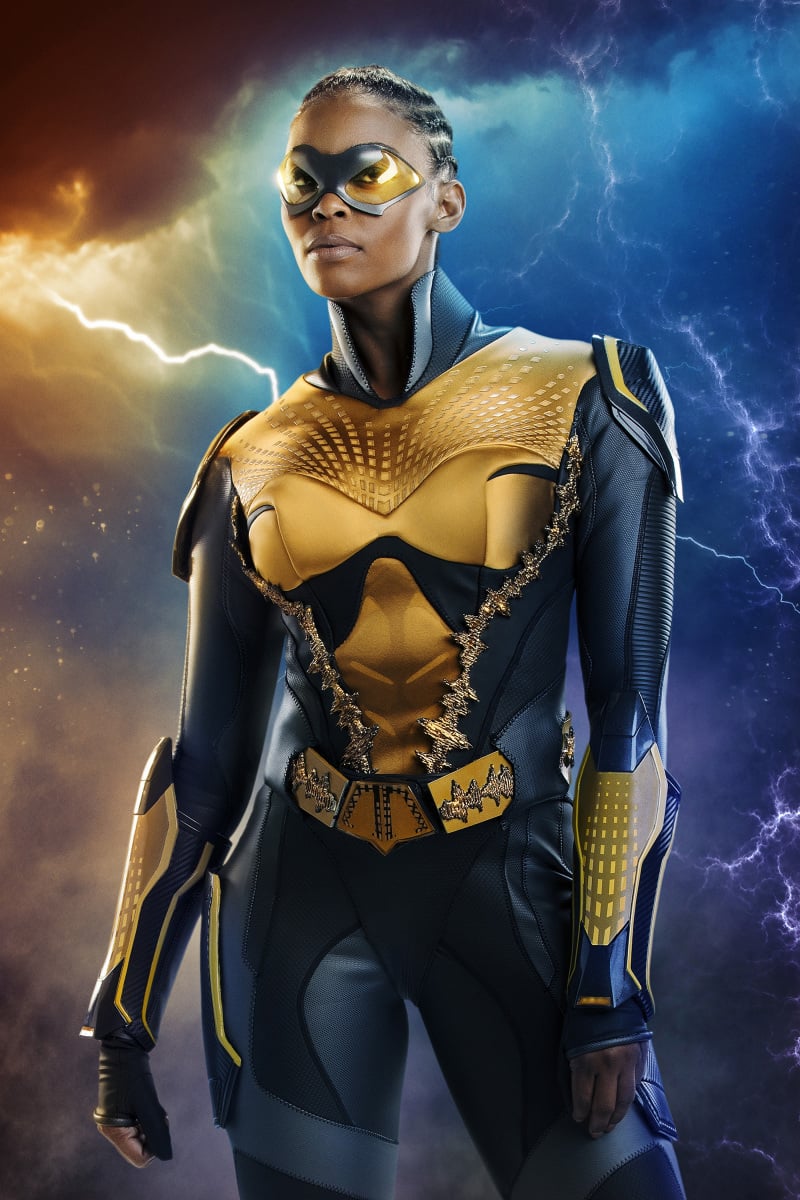 PS: How did it feel when you tried on your Thunder costume for the first time?
NW: Oh my God, I cried! It was so emotional for me. It is every time I put my costume on because I'm reminded that I'm the first live-action black lesbian superhero for little girls to see. I didn't have that coming up. To see me in cornrows, and to give little girls that visual, is just an honor. I feel like this is a role that is much bigger than myself. I'm being used for something that is helping push the culture forward and that is the greatest feeling.
PS: Have you seen all of the positive reactions from the LGBTQ+ community in support of your character so far?
NW: Yeah, people see themselves when they see Anissa. We need that image for young black lesbians, and little black girls, regardless of what your sexual preference is. The fact that we have an image of a superhero that looks like us now is just a dream come true. It's time. It's necessary. She's giving people hope and inspiration already. So many little girls have reached out to me like, 'Wow, you're playing a lesbian. I don't get to see myself on TV often!' So if I get to inspire at least one little girl, I feel like I've done my job.
PS: What are you most excited for fans to see from Anissa this season?
NW: I'm excited for you guys to go on the journey with Anissa to becoming a superhero. It'll be a bit of a struggle, you'll see. She's discovering her superpowers and there's a struggle that comes with it because she doesn't really know what's happening, as you see at the end of episode one when [spoiler alert] Anissa has a panic attack at the sink because her powers are starting to unveil. She doesn't really know how to handle it or who to tell and who to talk to. 'Are people going to believe me?' 'And I a freak?' 'Where is this coming from?' Those are all questions that are going on in her mind. And you see her navigate through it. The moment that it clicks and she finally gets it, and then she gets excited and puts her costume on . . . I'm waiting for you guys to see that!
PS: Who were some of your favorite superheroes growing up?
NW: For this role I actually went back and studied Pam Grier. I went back to the Coffy days. Jackie Brown days. I went back to those moments. She was badass, and she was beautiful. And she did it with grace and elegance. And she looked like me! Also, Wonder Woman is one of my favorite superheroes.
PS: If you could have any of the superheroes from the CW's lineup come on the show, who would you like to make an appearance?
NW: I would like to team up with some badass women and fight some crime, so I would have to say Supergirl, for sure. If we can make that make sense for either of shows. But you know, we're in the hood, so if anybody wanna come play with us, they're open to. [Laughs]