People's Choice Award Winners 2014
Announcing the Winners of the People's Choice Awards
The People's Choice Awards have all been given out, and yes, the people have spoken. The big winners of the night were movie stars like Sandra Bullock and TV stars like Ian Somerhalder, who each won multiple categories. It was fun to see movie, TV, and music honored and how fans spread the love around all the way from Iron Man 3 to Justin Timberlake. See the whole list of winners below!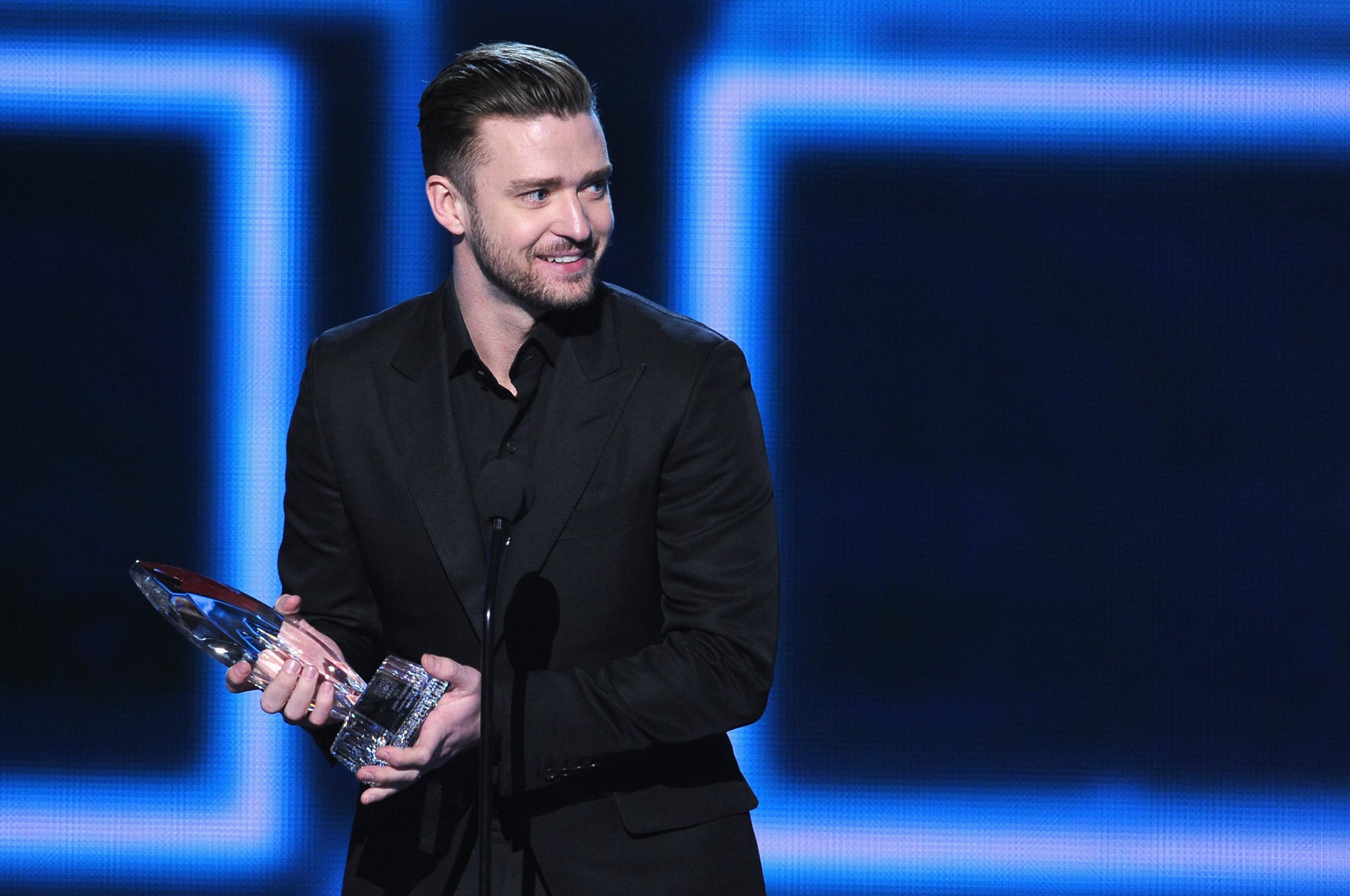 FAVORITE MOVIE
Iron Man 3
FAVORITE MOVIE ACTOR
Johnny Depp
FAVORITE MOVIE ACTRESS
Sandra Bullock
FAVORITE MOVIE DUO
Sandra Bullock and Melissa McCarthy, The Heat
FAVORITE ACTION MOVIE
Iron Man 3
FAVORITE ACTION MOVIE STAR
Robert Downey Jr.
FAVORITE COMEDIC MOVIE
The Heat
FAVORITE COMEDIC MOVIE ACTOR
Adam Sandler
FAVORITE COMEDIC MOVIE ACTRESS
Sandra Bullock
FAVORITE DRAMATIC MOVIE
Gravity
FAVORITE DRAMATIC MOVIE ACTOR
Leonardo DiCaprio
FAVORITE DRAMATIC MOVIE ACTRESS
Sandra Bullock
FAVORITE FAMILY MOVIE
Despicable Me 2
FAVORITE HORROR MOVIE
Carrie
FAVORITE THRILLER MOVIE
Now You See Me
FAVORITE NETWORK TV COMEDY
The Big Bang Theory
FAVORITE COMEDIC TV ACTOR
Chris Colfer
FAVORITE COMEDIC TV ACTRESS
Kaley Cuoco
FAVORITE NETWORK TV DRAMA
The Good Wife
FAVORITE DRAMATIC TV ACTOR
Josh Charles
FAVORITE DRAMATIC TV ACTRESS
Stana Katic
FAVORITE ACTOR IN A NEW TV SERIES
Joseph Morgan
FAVORITE ACTRESS IN A NEW TV SERIES
Sarah Michelle Gellar
FAVORITE TV CRIME DRAMA
Castle
FAVORITE TV COMPETITION SHOW
The Voice
FAVORITE CABLE TV COMEDY
Psych
FAVORITE CABLE TV DRAMA
The Walking Dead
FAVORITE PREMIUM CABLE TV SHOW
Homeland
FAVORITE CABLE TV ACTRESS
Lucy Hale
FAVORITE TV ANTIHERO
Rick Grimes, The Walking Dead
FAVORITE TV BROMANCE
Sam, Dean, and Castiel, Supernatural
FAVORITE TV GAL PALS
Santana and Rachel, Glee
FAVORITE ONSCREEN CHEMISTRY
Damon and Elena, The Vampire Diaries
FAVORITE SCI-FI/FANTASY TV SHOW
Beauty and the Beast
FAVORITE SCI-FI/FANTASY TV ACTOR
Ian Somerhalder
FAVORITE SCI-FI/FANTASY TV ACTRESS
Kristin Kreuk
FAVORITE TV MOVIE/MINISERIES
American Horror Story
FAVORITE DAYTIME TV HOST
Ellen DeGeneres
FAVORITE NEW TALK SHOW HOST
Queen Latifah
FAVORITE LATE NIGHT TALK SHOW HOST
Stephen Colbert
FAVORITE STREAMING SERIES
Orange Is the New Black
FAVORITE SERIES WE MISS MOST
Breaking Bad
FAVORITE NEW TV COMEDY
Super Fun Night
FAVORITE NEW TV DRAMA
Reign
FAVORITE MALE ARTIST
Justin Timberlake
FAVORITE FEMALE ARTIST
Demi Lovato
FAVORITE BREAKOUT ARTIST
Ariana Grande
FAVORITE POP ARTIST
Britney Spears
FAVORITE COUNTRY ARTIST
Taylor Swift
FAVORITE COUNTRY MUSIC ICON
Tim McGraw
FAVORITE HIP-HOP ARTIST
Macklemore & Ryan Lewis
FAVORITE R&B ARTIST
Justin Timberlake
FAVORITE BAND
One Direction
FAVORITE ALTERNATIVE BAND
Fall Out Boy
FAVORITE SONG
"Roar" by Katy Perry
FAVORITE ALBUM
Justin Timberlake, The 20/20 Experience
FAVORITE MUSIC VIDEO
"Roar" by Katy Perry
FAVORITE MUSIC FAN FOLLOWING
Lovatics (Demi Lovato)
FAVORITE HUMANITARIAN
Jennifer Hudson