Practical Magic Movie Inspired a Woman to Murder Her Husband
How Practical Magic Inspired 1 Woman to Murder Her Husband IRL
In 1998, Sandra Bullock and Nicole Kidman starred in the romantic comedy Practical Magic as Sally and Gillian Owens, two sisters who learned to cast spells at an early age while being raised by their crazy aunts, played by Dianne Wiest and Stockard Channing. Sally and Gillian are the bearers of a curse that has been in their family for several generations — the men they fall in love with are doomed to an untimely death, and they must come together and use their powers to fight the curse and find true love.
While tons of people watched movies like Practical Magic — as well as The Craft and Hocus Pocus — the majority of us were only inspired to dress up as witches for Halloween or play "Light as a Feather, Stiff as a Board" at slumber parties. But in 2000, one woman took away much more from the film — Practical Magic inspired her to actually kill her husband.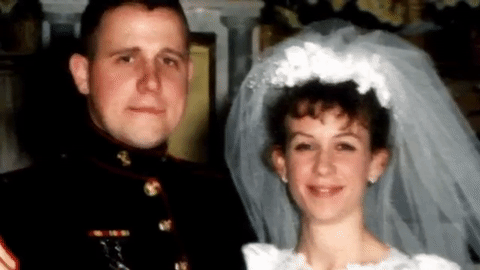 Kevin and Heather Miller on their wedding day in April 1995. Image Source: Oxygen
Heather and Kevin Miller first met in 1993 while working as a server and manager, respectively, at a seafood restaurant in Quakertown, PA. Kevin was an ex-Marine with a degree in accounting from Philadelphia's St. Joseph's University, while Heather was a struggling single mom; she had a daughter from a previous (and abusive) relationship, and she and Kevin struck up a romance. They were married in 1995 in "a typical fairy-tale wedding," welcomed their first child, and bought a townhouse in Richlandtown. But just two weeks after getting their new home, Kevin lost his computer consulting job — and Heather found out she was pregnant again.
"The stress was starting to build enormously," Heather told People in 2000. "The relationship went downhill from there." Kevin eventually found two jobs, but the 80-hour weeks kept him out of the house quite a bit, causing him to neglect housework and spending time with his wife and children. The couple fought so loudly and aggressively that neighbors began to notice something was up. One of them, Sandy Miller (no relation), recalled taking in Heather while she was pregnant after Kevin threw her out after an argument: "You could always hear him screaming, always venting on somebody." Heather tried to get help from a women's shelter but was allegedly turned away because there was no physical abuse. She didn't have the money for an attorney, so divorce also seemed an unlikely option.
Naturally, Heather began telling friends that she wanted out of her marriage. Mindi Robbins, her best friend at the time, happened to be a practicing Wiccan and suggested the two watch a movie about witchcraft called Practical Magic as a way to help Heather take her mind off of the chaos at home. In the film, Nicole Kidman's character, Gillian, falls in love with a man named Jimmy, but their relationship hits the skids when he becomes physically abusive. While trying to help her sister escape the grip of her lover (whom they also find out is a serial killer), Sally (Bullock) and Gillian are kidnapped by him; Sally puts a poisonous plant called belladonna into Jimmy's tequila, which inadvertently kills him. This certainly resonated with Heather Miller, who was so inspired by the scene that she wanted her husband to suffer the same fate . . . in the same way.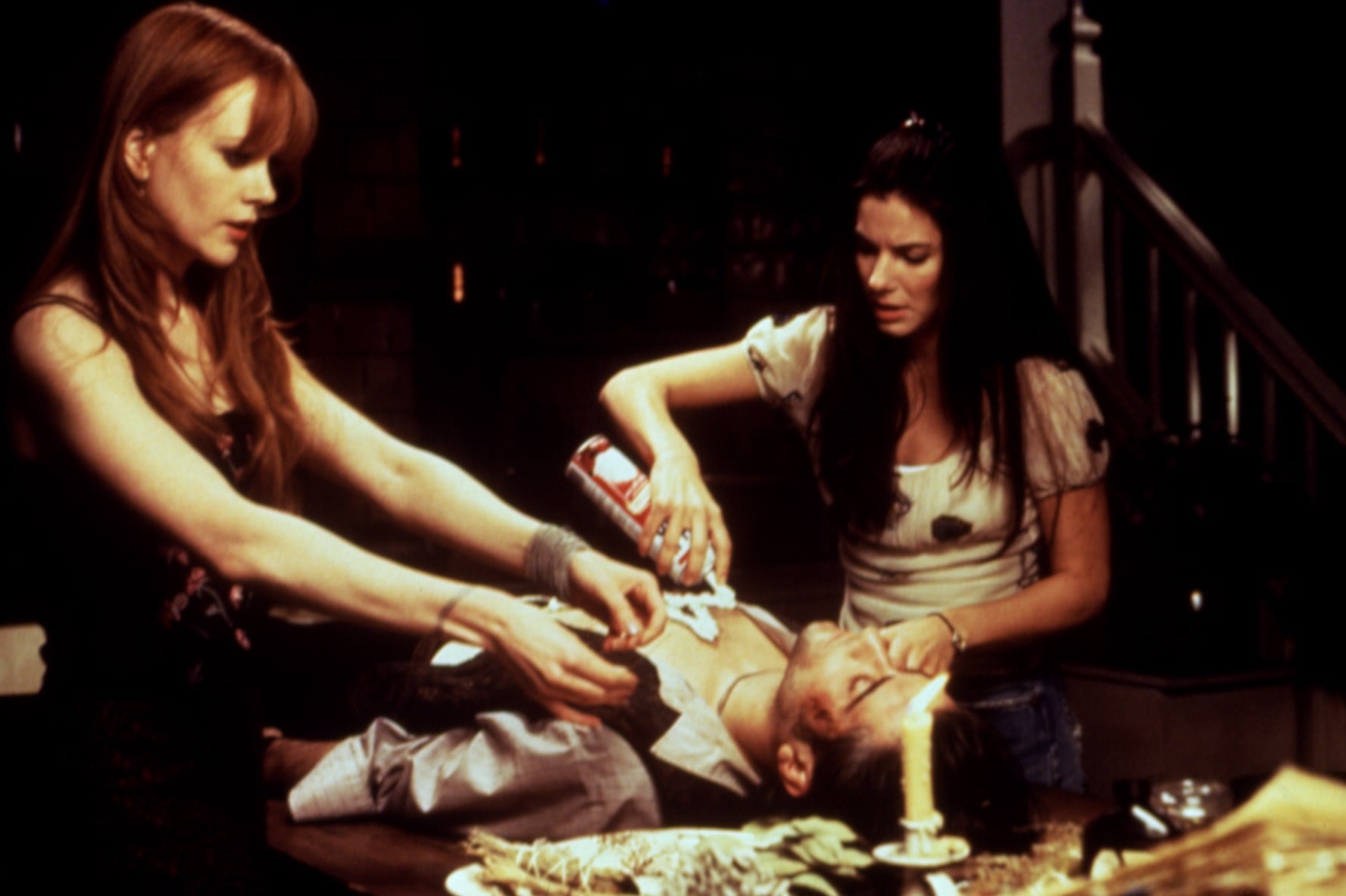 Image Source: Everett Collection
Belladonna, which is also commonly known as deadly nightshade, has been used as a form of medicine since ancient times. The plant's berries are sometimes referred to as murderer's berries or devil's berries and have been thought to be the poison that Romeo and Juliet use in the Shakespearean play. At some point, Heather got it into her head that by mixing belladonna into one of Kevin's meals, he would have a heart attack and subsequently die. And instead of hatching her plot and keeping it private, she decided to tell both her best friend Mindi Robbins and another neighbor named Diane Zielinski; Heather detailed her plan to send Kevin off to his night shift with a poison-laced bowl of mashed potatoes, call his office a number of times before "finding his car" in the parking lot, and act distraught after finding him keeled over on his desk from an apparent heart attack. The Millers' babysitter, Nathan Bleam, testified in court that Heather also told him Kevin "was worth more dead than alive" and spoke at length about her plans to give Kevin a military funeral after collecting his potential $750,000 life insurance payout.
In April 2000, Heather, now a mother of four, went to a health food store and purchased a bottle of belladonna caplets. While the herb can certainly be deadly in very high quantities, the amount sold to Heather wouldn't have done more than send her husband into a heavy sleep (and give him some nasty indigestion). Regardless, she crushed 100 pills into a fine powder and asked neighbor Diane Zielinkski to hold on to the vial of crushed belladonna for her for a couple of days as she didn't want to risk Kevin finding it at home.
The plant's berries are sometimes referred to as murderer's berries or devil's berries and have been thought to be the poison that Romeo and Juliet use in the Shakespearean play.
Zielinski later testified that Heather told her about her foolproof plan and said, "Hopefully it would kill him." She was obviously rattled by Heather's plot, as well as the fact that she was now legally involved after taking the belladonna from her; she called their mutual friend Mindi Robbins the next day (why she waited 24 hours is not totally clear) and told her about Heather's plan. After comparing notes, they went to the authorities, and law enforcement officials convinced Robbins to wear a wire while getting Heather to talk about murdering her husband. Not only did she go on and on about the belladonna, the mashed potatoes, and the insurance settlement, but she was also recorded discussing her multiple extramarital affairs — including an ongoing sexual relationship with Mindi Robbins. Twist number one!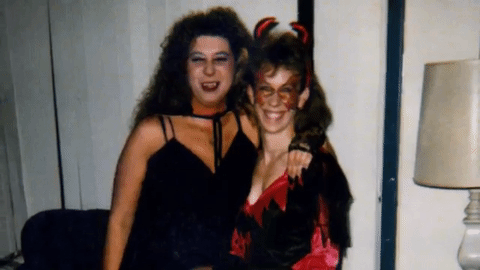 Mindi Robbins and Heather Miller on Halloween. Image Source: Oxygen
The next day, Heather was arrested by state troopers while on her way to Zielinkski's home to pick up the bottle of belladonna. She told police that she had had it with Kevin's verbal abuse and decided that the only way she could feasibly split from him was to kill him. Police told Kevin that she was in custody for plotting to murder him. He did not press charges and appeared to be more apologetic to his wife for making her want to kill him than upset or terrified by her scheme. They arrived hand in hand for her trial in September 2000 — twist number two! — even though his family was convinced that Heather would have gone through with her plan and that Kevin was "blinded by love."
After a four-day trial, during which she attempted to blame her former girlfriend Mindi Robbins for coming up with the idea to kill her husband, Heather was found guilty of attempted murder and sentenced to up to 10 years in state prison. She and Kevin spoke on the phone several times a day and wrote daily letters to each other. He visited her in prison once a week, and of his loyalty, Heather told People, "In one aspect I love him for it. But in the same breath he must be completely insane." She added, "This shows me he actually, truly does love me. For the very first time I can say that I feel loved."
Heather remained in prison for five years, after which she returned home to pick things back up with Kevin and their kids. In a 2016 episode of Oxygen's Snapped, Kevin revealed that despite his attempts to keep their family together, he and Heather divorced. "I still struggle to process what happened," he said. "Yeah, we all make mistakes, but it's a matter of owning those mistakes and moving forward from them." He continued, "Looking back on it now, there are probably things that I wouldn't have done . . . it did not go the way I hoped it would. It made my life a whole lot more difficult than I would have rather [it], but it is what it is."