Sleepy Hollow Season 2 Spoilers
Season 2 of Sleepy Hollow Will Feature Romantic "Bombs" and New Villains
With all the insane stuff that happens on the first season of Sleepy Hollow, it's hard to imagine what could possibly be in store for season two. The cast, producers, and writers appeared at Summer TCA to tease some juicy details, but one thing they wouldn't reveal is how long Ichabod (Tom Mison) will stay buried. However, Mison was pretty funny about where his onscreen relationship with Nicole Beharie, aka Abbie, will go. "Running around the woods, chasing after monsters is profoundly erotic," said Mison. "Sometimes I have to just throw a saucy look. #Ichabbie." Here's what we did gather about next season!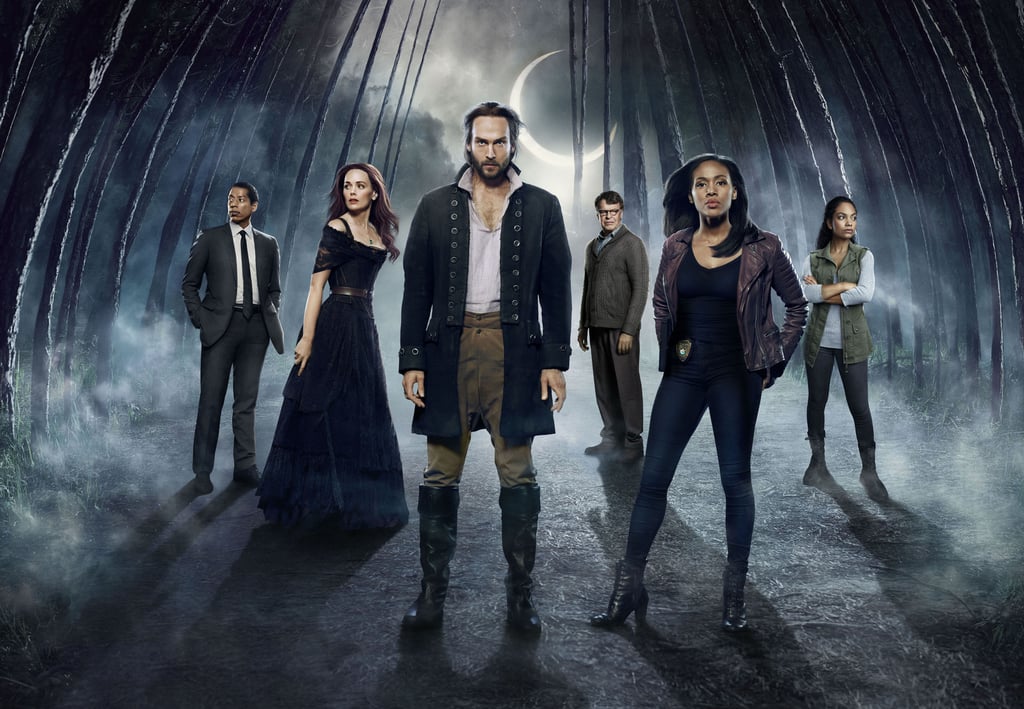 Things are about to get rough. "War is coming to town, as personified by Henry Parish," said producer Roberto Orci. "War can tear not only a town apart, but a family apart. This is about Katrina and Crane and how they deal with the potential conflict of how can they redeem their son or not. How does Abbie deal with sympathizing with her friend, knowing that redemption for a child is a goal but also potentially not a good thing to do? Sometimes you just have to go at evil the hard way."
Crane and Abbie have some issues to conquer. "Their relationship is at the core of everything we do," said producer Mark Goffman. "Even picking up at the beginning of season two, there are going to be some trust issues. We see in the finale that Crane had betrayed Abbie's trust in redrawing this map to Purgatory. It's not always going to be smooth. It's a real relationship, and we want to play out all the love and the true nature of how they evolve."
New creatures are coming! Writers brought up a few new monsters to look forward to, including a wendigo creature, a succubus, someone named Kindred, and the Pied Piper. Is this starting to feel like an evil version of Once Upon a Time to anyone else?
New characters are coming to Sleepy Hollow. "There are two new characters we're introducing that are not creatures," said Goffman. "We have a new sheriff in town, Lena

Reyes

[played by Sakina Jaffrey]. That's going to pose a lot of cool conflict for Crane and Abbie as they try to work their way in the precinct as they did with Irving. She has a history in Sleepy Hollow but has been with the border patrol for a while, so she's really no-nonsense and a real obstacle for them . . . Abbie is going to learn a lot about her past through Reyes."
Abbie and Ichabod don't even really know who they are to each other. "We're not really playing their relationship on the romantic side, but then the other characters that come in around them start to . . . you see jealousy come out in ways that is more interesting," said Goffman. "There are things that maybe they don't realize about their relationship until other people pull them away or draw their attention, and maybe that makes them realize, 'I'm not completely comfortable with that.'"
There will be "bombs." "We're gonna drop a few bombs this season with their relationships and with Katrina, and they'll find out a few things that neither of them could possibly be prepared for," said Goffman.
Ichabod will get modern. "We'll have an episode where we get to see Abbie go to the polling booth and Crane gets to see voting," teased Goffman. "He gets to learn to drive, which is actually inspired by Tom, who is just learning how to drive."
All right, Sleepyheads, who's excited? Season two starts on Sept. 22 — stay tuned until then!