Taylor Swift "Out of the Woods" | Video
Taylor Swift's Song "Out of the Woods" Is Here!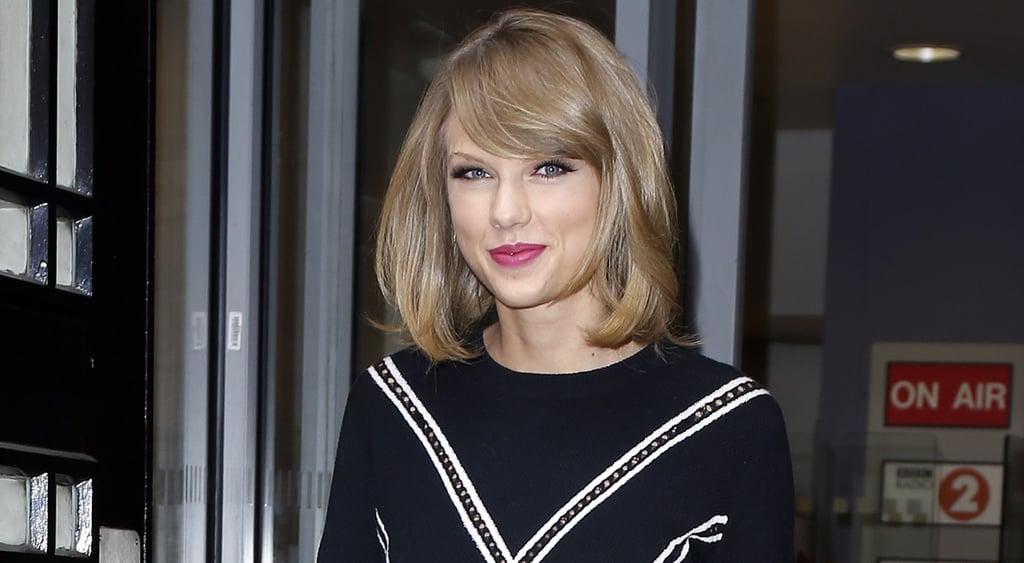 Source: Getty / Neil Mockford/Alex Huckle
Taylor Swift's new song "Out of the Woods" was released on Tuesday, and it quickly shot to number one on iTunes, prompting both Taylor and her BFF Lena Dunham to freak out on social media. Taylor shared a picture of the iTunes chart to show that she now holds the two top spots, writing, "HOW. AM I. SUPPOSED. TO HANDLE THIS. #heavybreathing." Meanwhile, since Taylor wrote "Out of the Woods" with Lena's boyfriend, Jack Antonoff, while Taylor was busy sharing screenshots of her texts with Jack, Lena took to Instagram to post snaps of Taylor and Jack's recording session.
Took this the first time @taylorswift & @jackantonoff made music together in our living room. Now they are #1 on iTunes with #OutOfTheWoods. Kvelling.
On Monday, there was a preview of the song aired on Good Morning America, and in an interview about the song, Taylor said it's one of her favorites from the 1989 album, revealing that it's about the "fragility" of some relationships. "This was a relationship where I was kind of living day to day, wondering where it was going, if it was going to go anywhere, if it was going to end the next day," she said. "It was a relationship where you kind of never feel like you're standing on solid ground." The singer also added that "Out of the Woods" sounds "exactly like that frantic feeling of anxiety and questioning." Check out the full song, then check out the lyrics and hear more of what Taylor had to say about it in the video below.
Looking at it now
It all seems so simple
We were lying on your couch
I remember
You took a Polaroid of us
Then discovered
The rest of the world was black and white
But we were in screaming color
And I remember thinking…

Are we out of the woods yet?
Are we out of the woods yet?
Are we out of the woods yet?
Are we out of the woods?
Are we in the clear yet?
Are we in the clear yet?
Are we in the clear yet?
In the clear yet, good.
Are we out of the woods yet?
Are we out of the woods yet?
Are we out of the woods yet?
Are we out of the woods?
Are we in the clear yet?
Are we in the clear yet?
Are we in the clear yet?
In the clear yet, good.

Are we out of the woods?

Looking at it now
Last December, we were built to fall apart
Then fall back together
Your necklace hanging from my neck
The night we couldn't quite forget
When we decided
To move the furniture so we could dance
Baby, like we stood a chance
Two paper airplanes flying, flying…
And I remember thinking

Chorus

Remember when you hit the brakes too soon
Twenty stitches in a hospital room
When you started crying
Baby, I did too
But when the sun came up
I was looking at you
Remember when we couldn't take the heat
I walked out, I said "I'm setting you free"
But the monsters turned out to be just trees
When the sun came up
You were looking at me.

You were looking at me… Oh
You were looking at me.
I remember.
Oh, I remember..

Chorus