What Is Janae's Backstory on Orange Is the New Black?
Orange Is the New Black: Janae's Backstory Might Be the Most Tragic of All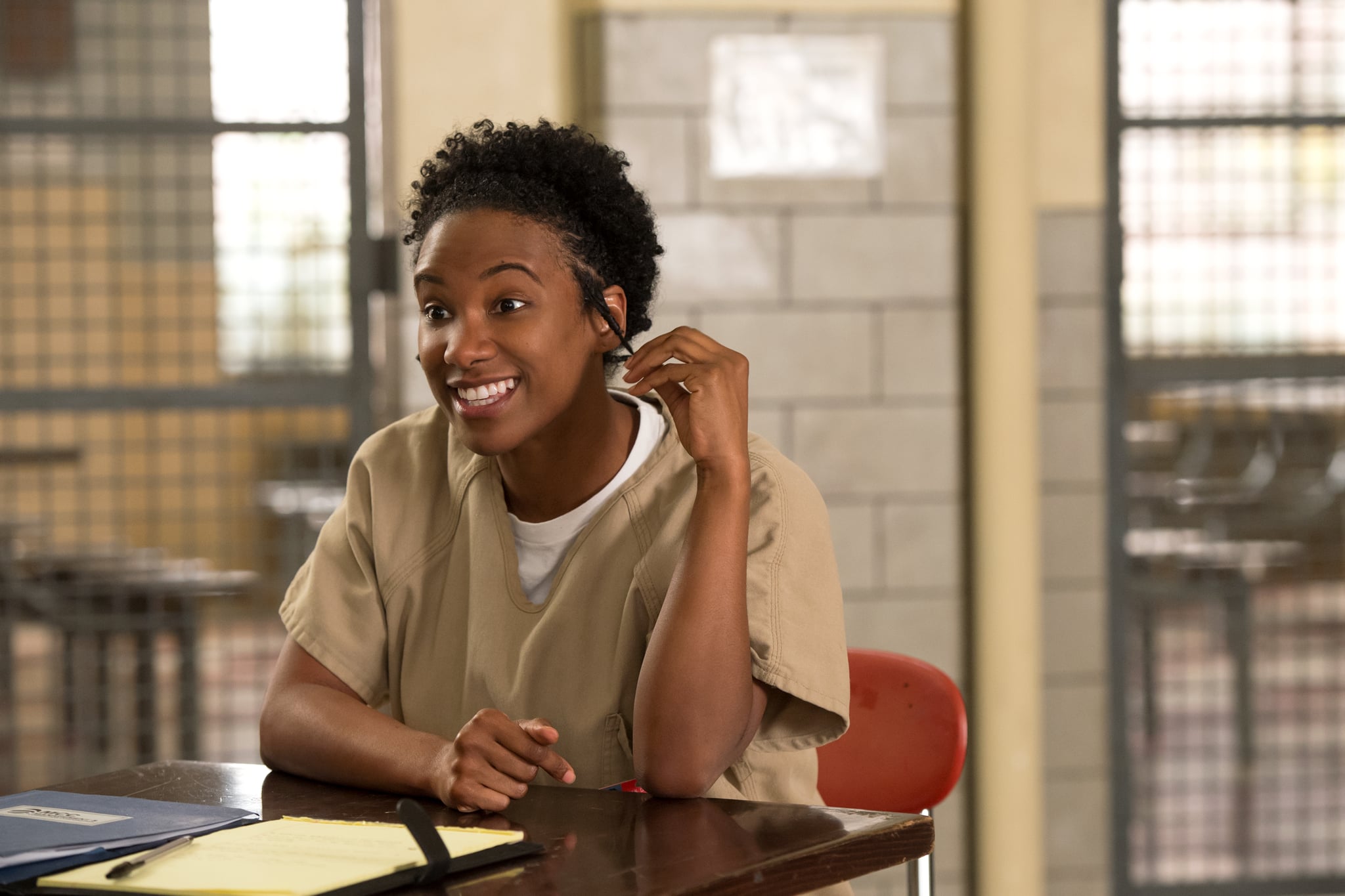 Even though there have been new characters introduced in Orange Is the New Black, many have been around since season one — including Janae Watson, played by Vicky Jeudy. Her character has a serious attitude in the present day, but it looks like she was sweet and naïve before she ended up at Litchfield Penitentiary. Let us explain.
Watson was a track star in high school, breaking running records and impressing college coaches left and right. Although on the fast track to a scholarship, she didn't have a boyfriend and it looked like she was left out of the cool crowd. Watson went to a party where a thug told her to go home and stay in school, basically telling her not to get caught up in the drug world. But at that same party, a guy showed her some attention and became her boyfriend. For a teenage girl who just wanted a social life, she probably didn't understand the magnitude of what she was getting herself into. The couple robbed a store together and when Watson slowed down to let her guy catch up, she was caught by police while her boyfriend got away.
In season five, we get more insight to Watson's life and this time, we're taken back even further. When a brilliant young Watson visits a private school filled with predominately white students, she realizes how different their lives are from hers. She's black and goes to a school with other underprivileged kids. Watson is given a tour of the school by a girl her age who doesn't seem to notice Watson's demeanor through it all. When the girls stumble into the school's rehearsal of Dreamgirls, Watson tears up when the girl playing Effie White sings "And I'm Telling You." The oblivious tour guide thinks she's tearing up because the song is so beautiful, but really Watson is dealing with internal emotions of frustration and pain. This may be why she worked so hard in high school to be a track star, only to wind up at Litchfield for a mistake that wasn't in her character. It could also explain why she's aggressive in prison; inmates like Judy King are given privileges that she's not. More and more we're learning what a complex character Watson is and how her past has vastly impacted her.
Watson's resilient demeanor has gotten her in trouble. In season one, a screwdriver goes missing (which Piper ended up having in her pocket accidentally), but Watson refused to be searched so she was sent to the SHU (Security Housing Unit) for solitary cell time. She's also had tiffs with Yoga Jones (Constance Shulman). It'll be interesting to see how Watson changes (and possibly softens?) with upcoming seasons.