Who Is Sudan Archives?
Sudan Archives Wants Her Music to Empower You — and Make You a Little Uncomfortable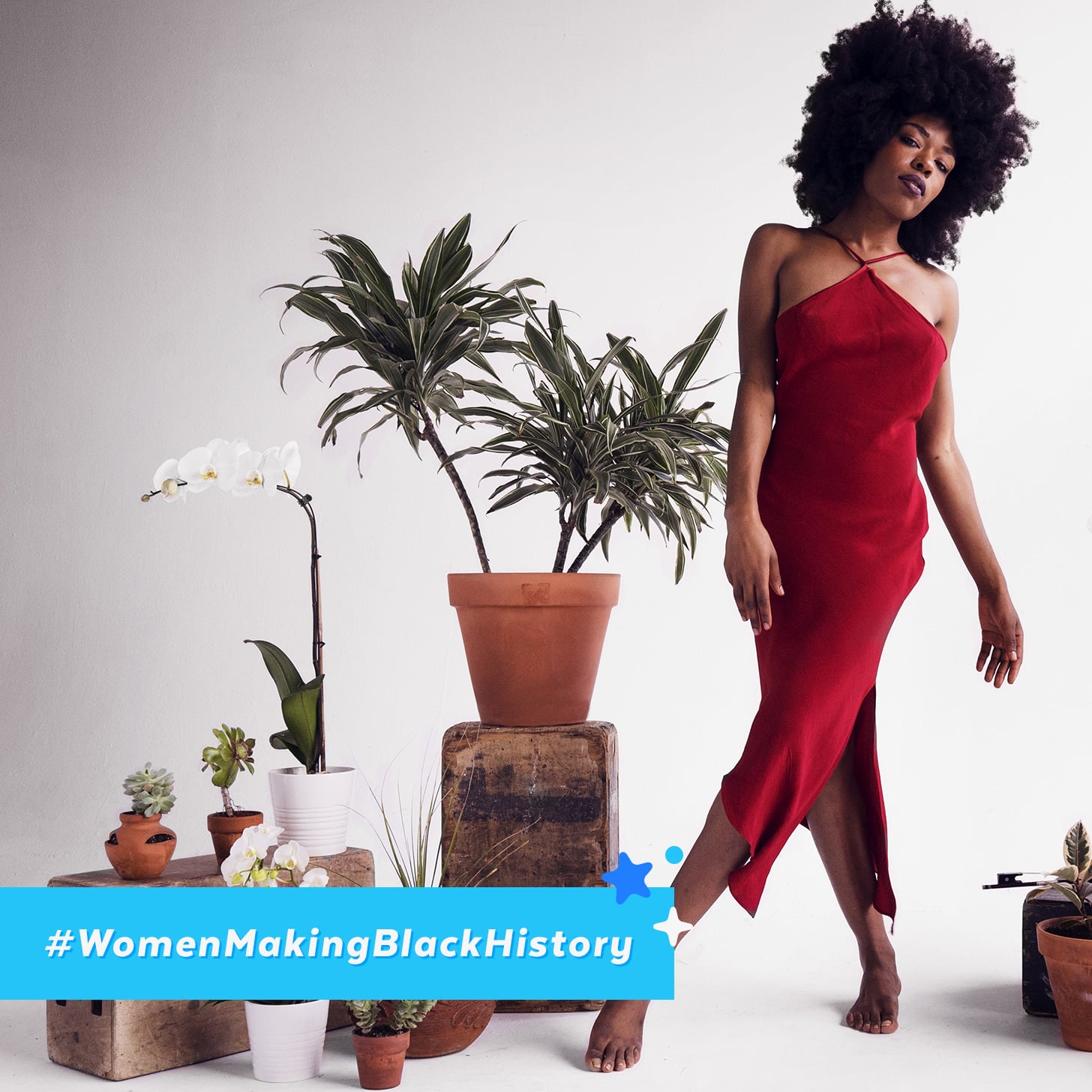 To call Sudan Archives "impressive" is accurate, but also a massive understatement. Born Brittney Parks, the self-taught violinist and vocalist controls nearly every facet of her burgeoning career: she writes, plays, and produces her own music, which draws inspiration from the rich sounds of African fiddles and is steeped in R&B-tinged electronic beats.
Sudan Archives's debut self-titled EP, released in July 2017, boasts six tracks that I have found myself describing to others as "highly swayable." Her vocals are airy yet powerful — especially in the fierce "Wake Up" and the sultry and uplifting "Come Meh Way." Lyrics like "I just can't escape, I get blown away / When you come meh way, when you come meh way" border on ecclesiastical. Perhaps the best part is that at just 24 years old, she is only getting started.
Sudan Archives answers the phone the same way your childhood best friend did: giggly and excited and happy to hear from you, even though it's been 10 minutes since you got off the school bus. It's like she and I are continuing a conversation, rather than starting one. In reality, I've never met Sudan Archives before, but as with any good artist, listening to her music makes me feel like I might already know her a little.
I spoke to Sudan Archives to learn more about her background, musical influences, and what makes her tick. I ended up getting all that and more. Here, she gives me a history lesson, explains how she got her start, and reveals what makes her feel "like an African queen."
Britt Stephens: I'm a really big fan of your music and have played your EP to death since a friend put me on to it. It's so layered. How would you describe your sound and how has your background influenced it?
Sudan Archives: I would probably describe it as an alternative R&B genre. Or maybe avant-garde R&B or even fiddle punk [laughter]. Being in fiddle club at a young age definitely influenced my sound because it birthed the interest that I have in African music; the sound is very similar. I just want [violin music] to be out there more. I want to hear more music like what I'm making!
BS: What inspired you to teach yourself the violin and to learn that instrument specifically?
SA: When I was in school, a group of fiddlers came [to perform], and they really stuck with me. My mom bought me a violin, and the church that I was attending really encouraged me to go up and play. And that's when I really started being more creative with the violin, because in church I had to make up my own melody lines for the hymns. That is probably what started my whole creative DIY violin process.
BS: What drew you to Northern and Western African music in particular?
SA: My mom gave me the nickname Sudan. I just randomly started looking up the music from Sudan, and I noticed that they play violin in a lot of their traditional music. The way they play is really mesmerizing and beautiful, and it really touched me. I just wanted to make people feel how I feel when I hear that music. I was also inspired by [singer-songwriter and composer] Francis Bebey; he's one of my favorites. He was an ethnomusicologist and electronic musician, and he wrote a book on African string music that broke down all the different strings from different parts of Africa.
I found the goje [a one- or two-stringed fiddle from West Africa] music from that book, and then I just started looking it up on YouTube; all of those videos of the goje players came up. They're playing a Stone Age violin with only one string! When I went to Ghana to shoot my first music video, my boyfriend — who's actually from the same tribe of the music in Northern Ghana, the Yoruba tribe — got me a Hausa violin, a goje. I feel like my life is preordained.
BS: You write, produce, and play your own music. What motivated you to take so much control over your art?
SA: At a young age, I remember being around a lot of musicians and a lot of rappers. The rappers that I was hanging out with were really multitalented; they would make their own beats, produce and rap over the stuff, and engineer it. Being around people that were creative and DIY driven really [planted] a seed in my head. When I got an iPad and an iPhone, I would try to produce on the music apps. And that's what really got me producing on my own.
When I was in the studio with other producers, it was a little . . . I was nervous, and they would kind of take over the production because I didn't really know what I wanted and didn't really know how to say it. I would get overruled by them. But working on a small screen, like an iPad or an iPhone, really helped boost my confidence in producing. It was so hands-on and convinced me that I could do [it] on a mixing board, a computer screen, anything if I just put my mind to it.
"I want people to feel empowered, and even a little uncomfortable, because I hope to make them more open-minded. Sometimes being in uncomfortable situations sparks new ideas."
BS: What's so exciting about having that control? How does it make you feel?
SA: I just feel like an African queen, like I'm ruling the world [laughter]. There's nothing stopping me; I can make any sound I want, any world I want, and no one can steer me another way. It's just my path, and it's my world, and I'm the ruler. When I make my own music, I feel like I'm running with cheetahs and lions [laughter].
BS: I love that. What feelings do you want your music to evoke in people?
SA: I want people to feel empowered, and even a little uncomfortable, because I hope to make them more open-minded. Sometimes being in uncomfortable situations sparks new ideas. And I don't expect everyone to like my music. I just want them to feel a little different.
BS: When it comes to our current political climate — especially concerning women of color — what are you most hopeful about?
SA: I'm most hopeful about more women getting the spotlight! This world is so male driven, but it just seems like things are changing. Women are getting a voice. I hope what I'm doing can spark more of that — maybe more people will say, "Hey, I want to do that, too. I can do that because she is." I'm hopeful that women will get more opportunities to thrive.
BS: What would you tell a young black woman who wants to teach herself an instrument or hopes to one day break into the music industry?
SA: Get the instrument you want to play and just start playing it. Seriously. You can find a used instrument and music teacher on the internet; on YouTube there are endless sessions on how to play. If you have [access to] the internet, you can do anything. I would tell them not to let money dominate their decisions in life or hold them back. You can figure it out DIY style.

BS: What's next for you, career-wise?
SA: I'm going to be working more with the Taiwo Fund, which was my main reason for going out to Ghana and shooting [the "Come Meh Way" video]. I was teaching kids how to make electronic music. So my next step will be going to Africa more and making more stuff with them.
BS: That's really cool. How did you get involved in that?
SA: I ran into Yusef [Mohammed, the Taiwo Fund founder], and he was looking for a creative way to raise money for a school bus for the North Star School. I thought it'd be really nice for the kids to record a CD of songs that they make at school — like beating sticks on the desk and just singing to it — as a perk for the donors. We actually met our goal and raised $15,000. And for the next project, [Mohammed] was just like, "Maybe we should just go there and teach them how to make electronic music." So I created this three-day workshop in late 2016, and I've been working with them ever since. I just want to keep going [there] and doing more projects. I really want the school to have solar-power energy next, so that's what I see myself doing in the near future.
Sudan Archives is currently touring through North America and will also be performing at Coachella. Her latest single, "Water," is available now.
Image Source: Robb Klassen