Why Didn't Janet Jackson Perform at the 2018 Super Bowl?
Janet Jackson Speaks Out About Performing With Justin Timberlake at the Super Bowl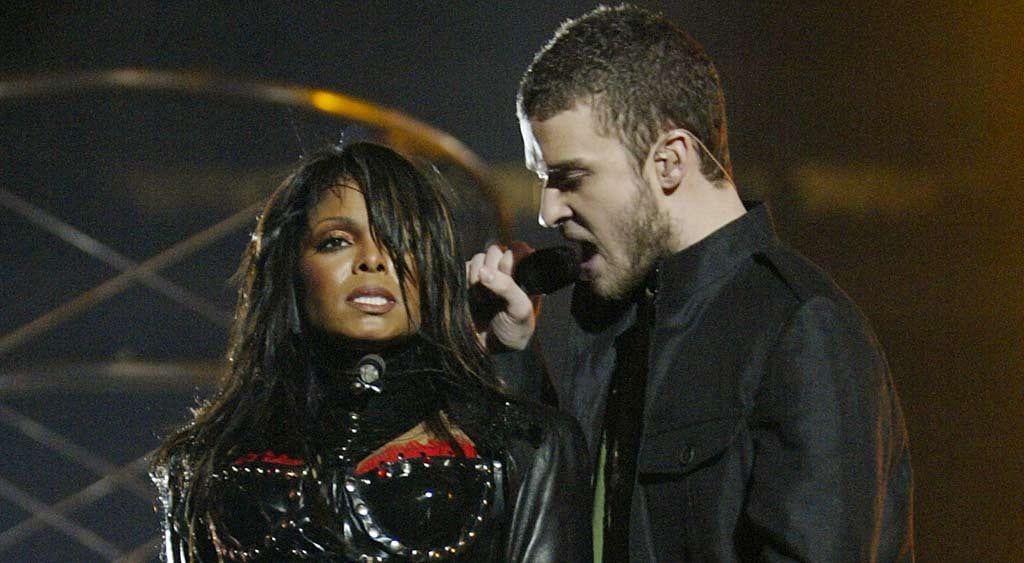 Image Source: Getty / Frank Micelotta
Janet Jackson will not be joining Justin Timberlake during his halftime show performance at the Super Bowl this Sunday. And honestly? Good for her.
The 2004 Super Bowl halftime show should have been an epic milestone in Jackson's career, but instead the performance effectively ended it. While singing "Rock Your Body" alongside Timberlake at Houston's NRG Stadium, the right breastplate of Jackson's costume was ripped off, exposing her breast to the world (her nipple was completely covered by a large silver pasty) and spurring what's now known as "Nipplegate." Timberlake, who was the one who ripped off her costume, claimed it was a wardrobe malfunction. Pretty coincidental considering it happened as he sang the lyrics "I'm gonna have you naked by the end of this song," right? Though Timberlake backed away from the incident scot-free, Jackson was not as fortunate.
The FCC fined Viacom and CBS, who put on the halftime show, and later a blacklist of Jackson's singles and music videos was put into effect on countless radio stations and music channels worldwide (including MTV, a subsidiary of Viacom). As Timberlake's career flourished, Jackson faded into the background. Sure, Timberlake recently told Beats 1 Radio's Zane Lowe that he "made peace with Janet" over the incident, but the irony of him victoriously returning to the very stage where he basically ruined someone else's career is not lost on any of Jackson's fans or her family. During an interview with The New York Post on Saturday, Jackson's father, Joseph Jackson, said that Timberlake needed to make reparations for what he did in 2004.
"If he's such a gentleman, he'd make sure Janet [Jackson] is there," he said, before another family member added, "Justin's solo career took off after that and Janet was blackballed. He says they are good, but let's see him prove it and bring her out."
Despite her family's anger over what happened, Jackson is happy to let the past be the past. Whose image would performing with Timberlake help, after all? Considering all the negative press he's recently received now that Nipplegate has been back in conversation, as well as the backlash for his decision to potentially use a Prince hologram during his halftime show, a reunion between the two wouldn't be doing Jackson any favors. Given all the rumors flying around about whether or not she'd appear, Jackson shared a message on Instagram to clear things up:
"To put to rest any speculation or rumors as to whether i will be performing at the Super Bowl tomorrow; I will not. Thank you for your support and I do look forward to seeing you all very soon."
Since neither Jackson, the Prince hologram, nor even *NSYNC is joining him on stage — he's said only his band The Tennessee Kids will be with him — Timberlake's halftime show will have to stand on its own merits. Let's hope the reviews for his performance are kinder than the ones for his latest album, Man of the Woods.