7 Important Things We Found Out During the American Horror Story: Apocalypse Premiere
Warning: major spoilers for the AHS premiere ahead!
At long last, American Horror Story's highly anticipated Coven/Murder House crossover is upon us . . . as are a ton of nuclear bombs. Ryan Murphy's latest iteration of the horror anthology series, Apocalypse, kicks off with a bang — literally — that destroys the world as we know it and hones in on a prickly group of eclectic survivors: a former movie star, an ex-con, a high school senior, a hairstylist, and more. Although there's no sign of our favorite New Orleans witches or the dearly departed Harmon family, a whole lot of sh*t goes down in season eight's first episode. We're helpfully breaking it all down for you ahead.
01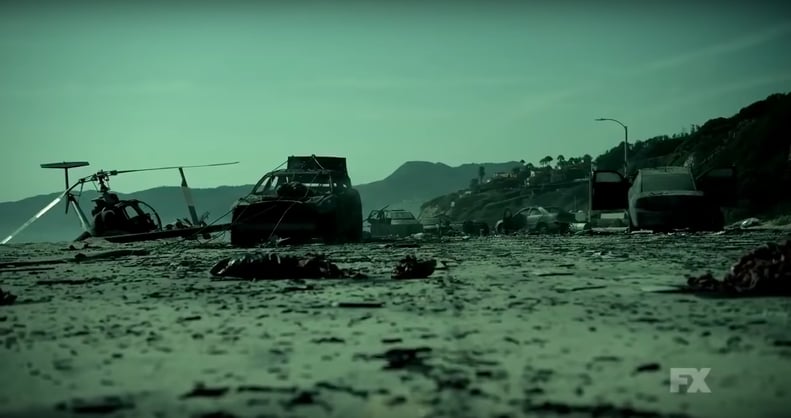 Is There an Actual Apocalypse?
Yes. The premiere wastes no time in getting to all of those explosions. Within the first few minutes, LA is decimated by a massive atomic missile. A news broadcast mentions that a few other cities have also been taken out and that "this is it." People flee in hopes of evacuating to safety, but it's implied that few make it out alive; only a small, select group survive for a few very specific reasons, which I'll explain ahead.
02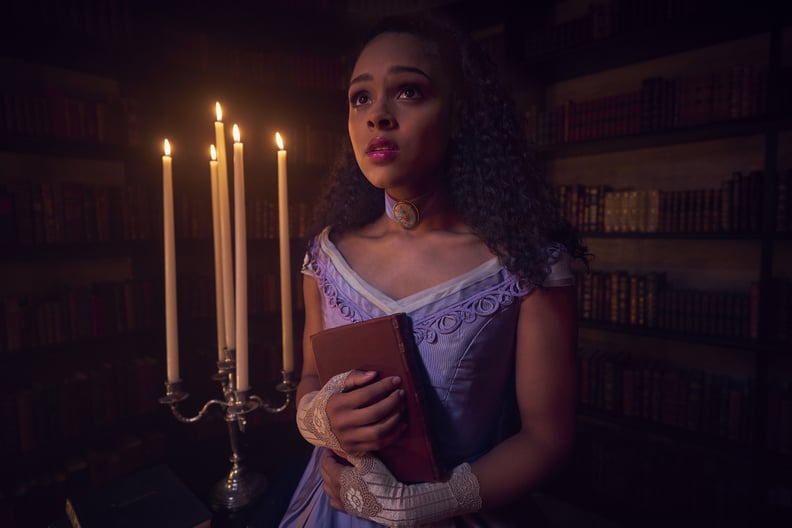 How Do People Survive?
Shortly before the bombs drop, high school grad Timothy Campbell (played by Kyle Allen) celebrates getting into UCLA in the kitchen of his home with his mother and fraternal twin brother. Unfortunately, their party is cut short when their father rushes in and frantically turns on the TV, informing them of what's going on. Then, a group of government officials storm into their home unannounced and say that they need to take Timothy with them because his genetic makeup hints that he'll be a prime survivor (they got his blood from one of those DNA kits that test family lineage).
He's hauled away from his home as his family looks on in horror and is transported to a remote holding cell, where he meets Emily (Ashley Santos). She mentions that they took her straight from jail, where she was locked up for protesting on her college campus; apparently the organization got her genetic info from the prison doctor and she showed the same signs of being resilient to the impending nuclear Winter. The two of them are then brought across the desolate remains of the LA area to a mysterious subterranean building called "Outpost Three."
03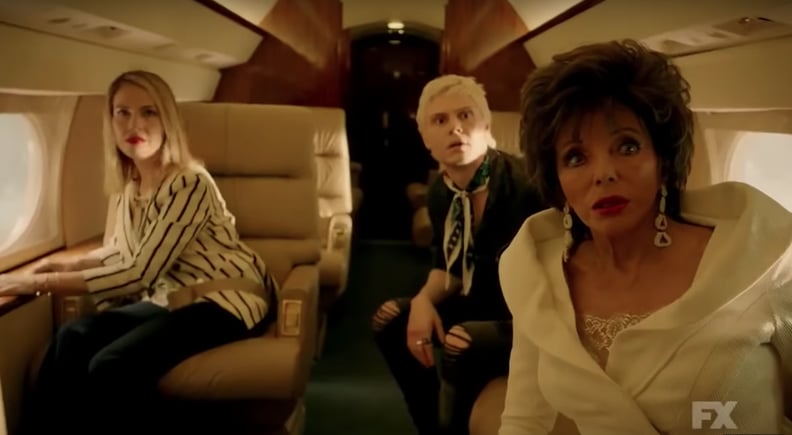 OK, but What About Everyone Else?
When Timothy and Emily arrive at Outpost Three, it's revealed that wealthy survivors Evie (Joan Collins), her grandson Mr. Gallant (Evan Peters), and his hairstyling client Coco (Leslie Grossman) were able to buy their way into the "safety" of Outpost Three (after escaping the bomb's toxic blast in Coco's private plane). Coco's loyal assistant, Mallory (Billie Lourd), is also there, although she holds a much different status than the others.
04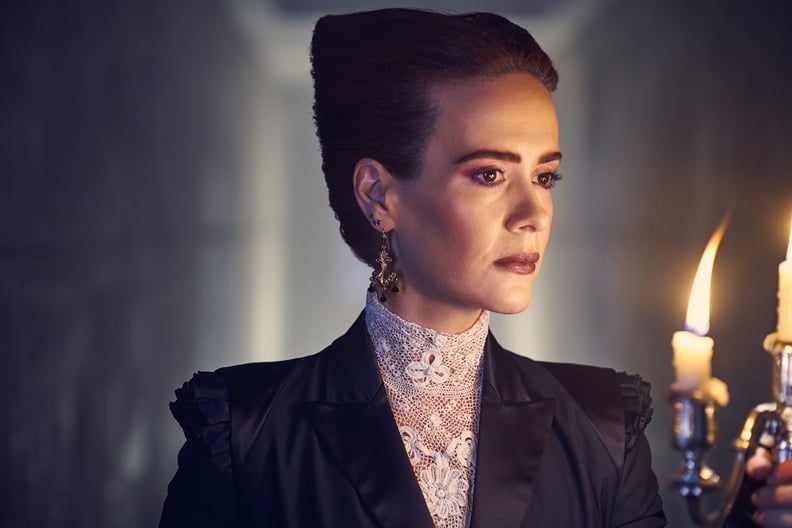 What Even Is Outpost Three? And Who Is Ms. Venable?
There's no sign of Sarah Paulson's Coven character, Cordelia Foxx, just yet, but we do meet Ms. Wilhemina Venable. She's the cold, emotionally distant leader of Outpost Three, an underground structure built by a shadowy organization called The Cooperative that's impervious to radiation and used to be "an exclusive boys' school." (An all-male coven, perhaps?) She notes that there's enough food to last them around 18 months, although the "food" in question is actually small chunks of bland, nutritious blocks (think: super tofu).
The rules in Outpost Three are strict: no one is allowed to leave the building, there is to be no copulation (LOL), and everyone must dress according to their status in the outpost (people are either "Purples" or "Grays"). It's also revealed that Ms. Venable and her coleader, Ms. Miriam Mead (Kathy Bates), are going a bit rogue from The Cooperative's rules by creating their own.
For instance, when they get bored, they decide to punish one of the survivors (RIP, Stu) by pretending he has radiation poisoning. They take him into a shower and viciously scrub his naked body, but when a radiation testing device still beeps when waved near him, Ms. Mead shoots him in the head. Later, they serve him to the other survivors, leading to an instantly iconic American Horror Story line: "The stew is Stuuuuuuu!"
05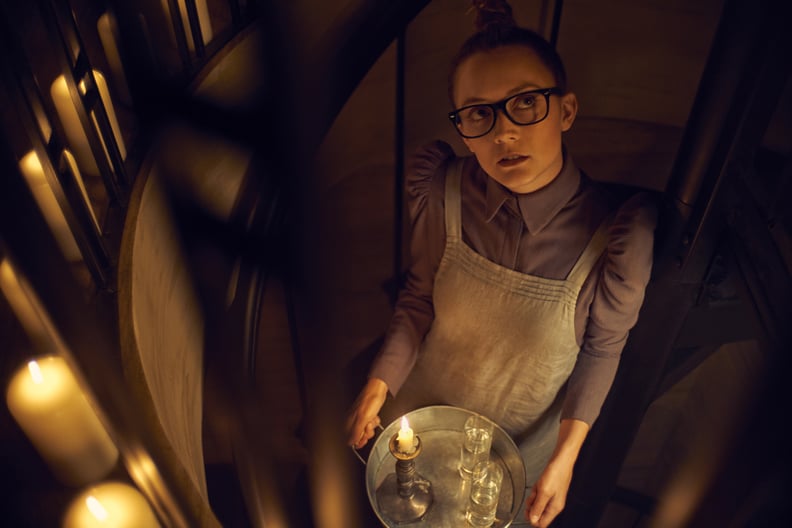 What Are the Purples and the Grays?
The survivors living at Outpost Three are broken into two social classes: the Purples and the Grays. The former are decked out in lavish Victorian-era formal wear, flouncing to dinner in satin gowns and lavender brocade suits. Unfortunately for the Grays — Mallory among them — they're the Outpost's "worker ants." They wear drab, all-gray outfits as they scrub the floors, tend to the Purples, and go outside to scavenge for messages from the ever-silent Cooperative.
06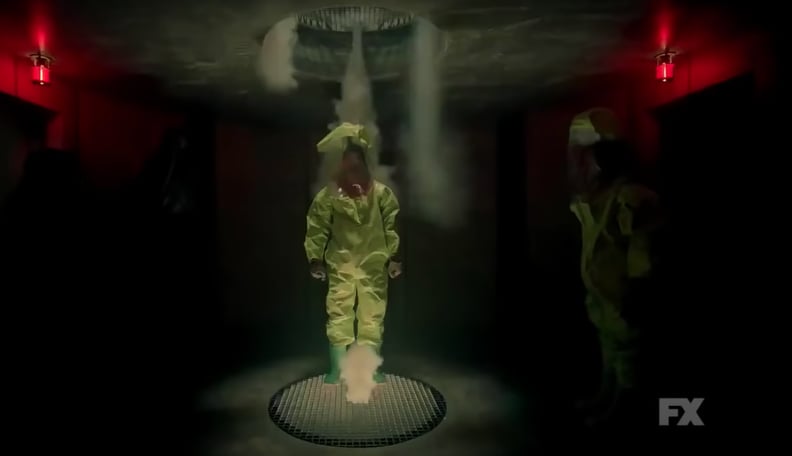 The Cooperative? Huh?
To be totally honest? It's unclear at the moment. All we know is that it's a mysterious organization with enough funds to outfit several outposts around the country with supplies. When a certain someone (*cough* Michael Langdon *cough*) visits Ms. Venable's location, he mentions that all of the other outposts have been overrun with desperate, radiation-poisoned people who weren't lucky enough to gain access to an outpost after the bomb was dropped. He also says that there's another, larger outpost that has enough food to last "a decade," so he needs to figure out which of Venable's survivors are worthy.
07
Have We Seen Michael Langdon Before?
As you might recall from watching Murder House, Michael Langdon is the unholy son of Vivien Harmon and Tate Langdon — aka the Antichrist. Now it seems he's working for The Cooperative in an important position, and it will be interesting to see how he factors into future episodes, especially since this is the Coven/Murder House crossover.