Annie Murphy's Best Movies and TV Shows, Including "Schitt's Creek" and "Russian Doll"
Annie Murphy's career on screen began in the mid-2000s, and since her breakout role in the beloved sitcom "Schitt's Creek," she has had a number of notable roles in film and TV. The actor made her TV debut in the 2007 television film "Lethal Obsession" and went on to have supporting roles in both Canadian and American works, including "Blue Mountain State" and "Rookie Blue."
By the early 2010s, her acting career began to plateau, and Murphy's work was inconsistent. It wasn't until 2013, when she auditioned for the role of Alexis Rose in "Schitt's Creek," that her career really took off. In a 2020 interview on "The Kelly Clarkson Show," Murphy explained, "Just before 'Schitt's Creek,' things were quite bleak. My house had just burnt down. I had like $3 in my bank account. I hadn't worked in close to two years. And I had just blown my very first screen test — like blown it, blown it, blown it. . . . But then, two days later, I got the audition for 'Schitt's Creek.'"
Murphy was a central part of "Schitt's Creek" throughout the show's six seasons, and after it wrapped in 2020, she took on work in other shows and films. Most recently, she is set to star alongside "The Bear's" Jeremy Allen White in "Fingernails," which hits Apple TV+ on Nov. 3. She also voices the role of Petra "Petey" St. Barts in the Freeform animated sitcom "Praise Petey."
If you're curious to see what other works Murphy has been involved in, keep reading!
Annie Murphy Movies
"Ruby Gillman, Teenage Kraken" (2023)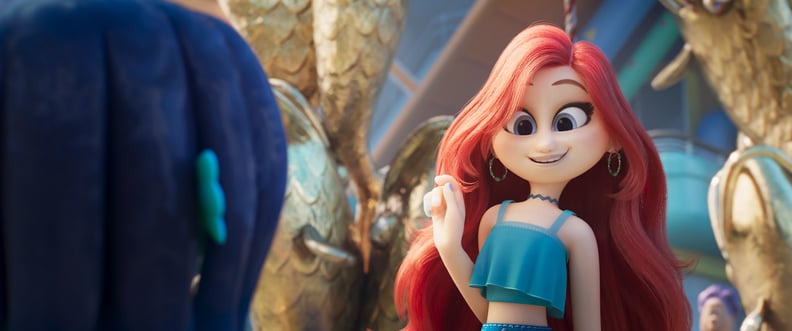 Murphy stars alongside "To All the Boys I've Loved Before's" Lana Condor, Toni Collette, and Jane Fonda in this coming-of-age animated flick. 15-year-old kraken girl Ruby Gillman just wants to fit in with her human classmates at Oceanside High School. When Ruby accidentally falls into the ocean, she transforms into a giant kraken and seeks the advice of her grandmother Grandmamah, the Warrior Queen of the Seven Seas, who informs her that she is a descendant of the battle krakens that have protected the ocean from evil mermaids for generations. With the help of Grandmamah, Ruby must channel her powers to help defeat the latest group of evil mermaids, including Queen Nerissa (Murphy), who poses as Chelsea Van Der Zee, a popular girl at Oceanside High.
"Fingernails" (2023)
In this sci-fi romance film, science has finally found a way to determine if a couple is 100 percent compatible and meant for one another through an extensive fingernail test conducted by The Love Institute. Couple Anna and Ryan are deemed to be romantically compatible and have been in a relationship for quite some time. When Anna takes on a job at the institute, she meets Amir, who also works there. After they get to know one another, feelings begin to develop, which challenges the trajectory of their life and the effectiveness of the fail-proof test. In "Fingernails," Murphy plays Natasha, Amir's girlfriend.
Annie Murphy TV Shows
"Schitt's Creek" (2015)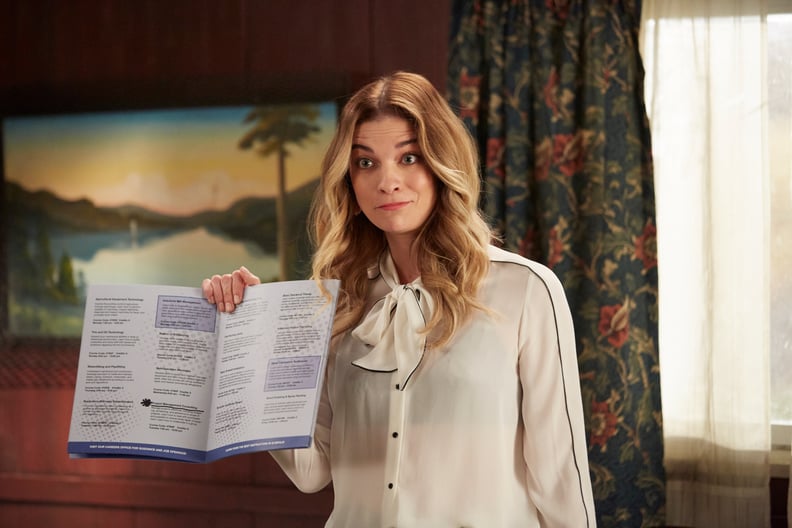 In Murphy's most popular work, she stars as Alexis Rose, the air-brained, socialite daughter of Johnny and Moira Rose. After the family's trusted business manager embezzles all of their money, the Rose family are forced to move to Schitt's Creek — a town they purchased as a joke — and adjust to life without the money and luxuries they were accustomed to having. Murphy's performance earned her an Emmy for outstanding supporting actress in a comedy series, in addition to SAG and Golden Globe nominations.
"The Plateaus" (2015)
"The Plateaus" stars Murphy as Morgan, a member of a band called the Plateaus. When the band's lead singer dies in an accident during band practice, the remaining members are left to get back to work and find success without a pivotal part of their group.
"Russian Doll" (2019)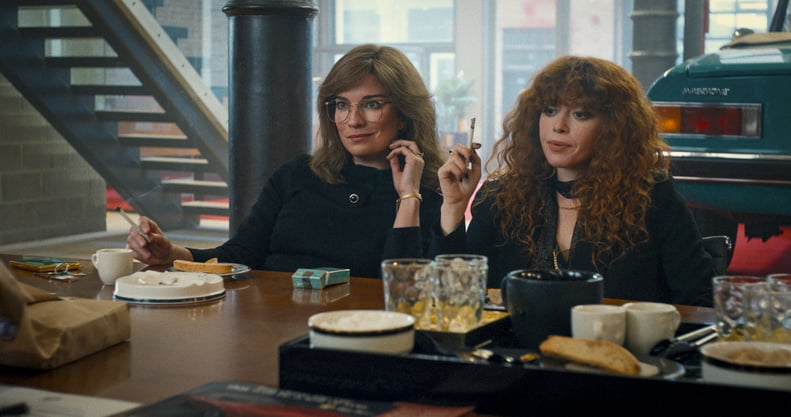 In season two of Netflix's "Russian Doll," Murphy plays the role of a young Ruth Brenner, a therapist and close friend of lead character Nadia Vulvokov (Natasha Lyonne). The show follows Nadia as she becomes trapped in an endless time loop at her 36th birthday party in New York City. While stuck in the time loop, Nadia meets Alan, who is similarly stuck in a time loop of his own. The second season centers around the two as they stumble upon another portal that manipulates time, which happens to be in a New York City subway. Traveling back and forth in time, Nadia attempts to change the course of her family's history, with Alan tagging along for his own journey.
"Kevin Can F**k Himself" (2021–2022)
Allison Devine McRoberts (Murphy) feels trapped in her marriage to Kevin Roberts, who is immature and unambitious about his life and relationship with Allison. Her unhappy experiences are told in two different perspectives: a sitcom-style show where each grueling interaction with Kevin is accompanied by audience laughter, and a single-style camera POV that observes her life outside of her marriage. On the brink of a breakdown, Allison pursues other interests in hopes of bringing excitement back to her life.
"Praise Petey" (2023)
Petra "Petey" St. Barts (Murphy) is a New York socialite whose life was blissful until her mother informed her that she inherited the town of New Utopia from her father who recently died. When she arrives in New Utopia, she discovers that her father was a cult leader who brainwashed the residents to worship him and his descendants, including Petra. Destined to change her family's legacy, Petra is determined to stop the cultish practices and get the residents to think on their own.