Avenue Beat Talks About New Song "Woman" and TikTok Success
Avenue Beat Found TikTok Fame With "F2020," and Now They're Ready to Do It Again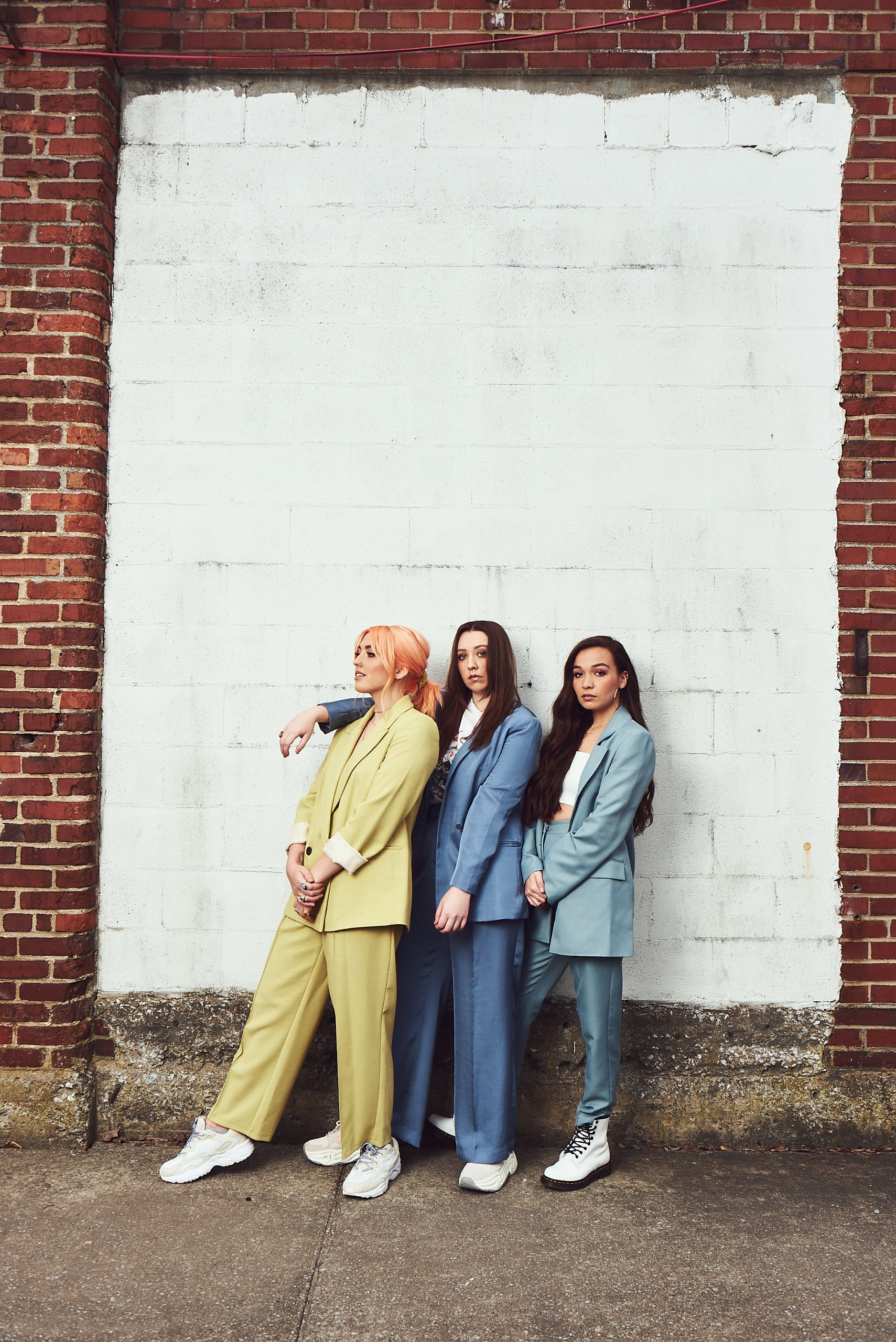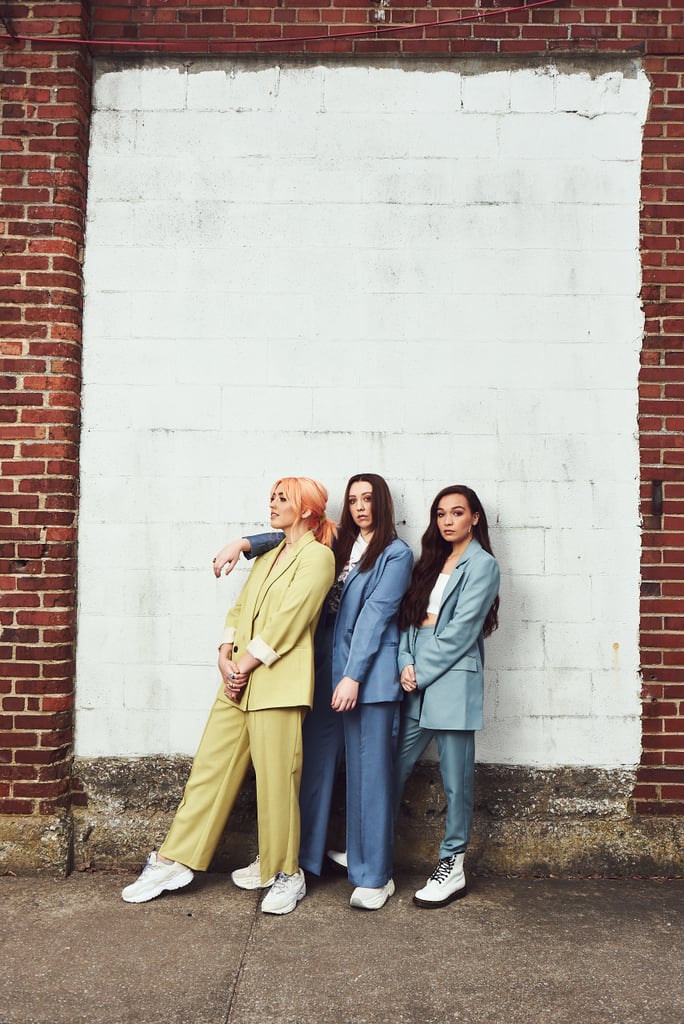 Image Source: Delaney Royer
Last year was memorable for all the wrong reasons, and perhaps no one summed it better than Avenue Beat. The band's "F2020" track went viral on TikTok over the summer with over 16 million views, eventually landing on The New York Times's "Best of 2020" list. A global pandemic, a racial-justice reckoning, and personal struggles made their way into the lyrics, with the ultimate question: "Can we just get to 2021?"
Well, 2021 is here, and although it's shaping up to be the 13th month of 2020, Avenue Beat can provide one bright spot: a new song. The group's sexy track "Woman" (released on Jan. 15) feels like the polar opposite of their last hit. The song is romantic, optimistic, and lighthearted; an empowering escape, if you will. POPSUGAR chatted with Avenue Beat's Sami Bearden, Savana Santos, and Sam Backoff to hear all about the inspiration behind their journey as a band, the new track, and what it takes to make music on TikTok.
POPSUGAR: 2020 was a rough ride for a lot of people obviously, but the band also had some huge successes. I just want to revisit those now that we're starting a new year. How are you doing?
Savana: I think it got mad at us for writing a song, and now 2021 is equally as bad.
Sami: Yeah, 2021 was like, "I want a song written about me. I'm going to be really sh*tty."
PS: Does 2021 already warrant a follow-up song? Because we're only a few weeks into this year, and I feel like it's already a mess.
Sam: It might need one.
Sami: I'm hopeful, I'm optimistic, so I'm going to look for the positive where I can find it. But dang, 2021 has put me to the test.
PS: I want to get some background on you as a band. Like, is it true that Avenue Beat came from a name generator?
Savana: Yes, yes that is true.
Sam: Savana and I were baby friends, and then we met Sami when we were 14 doing musical theater together. Savana and I were making YouTube covers at the time, and Sami decided to comment on one of them. She was like, "Hey guys, if you ever need a piano player, you have my number." Later, we found out that she actually didn't know how to play the piano, and that was just like a total BS. But it worked because here we are.
Sami: Show me one person who hasn't lied on their résumé before . . . I'll wait.
PS: So from that point to "F2020," can you fill in that space of time?
Sam: Yeah, we moved to Nashville right after we graduated and we wrote songs every day, sometimes twice a day. We really figured out how to write a song, and what we wanted, who we were, what we wanted to say, and how we wanted to say it. Then when Savana took over production for us, that's when our sound kind of fell into place, and then "F2020" happened.
PS: "F2020" feels like one of the first TikTok original hits to go viral. What was that experience like? I read somewhere that you posted it and it wasn't even finished yet, right? What was it like to have one of your pieces take off on a platform like that?
Savana: To have something that you just put up as a random thing, to blow up overnight, it's really validating.
Sam: We woke up the next day and we were just texting each other in our band group chat. We were like, "OMG you guys seeing this?" And I was refreshing the TikTok feed, and the likes kept coming in, and the comments. We're like, "Is this a joke? Are we being pranked? This can't be real." It was super surreal.
Sami: I liked the way you phrased the question about ["F2020"] being one of the first songs to blow up out of TikTok. I think it's so cool seeing that that's becoming more of the rule than exception, because I think it's kind of changing the music industry and it's putting a lot more emphasis and power in the hands of the creators, which I'm happy to just be a part of it. I think it's really cool.
PS: In the last year especially, so many of the Billboard Top 100 songs or songs that charted came from TikTok. The app basically dominated the music industry, and Avenue Beat is great proof of that. What is it about TikTok specifically that you think works so well for musicians?
Savana: I think it gives the people the opportunity to say what they like. Like if they like something, they get to decide that it gets played on the radio, and it's not something that has to filter through an industry.
Sam: It removes a lot of the politics. If people relate to a song, and they want to dance to it, or make the video to it, or whatever, and they're like, "Yeah, I'm going to blow this up." People are so positive, they're always commenting on our videos. They're like, "I love this. I want to help you guys. I'm commenting for the algorithm." They're so willing to help push something through because they're excited that they found it first.
Sami: The TikTok community is just massive, and there are all these different factions. Your page gets curated based on your interests. I think it's awesome that somebody could do a completely different type of music, and if it's not somebody's cup of tea, they're like, "OK, moving on." The music is able to reach the audience that wants it, which is really cool.
PS: I want to congratulate you on your new song. I feel like "Woman" couldn't be more different than "F2020." It's sexy, it's romantic, and it's empowering, vs. "F2020," which was kind of like let's all band together and commiserate, be a little sad. Was the difference intentional?
Savana: It just kind of came out that way, but we realized we wanted something positive, something nice for a change. We didn't want to be dark and depressing forever.
Sam: We will go back to being dark and depressing again, but for now, we're going to be empowering.
Sami: We want to show that we have what, ladies? Range.
PS: The first verse of "Woman" has a nod to "F2020," talking about how you're sitting there, trying to follow up the success of a viral pop hit, and how much pressure there is. What helped alleviate those feelings and move you onto the next step of making another song?
Savana: It was just writing, and writing, and writing until we found something that we thought was right. And then being meta in the song made it the right song.
Sam: Yeah, talking about how we were anxious about following up "F2020" felt like the right way to usher in the next wave of songs. We're talking about women, because you know, women.
PS: "Woman" feels universal, but then also very specific. Was it written with anybody in particular in mind?
Savana: Yep, my girlfriend. She loved it. Editor's note: Savana is dating Alysa Vanderheym, who is also a coproducer on the song.
PS: Aside from "Woman" being a love song and an LGBTQ+ anthem, I listened to it as a song of self-love, acceptance, and body positivity. I feel like many women, myself included, sometimes have a hard time calling themselves a "masterpiece," which you say in the song. Did you have women's self-confidence in mind when creating the song, or am I totally reading into it?
Sam: We wanted this to be something that you could play and you just feel good and sexy. I think it being also a love song and also an LGBT+ community song, that has a lot to do with self-confidence, like those communities, and also having fulfilling personal relationships boost your self-confidence and raise you up. So I think it's cool that it all kind of goes together in one category.
PS: Can we expect a music video for "Woman" anytime soon?
Savana: I hope so!
Sam: I want to do it right now.
PS: Fingers crossed. Do you have anything else coming up that fans should be aware of?
Sami: We can tease new music, in general, it's on its way. We pinky promise, even though we're not allowed to talk much about it. It's in the works for sure.