The 20 Best Christmas TV Episodes, From "Friends" to "Bob's Burgers"
Sure, when it comes to festive entertainment, most people reach for a Christmas movie. And while they can be fun, heartfelt, and memorable, there's something extra special about a holiday episode of one of our favorite TV shows. Why?
Part of it has to do with the long connection we have with our favorite TV characters. After dozens of episodes of "New Girl," "The Office," or "Parks and Recreation," we build a bond with the characters that can't be matched by movie characters. And then the arrival of Christmas can really shake up an office, friend group, or family. You have family members visiting, intensely important parties and dinners, and — quite frequently — a romantic plot involving snow, thoughtful presents, or mistletoe. So Christmas episodes often end up full of iconic guest stars, memorable blowups, and lots of shenanigans. And more than one feature an iconic romantic moment that still has us kicking our legs or a perfectly sentimental moment that made us cry.
Ahead, we rounded up 20 of our favorite Christmas episodes. Some shows, like "30 Rock," "Community," and "Bob's Burgers," made Christmas episodes an annual tradition, so we limited our picks to one episode from each series. These are the best Christmas TV episodes, a perfect holiday guaranteed.
— Additional reporting by Maggie Boyle and Victoria Edel
01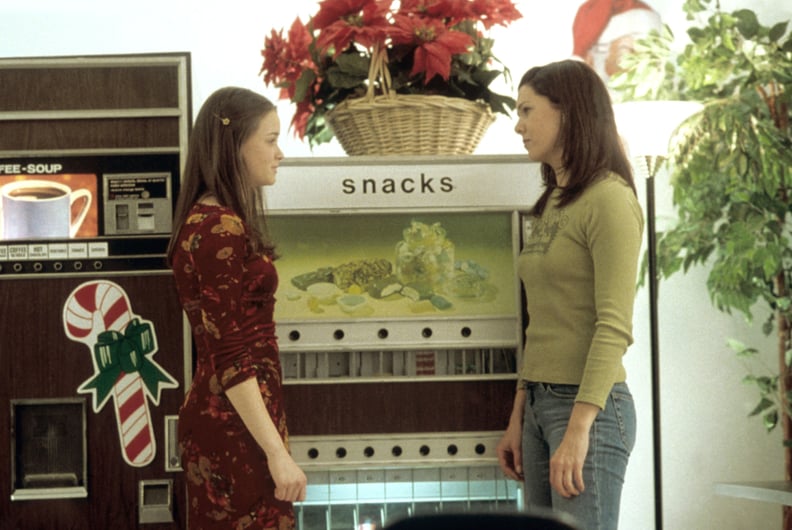 "Gilmore Girls": "Forgiveness and Stuff"
"Gilmore Girls," despite its love of fall and winter, never goes that over the top on Christmas episodes. This entry, from season one, holds a special place in our hearts because it's really the start of Lorelei's way back to her family. It's also the first time we see the bond between her and Luke, as he rushes her to Richard's bedside after he collapses. With this one episode begins the most aggressive shipping campaign in the history of television. Oh, and there's a Santa-shaped hamburger. So . . . totally worth it.
02
"The O.C.": "The Best Chrismukkah Ever"
Chrismukkah has pretty much become a staple in our pop culture lexicon, but if it wasn't for Seth Cohen and his mixed-religion household, we wouldn't have the perfect way to mix Hanukkah and Christmas, nor would we have the clever name. Chrismukkah was a yearly celebration on "The O.C.," but the first iteration is our favorite. Even though Seth is juggling two girls (with what he thinks is dual divine intervention), he's still got enough holiday spirit for Ryan, who's experiencing his very first Christmas in Orange County. Leave it to Ryan to sum it all up: "Drinking, crying, cops; well, it must be Christmas."
03
"The Office": "Christmas Party"
We love literally every "The Office" Christmas episode and must include a special shout-out for the one in the final season, "Dwight Christmas." But again, the first Christmas episode is the best one. This episode is where we almost see Jim confess his feelings to Pam. Of course, he chickens out when Michael enforces a gift swap, afraid someone else will get the inappropriately priced iPod he bought for Ryan. But Pam, as usual, saves the day when she trades the iPod for the personalized gift Jim made her — all except for the romantic note, which he sneaks into his pocket. And there are still lots of jaw-dropping moments here, too.
04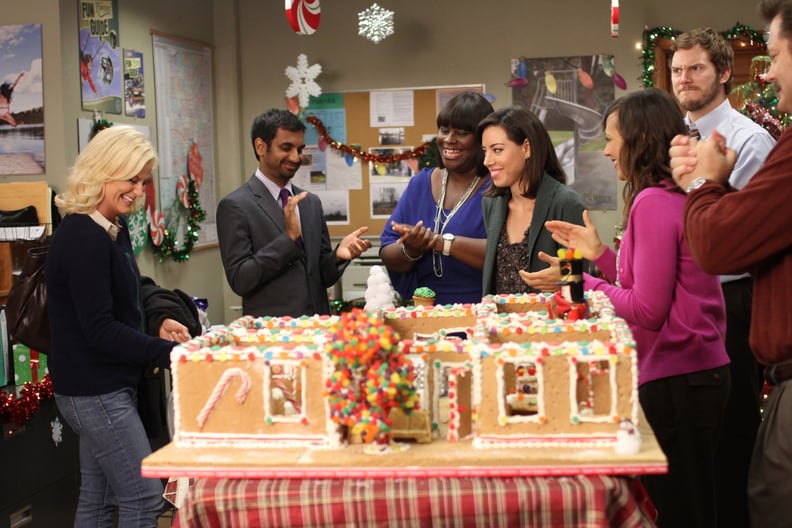 "Parks and Recreation": "Citizen Knope"
"Parks and Recreation"'s best Christmas episode is "Citizen Knope," when Leslie, on leave for her inappropriate workplace relationship with Ben, has to stay away from the office. With her gone, the rest of the gang team together to figure out the perfect Christmas gift to give her. Their ultimate choice — a gingerbread office — is amazingly great and heartwarming. Pair a rewatch with the episode before it — "The Trial of Leslie Knope" — for a perfect winter-themed arc.
05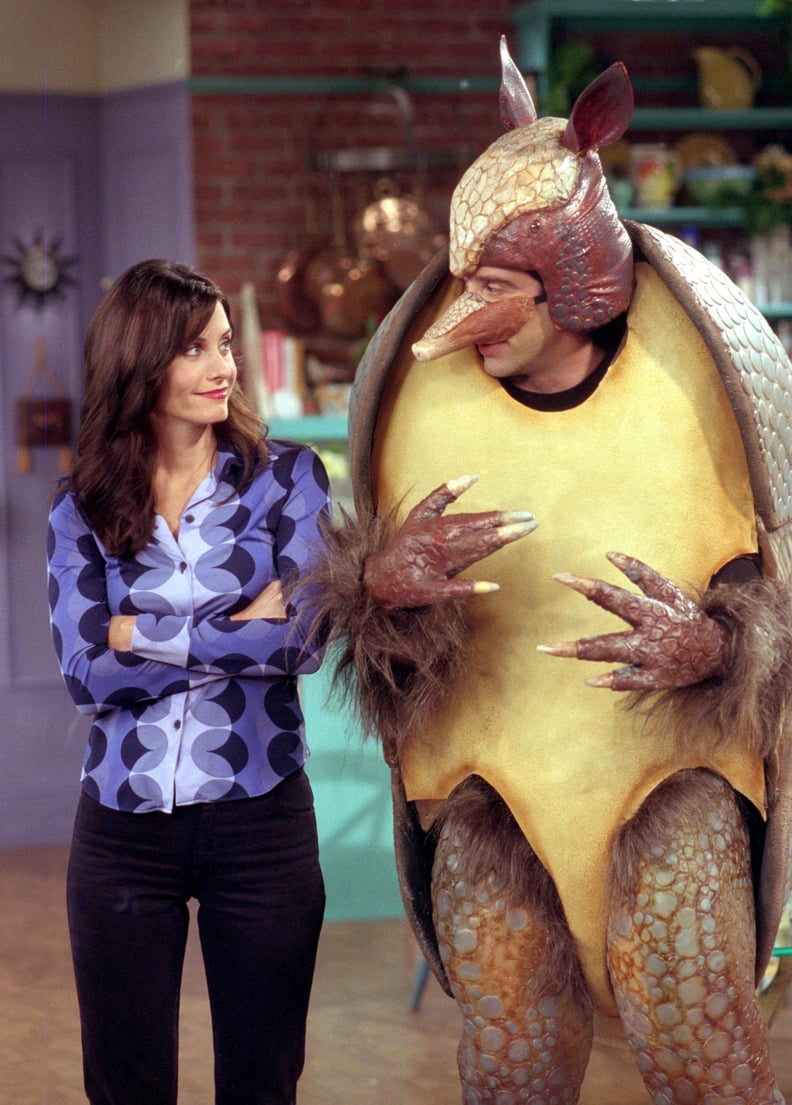 "Friends": "The Holiday Armadillo"
In this iconic episode, Ross tries to introduce his toddler son, Ben, to the idea of Hanukkah, but he's only interested in Christmas. When Ross goes to a costume store in search of a Santa suit, he finds they're all out of stock and resorts to a "holiday armadillo" costume instead. Things escalate when Chandler shows up in a Santa suit and steals Ross's holiday spotlight, followed by Joey in a Superman suit.
06
"Grey's Anatomy": "Grandma Got Run Over by a Reindeer"
Reminisce on the old "Grey"'s seasons with the very first holiday episode of the series. Back when Alex, Meredith, Izzy, and George all lived in Meredith's house together, Izzy decks the halls with holiday spirit, even getting the dark and twisty sisters Meredith and Cristina to participate in the holiday fun.
07
"Schitt's Creek": "Merry Christmas Johnny Rose"
Johnny tries to get his family in the Christmas spirit by throwing a party like they used to when they were rich, but no one seems to want to participate. While Johnny wallows in the diner, Moira, David, and Alexis plan the actual perfect holiday party, complete with a performance by the Jazzagals.
08
"New Girl": "Santa"
We love a good holiday with the "New Girl" gang, and this episode doesn't disappoint. As the midseason finale, mayhem ensues at a Christmas party, and we see some revelations between Schmidt and CeCe, as well as with Jess and Sam, and get a slightly off-tune rendition of "O Come, All Ye Faithful."
09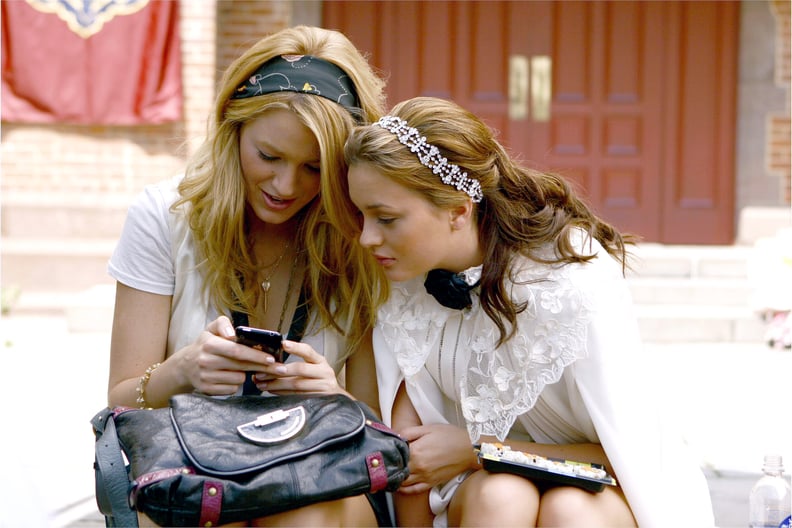 "Gossip Girl": "A Very 'Gossip Girl' Christmas"
This episode showcases Blair's complicated relationship with her parents when her dad shows up from Paris for the holidays with his boyfriend and leaves Blair feeling like a third wheel. Meanwhile, Vanessa surprises Dan with the news that she submitted his writing to The New Yorker, while Serena gets him a flashy watch that he doesn't accept. Serena remembers Dan's wish for a white Christmas and makes him his own winter wonderland, cementing their romance.
10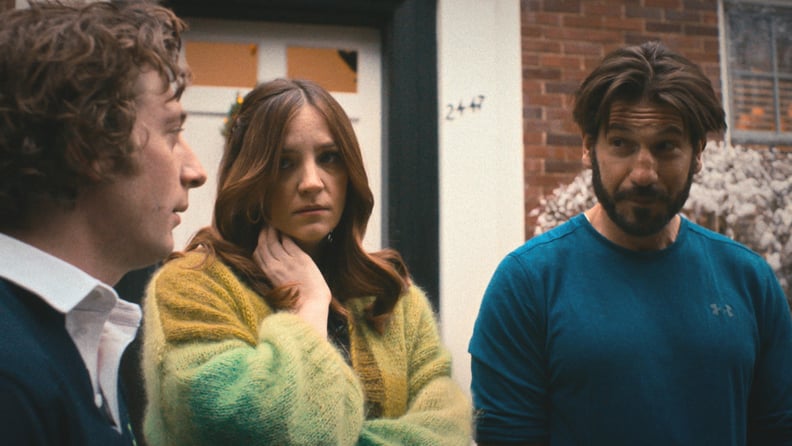 "The Bear": "Fishes"
When "The Bear" season two was released this summer, no one expected a Christmas episode. And yet, we got "Fishes" — an hour-long look at a holiday five years before the show's main storyline takes place. Carmy; his sister, Sugar; and his brother, Michael, spend a very chaotic Christmas Eve with their family, which is full of iconic guest stars. Two standouts include Jamie Lee Curtis as their often-horrifying mom and Bob Odenkirk as a bumbling uncle. The story shines light on the siblings' complicated relationship with each other (and with the restaurant), but it's also an extremely intense and stressful hour of television.
11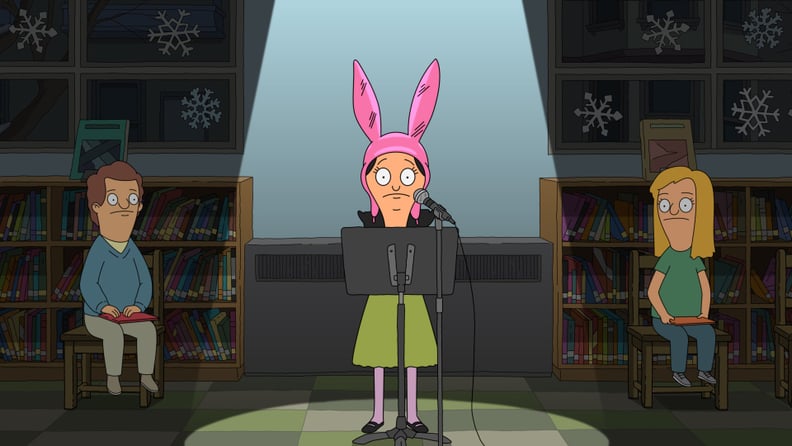 "Bob's Burgers": "The Plight Before Christmas"
"Bob's Burgers" is another show that loves to do Christmas episodes, but 2022's entry, "The Plight Before Christmas," will absolutely make you cry. In it, all three Belcher kids have Christmas events at the same time. Gene is performing in a holiday concert, Tina is performing in a pageant, and Louise is reading a poem she wrote at the library. Bob and Linda try to figure out how to do all three, but it seems no one will end up attending Louise's event — until big sister Tina steps up. It all comes together for one of the most gorgeous moments in the show's history.
12
"Downton Abbey": "Christmas at Downton Abbey"
"Downton Abbey" has also done a lot of Christmas moments, but the first Christmas special is the best one for a simple reason: Matthew finally confesses his feelings for Mary and proposes to her in the snow. However their story ended (best not to discuss it), this moment remains golden.
13
"The Mindy Project": "Christmas Party Sex Trap"
In season two, the doctors in "The Mindy Project" hold an office holiday party that goes immediately off the rails. But Danny's present for Mindy — a dance to Aaliyah's "Try Again" — is the most exciting, iconic moment in perhaps the entire series. Who knew choreography could be so full of romantic tension?
14
"Glee": "A Very Glee Christmas"
"Glee," unsurprisingly, loved Christmas music and Christmas specials. The first "Glee" Christmas episode, however, gave us Kurt and Blaine singing "Baby, It's Cold Outside," and we have never, ever forgotten it. Other musical standouts include "Merry Christmas Darling," "Last Christmas," and "Welcome Christmas."
15
"Crazy Ex-Girlfriend": "My Mom, Greg's Mom and Josh's Sweet Dance Moves!"
Another iconic Christmas music moment is the song "California Christmastime" from the season one episode of "My Crazy Ex-Girlfriend" "My Mom, Greg's Mom and Josh's Sweet Dance Moves!" But it's not the only joy this episode brings. Rebecca's mom comes to visit her for the first time (and sings the legendary song "Where's the Bathroom?"), and Josh joins a dance group. Now that's Christmas.
16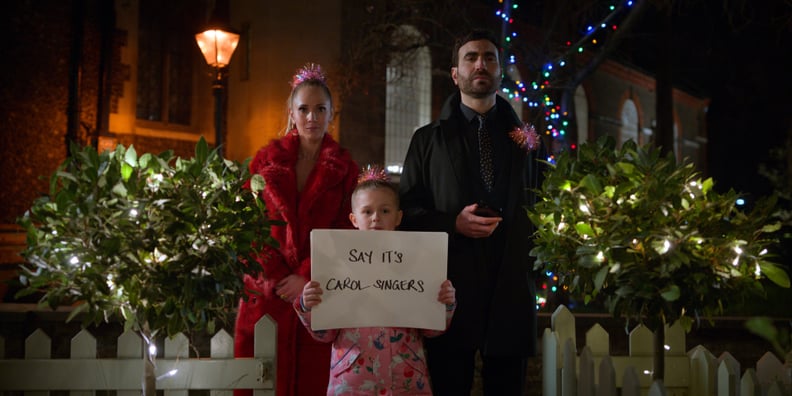 "Ted Lasso": "Carol of the Bells"
"Ted Lasso" did one Christmas episode in season two, and it gives us a bevy of Christmas movie references as the AFC Richmond gang celebrate the greatest time of the year. Higgins hosts some of the team for dinner; Roy, Keeley, and Phoebe go on a "Love Actually"-themed journey; and Ted and Rebecca try to spread holiday cheer. And at the end, we get Hannah Waddingham's stunning vocals as everyone sings and dances along.
17
"Community": "Regional Holiday Musical"
Every Christmas episode of "Community" is amazing, but "Regional Holiday Musical" from season three is a parody of "Glee" as the study group have to fill in for the community college's show choir. Troy and Abed's "Christmas Infiltration" is just one of the parody songs that brings this festive episode to life.
18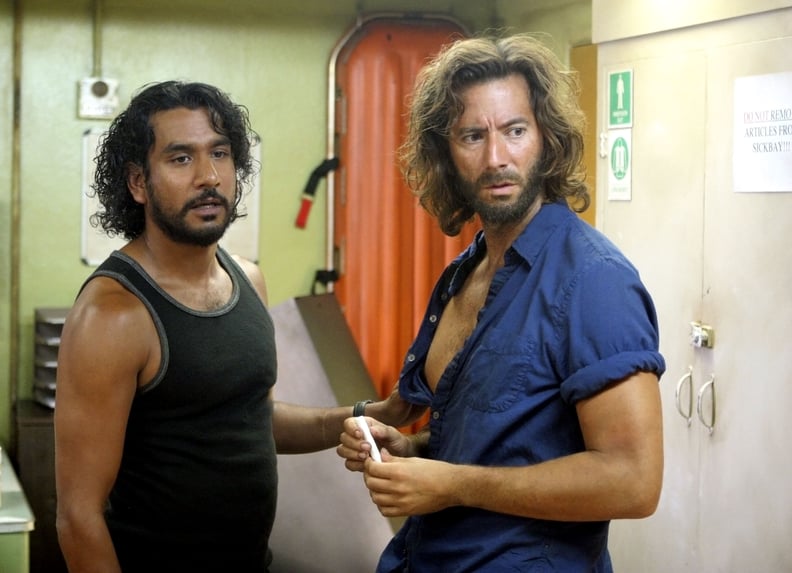 "Lost": "The Constant"
"The Constant" is the best episode of "Lost," and it happens to have a lot of Christmas in it. Desmond's consciousness is traveling through time, and unless he can make contact with his ex Penny, he'll die. It all ends in a Christmas phone call that always makes us cry, and Penny learns Desmond's alive and Desmond learns she never stopped looking for him.
19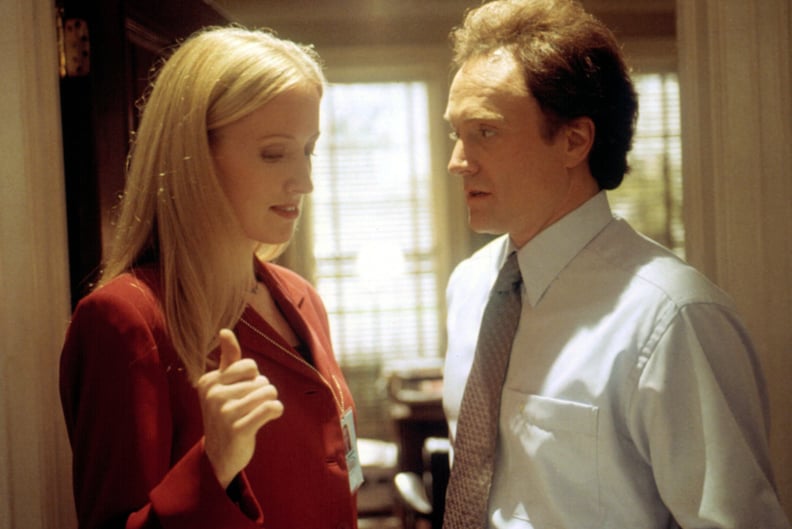 "The West Wing": "Noël"
"Noël," a season two episode of "The West Wing," comes at a tense time. At the start of the season, the White House was targeted by a terrorist, and Josh Lyman was shot. In the months since, everyone is trying to put it all behind them, but Josh just can't. It leads to one of the series's most emotional moments; plus, the (fake) White House is just gorgeous in its Christmas splendor.
20
"30 Rock": "Christmas Special"
"30 Rock" has many great, silly Christmas episodes, but jokes and heart come together best of all in season three's "Christmas Special." Forced to spend the holiday with his mom, Colleen (Elaine Stritch), Jack orders "TGS" to put together a Christmas special so he doesn't have to spend time with her. Stritch is always a gift when she pops up on "30 Rock," but this is her best, weirdest, most lovely episode.