Chlöe Discusses Grammy Hopes For In Pieces
Chlöe Says Making "In Pieces" Felt Like "Creatively Birthing a Child": "[I Was] Giving My Heart and Soul"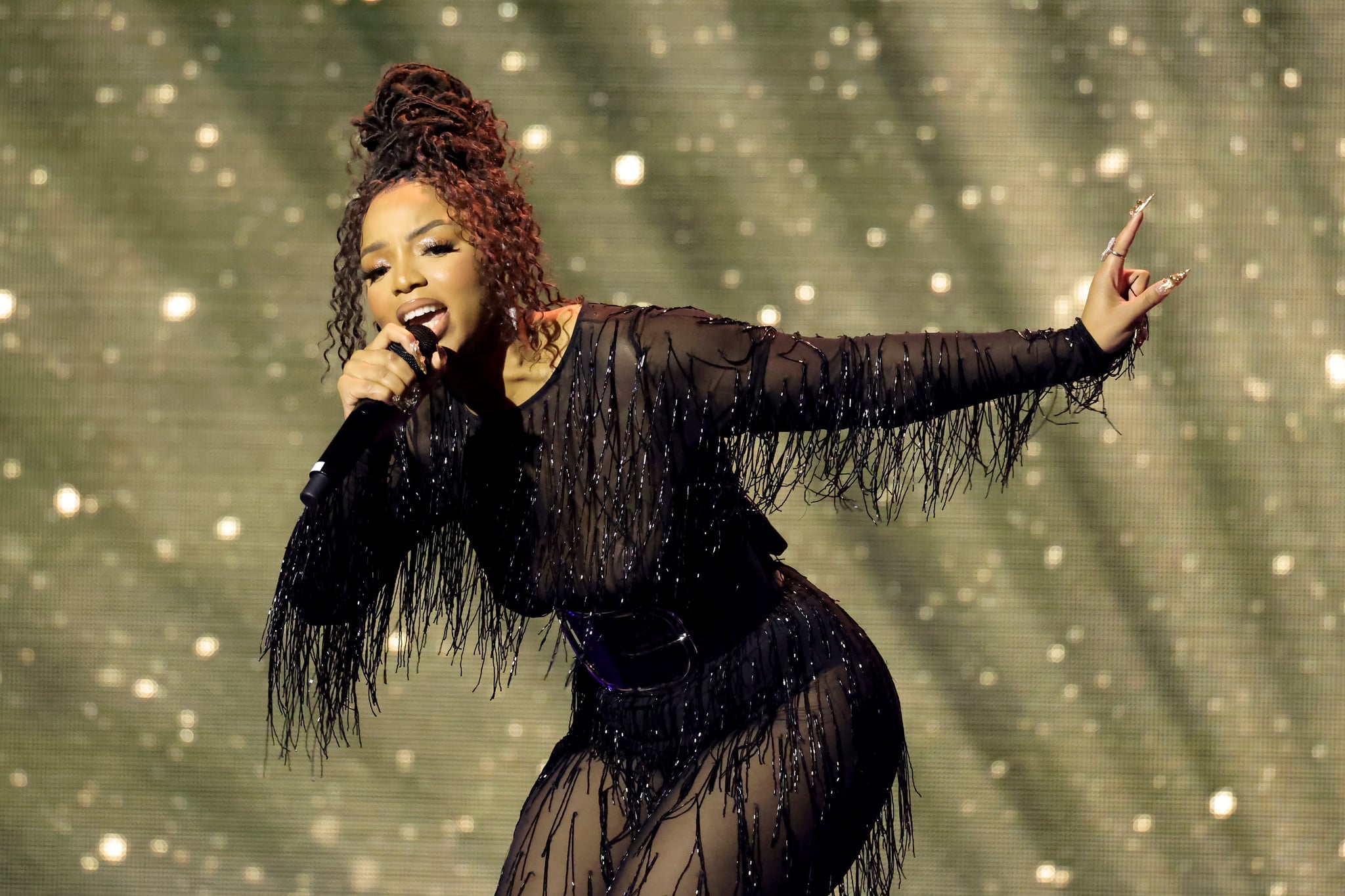 Chlöe is preparing to take over the music industry. The star is releasing her debut full-length album, "In Pieces," on March 31, and she feels the sky is the limit in terms of where the project can go.
For the 24-year-old artist, making a project as big as "In Pieces" felt like "creatively birthing a child," she tells POPSUGAR. It's also been a long time coming. "I was working on that for three years," Chlöe (real name Chloe Bailey) says, recalling the slow-burning process of crafting her first LP. The star has definitely been busy during this time frame, including roles in "Swarm" and the upcoming movie "Praise This," which dives into the world of competitive gospel choirs.
Working on multiple creative projects at once has been a bit of a balancing act, to say the least. Recording sessions for "In Pieces" often blurred into filming "Praise This," sometimes requiring her to forfeit sleep. "We'd end sometimes earlier in the day, sometimes later in the evening. I'd go straight into the studio, pull an all nighter, [and then head] straight to set for my 5 or 6:00 a.m. call time," she recalls. Still, it's still all, in a sense, connected — part of her overarching creative vision. "It all felt like the same world," she says. "I was equally giving my heart and my soul, and being vulnerable in both worlds."
Embodying her "Praise This" character — also an ambitious young musician — while making the album allowed her to channel some of her own hopes and dreams into the role. "It felt like [I] was manifesting for future things, like, God willing, 'In Pieces' gets a Grammy," she says. "Any of us aspiring musicians, we have those Grammy speeches that we tell ourselves in the shower and in the mirror."
"Praise This" also allowed her to work with Gospel artists like Harvey Mason, Koryn Hawthorne, and Jekalyn Carr, which supplemented her work on her album, inspiring Chlöe to push her voice and her vision to new levels. "I love to learn and I love to be inspired," she says. "I'm stepping out and doing my first project as a solo artist. I still have a lot to learn and a lot more to go. . .Anytime I can step into a space where I'm being challenged and reaching new heights that I'd shied away from, it's always a really great thing."
One thing is for sure: She's not slowing down anytime soon. Neither is her sister and musical collaborator, Halle Bailey, who is equally blessed with the talent, star quality, and X-factor that has propelled Chlöe. Even as Chlöe prepares to launch "In Pieces," she and her sister are scheming about new collaborations. "My sister and I are very, very excited to work on our new album together, as well as just let these amazing solo projects come out for both of us," Halle told POPSUGAR in a March 21 interview, "but people should definitely know that we are not finished making music together."
Halle is also entering a major new phase in her career, starring as Ariel in the upcoming live-action remake of "The Little Mermaid," and while she and Chlöe have taken a break from their joint projects for the time being, they're still supporting each other every step of the way. "My sister and I are so close, she's like my arm . . . And she's my biggest supporter. I'm her biggest supporter," Halle said. "We're just really excited to be able to be doing all of this together and for this all to be happening. I'm so proud of her. And her album comes out March 31, 'In Pieces,' and everyone should be so hyped."