Once Upon a Time Interview: Brace Yourself For Emma and Hook's "Difficult" Season
Once Upon a Time's fifth season is going to be an interesting one for Emma (Jennifer Morrison) and Hook (Colin O'Donoghue). The show's hottest couple will be put to the test now that Emma has become the Dark Swan, and no one is more aware of how hard it will be than Morrison and O'Donoghue. We, along with fellow reporters, caught up with the actors during Comic-Con International: San Diego to talk about their onscreen relationship and what we can expect from the upcoming season. Take a look, and make sure you're caught up on all the rest of the biggest Once Upon a Time relationships.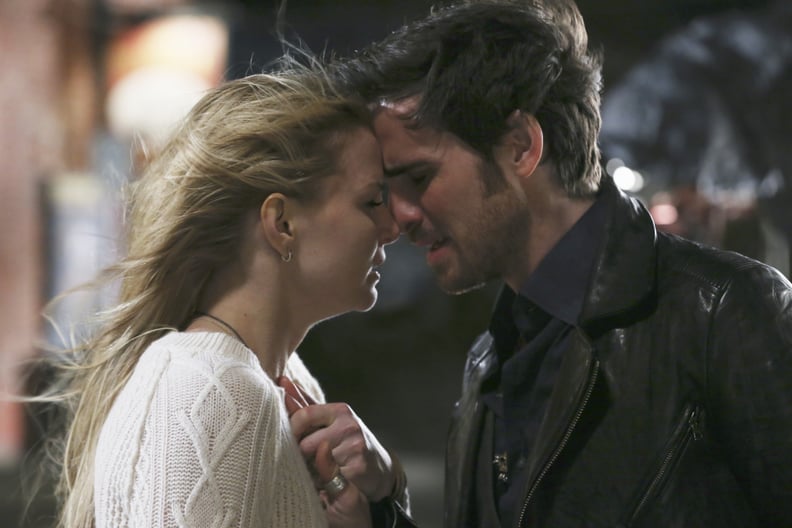 How is Hook going to adapt to the news of Emma going dark?
Colin O'Donoghue: It's really difficult for Hook, because he spends most of the last season trying to protect her from the darkness, because he understands what that means. Certainly he's trying to protect her heart.
He might be more into her wardrobe this year.
CO: He'll definitely prefer the wardrobe. He'll probably even borrow her pants! I think he is fully invested in this relationship, in being in love with Emma, and I think he'll do whatever it takes to try to bring the woman he loves. It's the same way that Belle loves Rumpel, even for the darkness that's in him. It's going to be interesting with Hook figuring out a way to bring Emma back and whether or not he can do that — or whether or not he'll decide to go back to the darkness. That's where his struggles are going to be, I think.
Jennifer, how has it been playing the Dark Swan?
Jennifer Morrison: It's great! It's so wonderful having a challenge like this going into season five of the show and to feel like I'm building something entirely new. It's obviously informed by everything Emma's gone through, but it's entirely new. It's been a lot of new research and new thought processes. Everyone in the crew is involved in this process because everything she touches is different, everything she wears is different, everything she handles is different, and there's a different energy to it.
The first couple of days of doing it, I was so exhausted! When you get angry or angsty in real life, it happens in a second. It comes out, and then it's over. But when you're angry as a character, for 16 hours a day, you have to sustain that level of anger and angst for 16 hours, so you wake up the next morning and go, "God, I didn't know I had those muscles! I didn't know I was carrying all this tension for so many hours!" But it's the most rewarding exhaustion. There's nothing more fun as an actor than to feel like you're exhausted for all the right reasons. I'm really enjoying it.
The tagline for the season is, "Evil is made, not born," so as a human being, not a character, do you think that is true?
JM: I do!
CO: I think so. It's a difficult question to answer. The Darkness is there, and Emma has to choose to take the Darkness on board. Rumpel had to choose to take the Darkness on board. It's whether or not you embrace it or fight against it.
JM: They do establish with all of the Dark Ones in the past, which they kind of go back through in the beginning of the season this year, that everyone takes the Darkness for a good reason. Rumpel takes it because he wants to be braver for his son. Emma takes it because she's saving the whole town from being destroyed by the Darkness. Before that, they mention some of the earlier Dark Ones, and their good reasons for choosing the Darkness.
I think there's something really interesting about this idea that people make bad decisions for good reasons sometimes, and how far down you can end up in the rabbit hole for having made a bad decision but for a good reason. That happens in life, so there's an incredible life lesson that they're telling with these stories. It's so easy to justify something when you don't know the domino effect of how far that can take you in life. In that perspective, I do think that darkness or evil or bad decisions are coming from something that's circumstantial or made, not something that is born.
CO: This is why I like doing interviews with Jen, because she's got all the answers — it's absolutely brilliant.