Demi Lovato's Holy Fvck Album Release Date
Demi Lovato Announces "Holy Fvck" Tour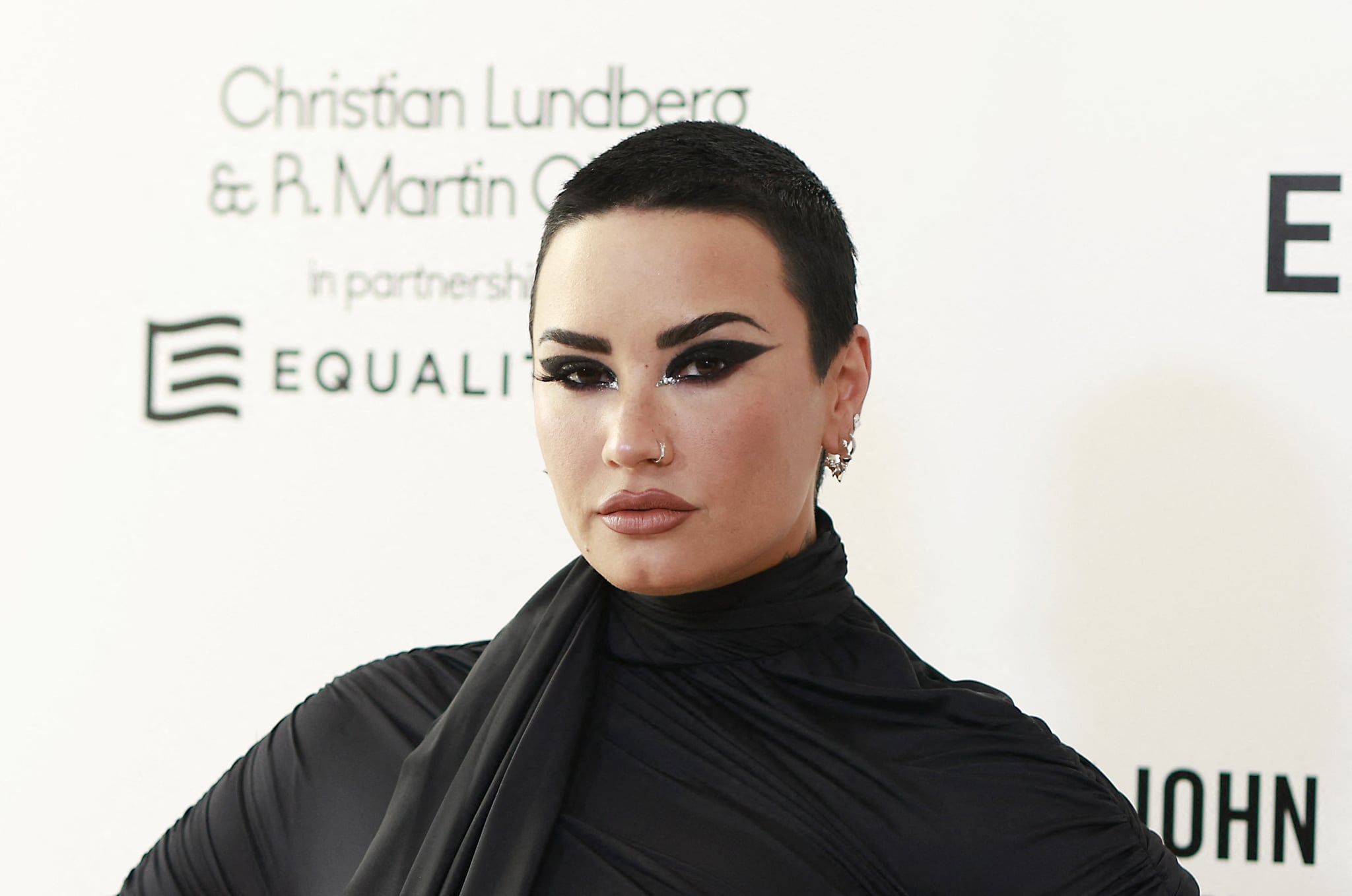 Image Source: Getty / Michael Tran / AFP
Fresh off the heels of her 2021 album, "Dancing With the Devil . . . the Art of Starting Over," Demi Lovato is diving into summer with a new album titled "Holy Fvck." On June 6, just over a year after their last studio release, Lovato confirmed that their eighth album, led by the single "Skin of My Teeth," will be dropping just in time to add to our summer playlists.
"The process of making this album has been the most fulfilling yet, and I'm grateful to my fans and collaborators for being on this journey with me," Lovato said in a press release. "Never have I been more sure of myself and my music, and this record speaks that for itself. To my Lovatics who have been rocking out with me since the beginning and those who are just now coming along for the ride, thank you. This record is for you."
In January, Lovato staged a "funeral" for her pop era, indicating that she would be leaving the genre behind in favor of pursuing more punk- and rock-inspired influences. Promotional photos for the upcoming release also feature the singer dripping in spikes and chains and sporting a rock-star mullet while soaking in the bathtub.
"Holy Fvck" Cover Art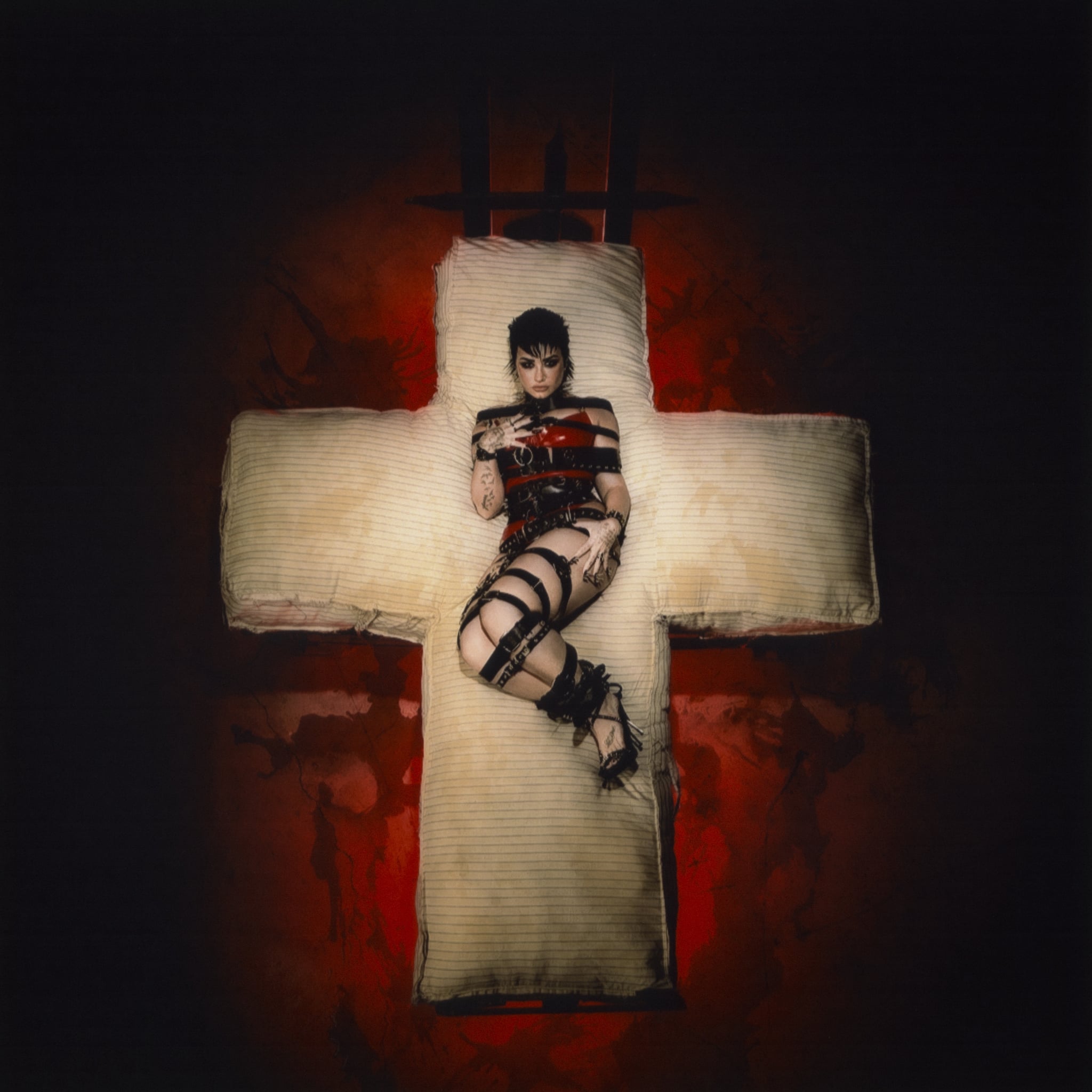 Image Source: Brandon Bowen
On June 6, Lovato shared the cover art for their upcoming album, which features her tangled in a net of bondage-style straps on top of a cross-shaped pillow. Their hair is styled in an inky-black mullet that matches her thick eyeshadow, and the red latex bodysuit underneath the mess of belts perfectly complements the blood-red backdrop. Compared to Lovato's previous album covers, which commonly feature a close-up of their face against a light-colored backdrop, the new image is much edgier.
"Holy Fvck" Singles
In a tweet posted on June 4, they announced that "Skin of My Teeth," the first single off of their new "Holy Fvck" album, will drop on June 10. "I'm just trying to keep my head above water / I'm your son and I'm your daughter / I'm your mother I'm your father / I'm just a product of the problem," Lovato captioned the tweet, sharing a glimpse at the song's lyrics. Lovato will also be performing the new track on "The Tonight Show With Jimmy Fallon" on June 9, one day before its official release.
"Holy Fvck" Track List
Lovato's "Holy Fvck" album will feature 16 tracks, including "Skin of My Teeth."
"Holy Fvck" Collaborations
In 2021, Lovato released "Dancing With the Devil . . . the Art of Starting Over," which featured artists like Ariana Grande, Saweetie, Noah Cyrus, and Sam Fischer. Lovato has not yet announced any collaborations for their upcoming album, but their history of working with talented artists across genres is promising.
"Holy Fvck" Release Date
Lovato has been teasing "Holy Fvck" for months, but the full album won't be available until Aug. 19.
"Holy Fvck" Tour Dates
On June 7, Lovato announced that tickets for the "Holy Fvck" tour are on sale, with the first show kicking off in Springfield, IL, on Aug. 13 and the last show taking place in Irving, TX, on Nov. 6. The 31-show tour will also include a few stops in Canada, Argentina, Chile, Colombia, and Brazil. Dead Sara and Royal & the Serpent will also make special guest appearances at select venues. See the venue details and grab tickets for Lovato's "Holy Fvck" tour here.
How to Preorder Demi Lovato's "Holy Fvck" Album
"Holy Fvck" is currently available for preorder on Lovato's website as a CD, vinyl, and cassette. Fans can also presave the album's first single, "Skin of My Teeth," on Apple Music and Spotify.
"Holy Fvck" Album Trailer
On June 6, Lovato shared a chilling trailer for the new album on their YouTube account. The video features flashes of the recording process, jumping from the studio to a shot of Lovato looking gloomy in the bathtub. During the trailer, she also shared a glimpse of the lyrics to the album's title track in the Notes app of their phone. "I'm the serpent in a garden / I am truth and I am darkness / I'm an angel and I'm a demon / Just depends on what you're feeling," the note reads, giving us another taste of what to expect once the full album is released.