Fresh Prince of Bel-Air Cast Honors James Avery at Reunion
The Fresh Prince of Bel-Air Cast Remembers James Avery's Legacy in Reunion Special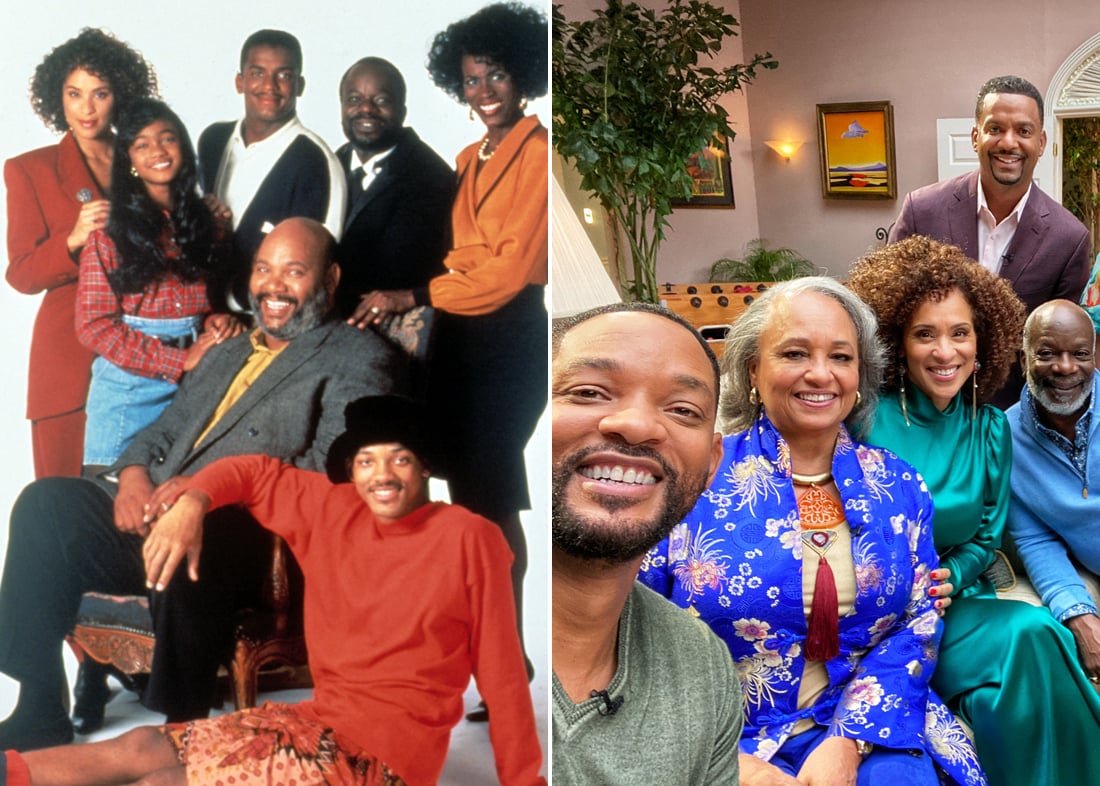 Image Source: Everett Collection and HBO Max
I don't know about you, but I'm in tears after watching the cast of The Fresh Prince of Bel-Air come together for HBO's reunion special, which dropped on Nov. 18. During the hour-long program, former castmates Will Smith, Tatyana Ali, Karyn Parsons, Joseph Marcell, Daphne Maxwell Reid, Alfonso Ribeiro, and DJ Jazzy Jeff paid homage to their late costar James Avery, aka Uncle Phil, who died in 2013 due to open-heart surgery complications. In honor of Avery's legacy, they opened up about his fatherly presence on and off screen before showing a video tribute with his most notable scenes. Look ahead to see the cast's salute to Avery.
Watch The Fresh Prince of Bel-Air Cast Honor James Avery During the Reunion Special:
Read The Fresh Prince of Bel-Air Cast's Reunion Quotes About James Avery:
Ali on Avery's knowledge about Black artistry: "James is the heart of the show. He was my teacher. I learned what it means to be an artist from him. I was watching this Robeson documentary, and James used to bring up Paul Robeson. He, like, introduced me to Black art in ways that I wouldn't have gotten that education anywhere else."
Reid on Avery being a guiding light: "We knew that he knew the answers or could guide folks to the answers."
Jeff on Avery's love of jazz music: "James had a very deep love of jazz music, and I would spend a lot of time in his dressing room, and he would give me jazz CDs."
Ribeiro on Avery's appreciation for the arts: "The music that was coming out of his room was always just amazing . . . Learning that there's other works, there's other arts out there that would help you understand yours even better."
Smith on Avery's reaction to the famous father scene: "James, he pushed me so hard. His thing was that I am in such a unique position and that responsibility — you must elevate your craft. You have to represent, and you are paving a way, and he just wouldn't give me an inch. And I remember, one of my favorite and most famous scenes from Fresh Prince is the father episode. So, you know, James Avery was this 6'4, 300-pound, stage-trained Shakespearean beast, right? And I'm the little rapper from Philly, right? And I wanted him to think I was good so bad. I wanted him to be proud of me. So the episode comes, and we come to that scene, and I was like, 'I want to deliver this scene so bad.' And, if you remember, in front of the audience, I flubbed my line on the take, and I messed it up in front of the audience, and my mind snapped. And I was like 'Ah, damn it!' And James says, 'Hey! Right here' . . . and he was like, 'Use me.' And he's like 'Get yourself together,' and I get it together, and I'm looking, and he says, 'Action.' And the scene that we do is the scene that ended up being in the episode. And I fall into his arms at the end of the scene, and he's holding me, and, you know, the shot pans off, and he whispered in my ear, 'Now that's acting.'"
Marcell on Avery's embracing of Blackness: "He was proud of who he was, he was proud of his race, he was proud of the history of his race, and, you know, he could see it, and it fell upon [Smith]. It fell upon you to grab the reins."
Parsons on becoming a daughter to Avery: "I was an only child, so, here, all of a sudden, I have a brother and a sister, and I had Will, who was like a brother, and, you know, James took being my father very seriously. He called me 'daughter.'"