Gavin Leatherwood on Nicholas Scratch's Tragic Journey and What's Next For Chilling Adventures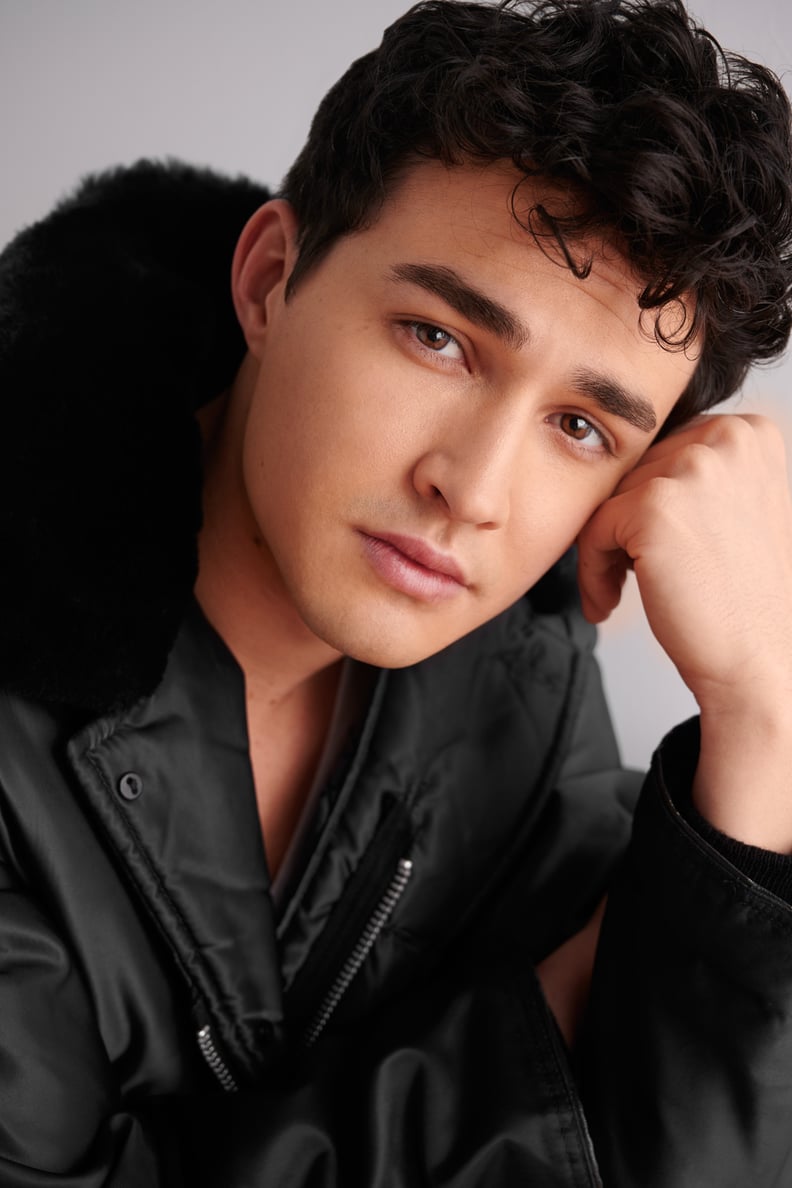 Photographer: Noah Asanias | Groomer: Candice Bridge / Stylist: Dolly Pratt / Stylist Assistant: Miren Valdes
Photographer: Noah Asanias | Groomer: Candice Bridge / Stylist: Dolly Pratt / Stylist Assistant: Miren Valdes
Chilling Adventures of Sabrina's Nicholas Scratch may be a jaded wizard well into his 50s, but since he bears the handsome visage of actor Gavin Leatherwood, it's hard to hold any of his sins against him. Satan knows he's been up to a lot of naughty business since we met him in the first season! On the Netflix supernatural drama, Nicholas finds himself as the human flesh cage for the Devil (Luke Cook), who also happens to be his girlfriend's father. The position isn't a fun one for the wizard (though Leatherwood admitted to having a bit of fun when the cameras weren't rolling), but luckily Sabrina (Kiernan Shipka) and her friends get him out of that pickle. Sadly, his troubles don't end there.
When it comes to dear old Nicholas's current situation, Leatherwood believes the character is simply lost. "There are a lot of voices in his head and he can't discern which one's his, which one's the Devil's, and which one is the temptation; which is symbolic of his relationship with sex and drugs," he explained to POPSUGAR. "His mind is just confused and muddled, and he's having a tough time communicating that. He's going through his midlife crisis trying to figure out how to deal with the traumatic events in his life and how to move forward. He can't get past this blockade of his own creating."
"He knew that Sabrina showed him a love that was so much bigger than he could have ever imagined and he was willing to die just knowing that . . . which I think is kind of beautiful."
It certainly is a blockade of his own creation, since the warlock volunteered as tribute when Sabrina and company were looking for a way to trap the Dark Lord during the finale of part two. In a desperate bid to prove his love for Sabrina, Nicholas binds Satan to himself and is put under a sleeping spell until he's eventually rescued in part three. But the binding has severe consequences on Nicholas's psyche and his relationship with Sabrina suffers greatly because of it. "I think he was blinded by love at that moment, but I don't mean that in a bad way," Leatherwood revealed. "I don't think he knew for a second what sort of consequences or repercussions [the binding] was going to entail. But he knew that Sabrina showed him a love that was so much bigger than he could have ever imagined, and he was willing to die just knowing and discovering that, which I think is kind of beautiful."
It's all very romantic, albeit naive. Having the Dark Lord use his body as a cage and being trapped in a sleeping spell meant that Nicholas was battling Satan in his mind 24/7. For Leatherwood, the real challenge was figuring out how he wanted to play it. "I remember when we had our hiatus in-between shooting, I asked Roberto [Aguirre-Sacasa] and the writers if this was a Smeagol/Gollum situation," he said. "Is he sometimes the Devil, sometimes Nick? I think they were figuring it out too, and when we came back to shooting that was the case for a couple of episodes."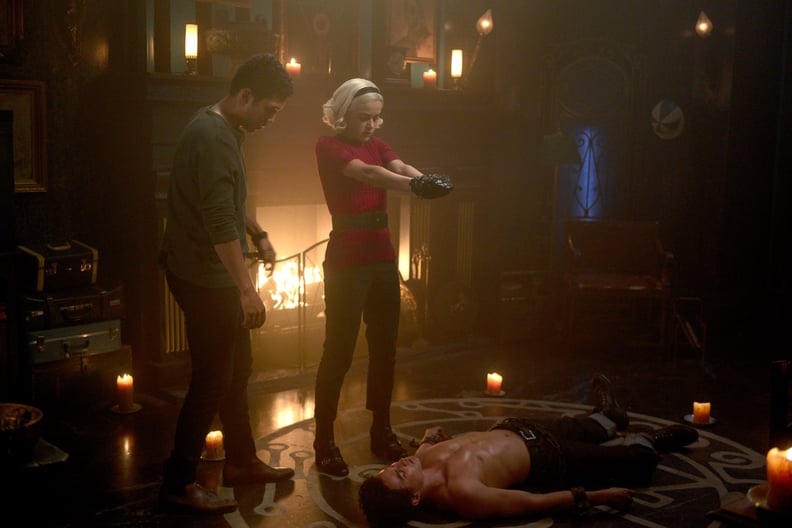 "I loved it! I love adding layers to characters and having the opportunity to play something that's outside of that character's comfort zone," he added. "It was fun to be doing something a bit off-color for him."
A notably less broody individual than Nicholas (but just as charming), Leatherwood confessed that he had no exact method of preparing to take on the rollercoaster of emotions that Nicholas goes through in part three of the series, but he started by imagining what the experience would feel like to him. "I feel like there's a certain amount of research that should go into any sort of character prep, but it's truly something that either comes at the moment or it doesn't," he said. "You can have a lot of information in your brain, but when it comes to the point of action it's important to throw all of that away and allow yourself to be totally in that moment, conveying whatever's happening on the inside."
"I'm still learning how to do that effectively," he admitted. "I felt best when I got out of my way and allowed myself to go to certain places in those moments."
"That's what Nick's been looking for the whole time, someone to communicate with."
And though the actor humorously said that "a lot of dirty jokes came to mind" when he learned of Nicholas's fate (and Cook made several jokes about being "inside" him), he "definitely knew that Nick had some obstacles ahead and some demons to deal with." Those demons aren't just metaphorical either; Nick winds up seeking solace in actual sex demons when he's unable to express himself to Sabrina. And Leatherwood promised that fans will see more of those consequences come into play in part four.
"That sort of trauma sticks with Nick for a long time, as you might imagine it would," he said. "He is not off the hook and definitely has more trials and tribulations ahead."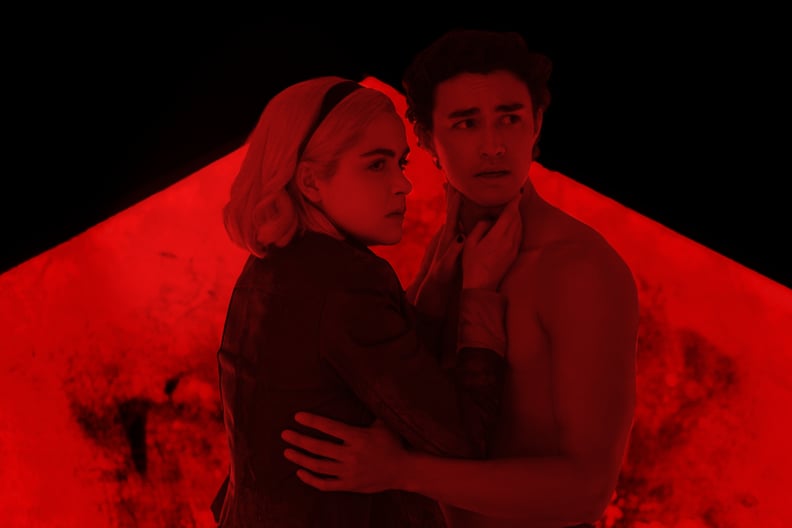 While fans would have expected Nicholas to face those trials with Sabrina by his side, by the end of part three that seems pretty impossible. The two endure a crushing breakup due to Nicholas's inability to open up to Sabrina about his struggles and her preoccupation with winning the crown of Hell. By the finale, the witch by Nicholas's side is actually Prudence Blackwood (Tati Gabrielle). "I didn't expect that either," Leatherwood said, laughing. "But I love working with Tati! I feel like she's so talented and it's just really fun to play with her on set. We'll have to see more of where that goes; they have a history and they're friends so there's a bit of comradery that happens there."
Leatherwood went on to explain that because Nicholas has lost Sabrina and his sense of self — and Prudence has lost her siblings to Father Blackwood, the Weird Sisters to the season's madness, and Ambrose in a breakup — they're grieving together. "This might be perfect timing for both of them to go through it together," he added. "That's what Nick's been looking for the whole time, someone to communicate with. He feels like Sabrina is elsewhere all the time and he doesn't know who to talk to about this thing. And in that scene we see two people come together who are having communication issues in different parts of the story. They have a moment that shows, 'Oh, there's hope to be restored into this society' with them being able to get involved again and not be stuck in their heads."
Admittedly, I would love to see Nicholas and Prudence team up to wreak havoc on those who have wronged them. They were at the top of the bad witches food chain when the series began, and to see them at their full potential together would be delicious! But it begs the question of where Sabrina fits into that plan. According to Leatherwood, who is firmly team "Nabrina," there's hope for the platinum-blond witch and her satanic beau. "I think they're a perfect match," he said. "Yeah, that's pretty bold, but I'll come right out and say it. She shook him in a whole new way when she came to the Academy; he thought he had seen and done everything — pun intended — but something shifted in Nick when he saw her and as he got to know her."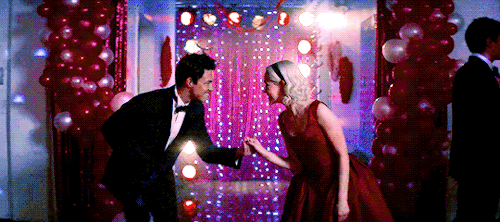 And even though Leatherwood let it slip that he, the cast, and the crew (who he called the unsung heroes of the series for all their hard work behind the scenes) already know how it all ends, he swore not to reveal any spoilers. The ultimate tease! What he could say was that fans should wait to see Nicholas show off his singing chops (as Leatherwood is known to be a talented musician) in part four, and that we'll be seeing "all of your favorite Sabrina characters doing more things together, more blood, more shirtlessness, and more terrors." So all the usual fun things that go down in Greendale.
But there is one thing that Leatherwood is holding out hope for in a potential season five: a tanning session. Even warlocks need a break from that chilly Vancouver, [Canada], filming life! "I would like to see a situation where Nick is on a sunny beach drinking a cocktail with some waves and palm trees," the actor wistfully disclosed. "I mean we're out in the woods, it's typically pretty cold, and we're [usually] pretty naked in those scenes. There's a lot of shirtless running through the woods. That's lovely and beautiful, especially in the Summer, but maybe just a situation where Nick is tanning on a beach for part five." You heard the man, Netflix. Let Nick tan!