37 Mind-Blowing Gossip Girl Facts to Celebrate the Show's 10th Anniversary
Blake Lively almost quit acting before being cast as Serena van der Woodsen. She told Vanity Fair that the business aspect of Hollywood "didn't make sense to me because I was 18 and being an artist."
The show came up with the idea to cast Lively after reading online message boards. Fans of the Gossip Girl books wrote that Lively was their ideal Serena, which the showrunners discovered and clearly agreed with. "We didn't see a lot of other girls for Serena," showrunner Josh Schwartz said. "She has to be somebody that you believe would be sitting in the front row at Fashion Week eventually."
She only agreed to be in Gossip Girl if they let her attend college at the same time. Schwartz and fellow showrunner Stephanie Savage promised her that she could go to Columbia one day a week, but she ended up leaving school when the show got so popular.
The Gossip Girl author campaigned for a Scream Queens-esque reboot. Cecily von Ziegesar wants the show to be revived as Gossip Girl: Psycho Killer, a book she wrote in 2002 where "Serena comes back from boarding school to kill everyone."
Ivanka Trump and Jared Kushner only appeared on the show "for the money." Schwartz confirmed that the club scene they filmed in the Boom Boom Room was done for the paycheck and because Trump was a big Gossip Girl fan.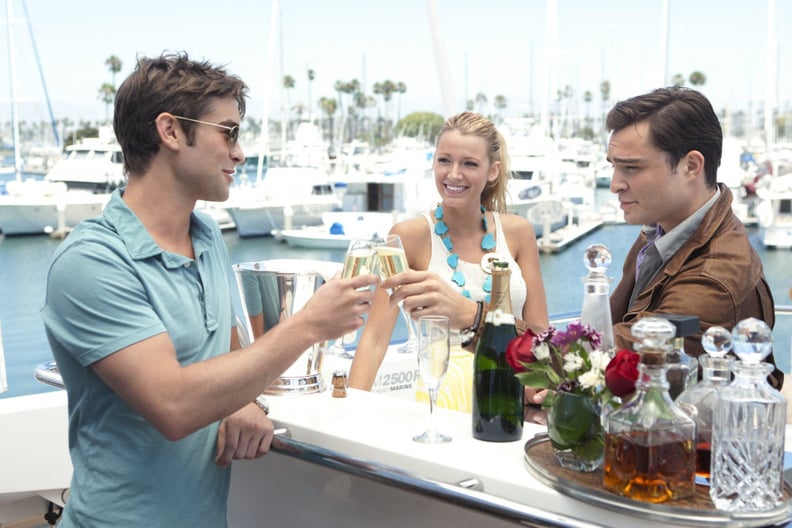 Chace Crawford is still mobbed by teenage fans. "It's so weird how the same demographic has been frozen in time," he said. "14 to 20-year-olds still come up to me freaking out and it's because they binge [the show] on Netflix."
Gossip Girl was the most illegally streamed show in China for quite some time. The CW's then-President of Entertainment Dawn Ostroff revealed that during a meeting with Chinese executives nearly a decade ago, they told her that "the most illegally streamed show in China was not C.S.I. or Lost, but Gossip Girl."
The cast bonded over a Will Ferrell movie. Right before filming began, they went on a group outing to see Blades of Glory.
Crawford didn't think Leighton Meester would be a good Blair at first. "I just don't see her as Blair Waldorf. I can't see it," Crawford recalled himself thinking during an audition they did together. "[Then she turned around] slyly in her chair," wearing Blair's iconic headband, and everything clicked. "I just remember thinking, 'That girl can act. She's the perfect girl for this.'"
Meester dyed her blond hair brown to get the part. "She came in and she was really funny, and really smart and played vulnerable. But there was one problem: she was blonde," Schwartz said of her first audition. "And Blake was blonde, obviously; Serena had to be blonde. So, [Leighton] went to the sink and dyed her hair. She wanted it.'"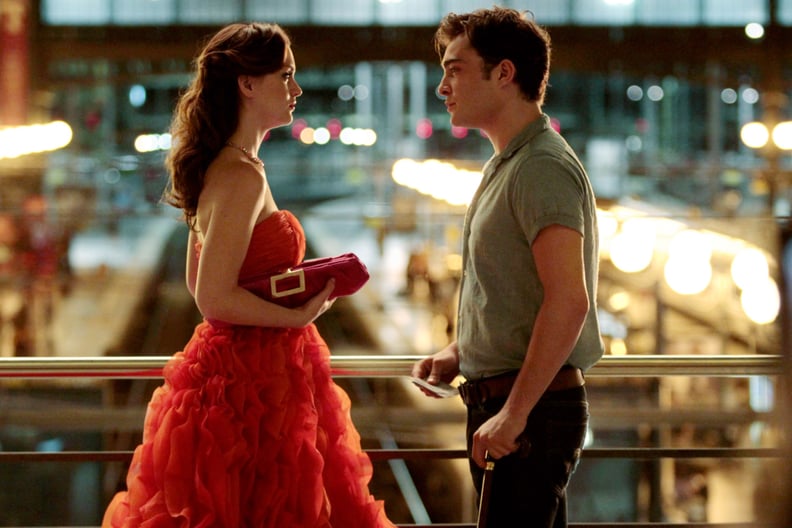 Lively was terrified of the fame that came with the show. "I'm actually a very shy person and the idea of losing my anonymity was one that was scary to me," she said. "I remember saying when I read this script, 'Whoever does this will not be able to walk out of their house ever again and be the same as before they started this.' You could tell it was a cultural phenomenon. That was both exciting and thrilling, but also very scary."
Meester had no idea just how insanely popular Gossip Girl would become. "I think it was just the normal, typical pilot season audition for me," she said about how she approached the show. "I auditioned and then I tested once and then we did a screen test with everybody. And then, that was it . . . I dunno. I got it."
The showrunners were adamant that only Ed Westwick could play Chuck Bass. Since the British actor was in America on a work visa, executives at The CW were nervous that he wouldn't be able to stay in the country to film, but Savage and Schwartz refused to cast anyone else in the part.
Westwick and Crawford moved in together. When filming began, the pair rented a two-bedroom apartment in Chelsea together.
Westwick and Crawford were swarmed by fans before the show even aired. After the cast announcements were made, the actors attended an Arctic Monkeys show together and were bombarded by fans. "We had these girls coming up to us, and they were kind of freaking out about it: 'Oh, we love the books,'" Crawford recalled. "[Ed and I] kept looking at each other like, sh*t, man."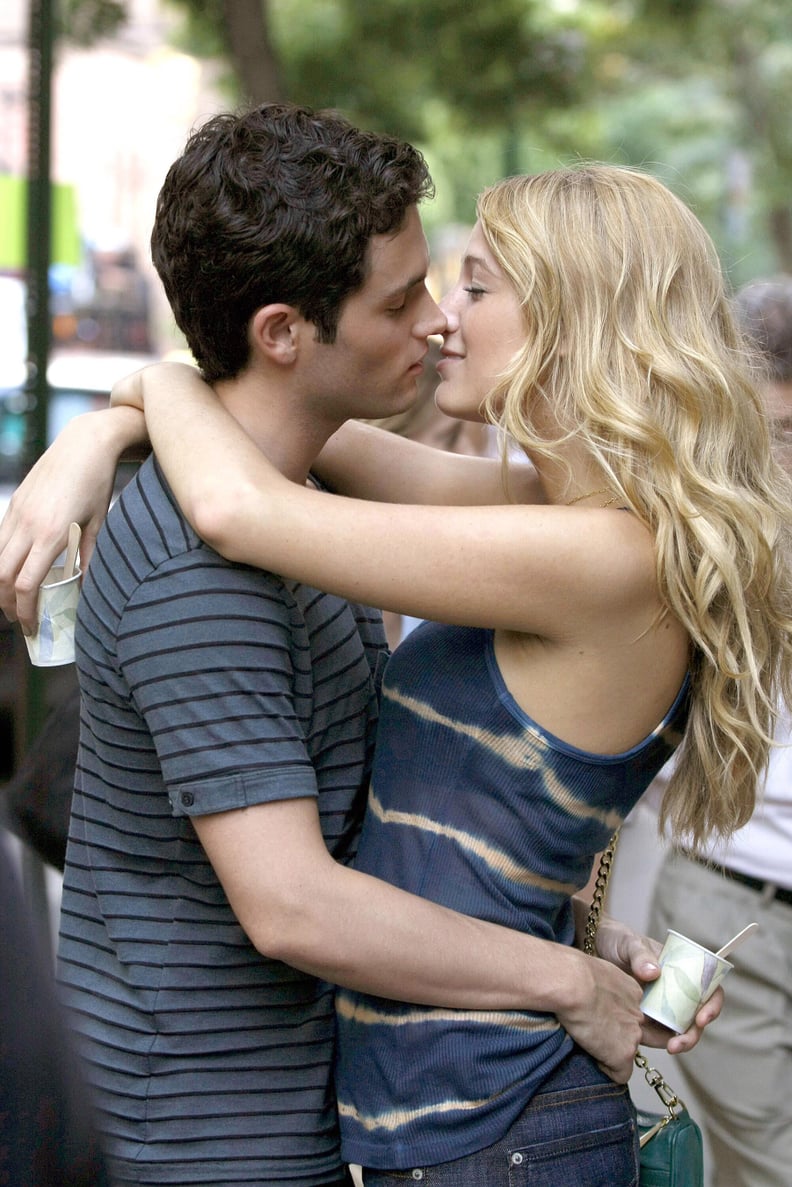 Private schools in NYC tried to ban their students from watching it. The rule was obviously unenforceable, but the show's "illicit" content made quite a splash.
Even the show's hairstylist couldn't escape the hordes of fans. "I had a little S.U.V. at the time and I had it parked out front of our location at the school," hairstylist Jennifer Johnson said. "There were just so many fans everywhere, and when we wrapped at the end of the day, there were handprints all over my car. It was like the Beatles were inside."
Serena's hairstyle became as iconic as Rachel Green's on Friends. "A lot of magazines would call and want to do interviews on how you get the 'Serena look,'" Johnson recalled. "It was like 'the Rachel look.'"
Michelle Trachtenberg had to get a bodyguard. Trachtenberg, who played Georgina Sparks, was forced to hire a bodyguard after some fans tried to "pet" her hair (yes, really). "I opened up my trailer door to see, literally, on my first day, I think 40 paparazzi. That's when I was like, 'OK, I need my own bodyguard,'" she said.
Crawford ended up hating all the attention the show brought him. "I think I used to feel like I was fine with it, but looking back on it from a different perspective now, I never really got used to it," he explained. "I'm a private person and I don't like being the center of attention."
Meester was unbothered by the frenzied fans. She shrugged off the insanity, saying, "I think they were mostly there for the guys."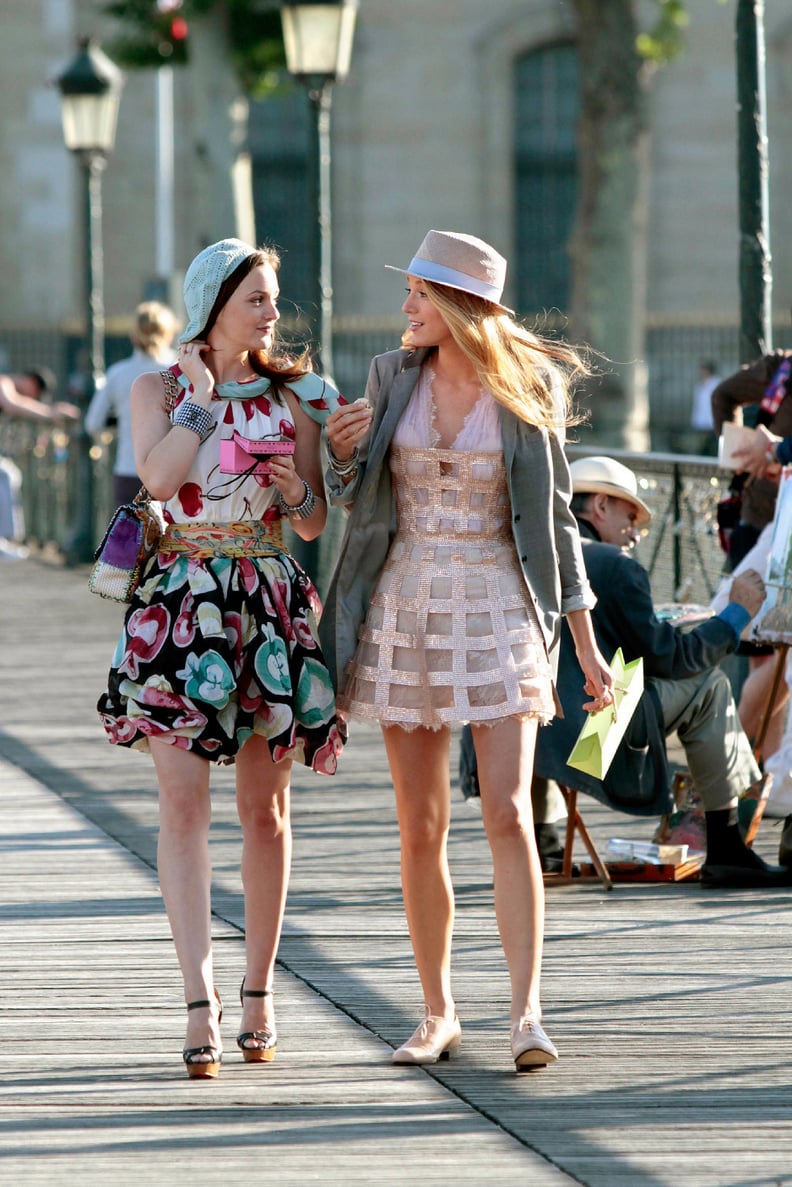 Gossip Girl affected the way women shopped. A New York Times article in 2008 claimed that "Merchants, designers, and trend consultants say that Gossip Girl . . . is one of the biggest influences on how young women spend," and a Bloomingdale's fashion director proclaimed the show had a "profound influence on retail." Costume designer Eric Daman confirmed this, telling Vanity Fair that when they came back for season two, "So many designers were lining up and wanting to be a part of it — they wanted their stuff on either Blake or Leighton."
Zuzanna Szadkowski has a very eclectic group of fans. Szadkowski, who played fan-favorite Dorota on the series, had an unlikely run-in with a man "who had a suit and a briefcase, this total Wall Street Guy, and he was all like, 'Oh my god, Dorota!' He told me, and a couple of other guys have told me this, too, that they used to watch the show because it was a great way in with the ladies."
Rumors of feuds on set were completely made up. "When we were filming, there was, 'Leighton hates Blake, Blake hates Leighton, everyone hates Blake, everyone hates Leighton, everyone hates Chace,' and blah, blah, blah. It really wasn't," Trachtenberg said. "We were all chill. It was cool." Makeup artist Amy Tagliamonti also agreed there weren't any feuds, because "there was too much work to do for things to be that dramatic behind the scenes."
Lively and Meester might not have been feuding, but they weren't close at all. Executive producer Joshua Safran said that the costars "were not friends," but they were friendly. "They were not friends like Serena and Blair. Yet the second they'd be on set together, it's as if they were."
Lively and Penn Badgley hid their breakup so well that no one even realized it had happened. Lively and Badgley, whose characters also dated on the show, were experts at keeping their relationship (and subsequent breakup) on the DL. "I found out on the set of the Season 2 finale that Blake and Penn had broken up months before," Safran recalled. "They kept the breakup hidden from the crew, which you could never do now. I don't even know how they did it. They kept it from everybody which is a testament to how good they are as actors. Because they did not want their personal drama to relate to the show."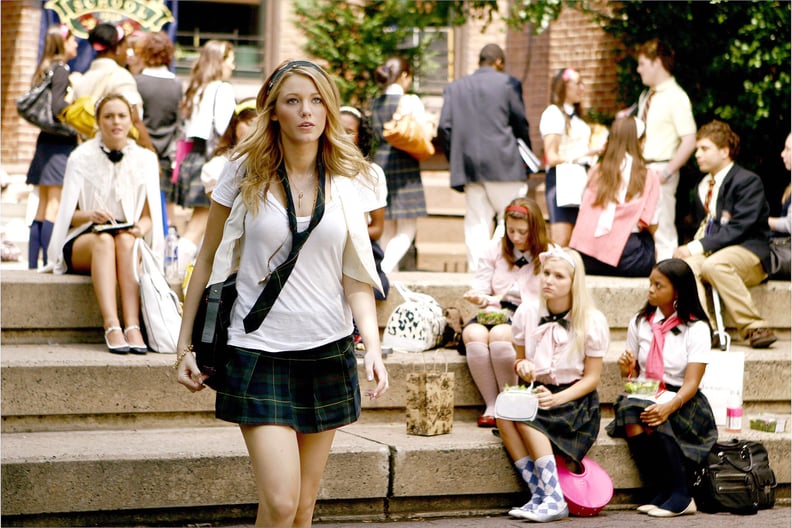 Executives wanted the cast to act like their characters in real life. After news that she and Badgley had dated went public and her personal life was splashed all over the tabloids, Lively quickly realized that some of the show's higher-ups were thrilled. "They wanted us all to date. They wanted us all to wear the same clothes that we're wearing on the show," she explained. "They wanted that, because then it fed their whole narrative. People could buy into this world."
Badgley parted with the show on bad terms. Badgley declined to be interviewed for the Vanity Fair profile, but Safran noted that the actor "didn't like being on Gossip Girl, but . . . he was Dan. He may not have liked it, but [his character] was the closest to who he was."
The cast was always singing behind the scenes. Kelly Rutherford, who played Serena's mom, Lily, said that, "You'd walk by the dressing rooms and everyone would be doing their music." Both Meester and Taylor Momsen, who starred as Jenny Humphrey, have continued their music careers.
By the end of Gossip Girl's run, certain actors were pretty unhappy. With movie opportunities floating in and music projects taking over their lives, Gossip Girl's cast started to outgrow the series. "Some of the actors were not entirely happy to be there after a certain point," Safran said. "And no matter what we did, they were never going be happy. . . . They were kids. They were young."
Billy Baldwin wasn't thrilled that Lively would be playing his brother's wife in a movie. Billy Baldwin, who played Serena's father, shared an anecdote about Lively's blossoming movie career. "She goes, 'Yeah, [Alec]'s gonna play my husband.' And I said, 'So in what universe is it just or right or fair that he plays your husband and I play your father?' And she started laughing and said, 'That makes you Alec's father-in-law.' And I was like, 'Say that again and I'm gonna stab you with a pen or something. Or, like, break your kneecap.'"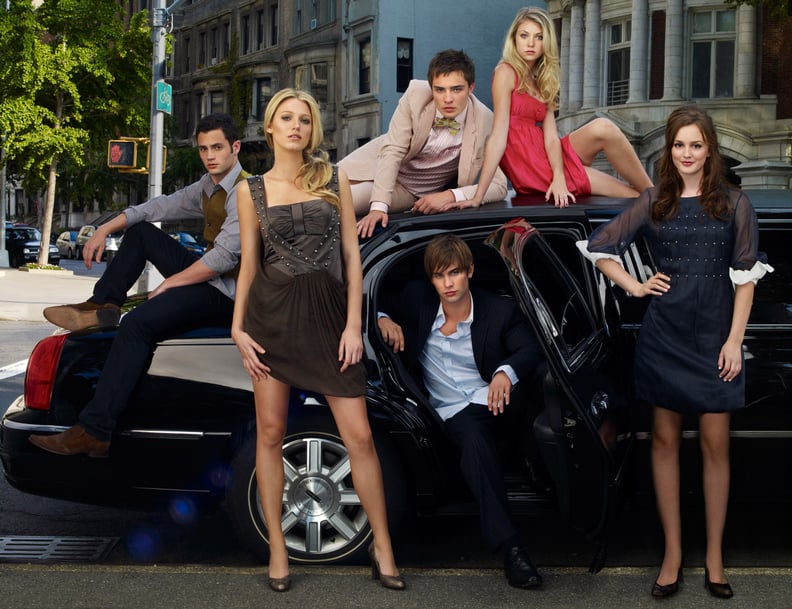 The show shifted production across the country for Lively. Gossip Girl moved from NYC to Los Angeles so Lively could film Oliver Stone's Savages in 2012.
Lively used to send Leonardo DiCaprio pictures of dolls?! Lively and DiCaprio dated for a few months in 2011, and their relationship sounds . . . unique. "We learned a lot from Blake. When I think about shooting the L.A. episodes, Blake was dating [DiCaprio] at the time, and she had this thing where she had a doll that she took photos of that she sent to Leo," Safran explained. "Blake was way ahead of the curve. It was pre-Instagram. She was documenting her life in photographs in a way that people were not yet doing."
Filming was actually really hectic. According to Lively, they "were creating three episodes at once sometimes, we were given our lines at the very last minute, we didn't know where our characters were going; there was no planning or arc. . . . It almost felt like a sketch show. We were basically sort of reading off of cue cards. There were people taking pictures the whole time and paparazzi jumping in front of the cameras — it felt like we were part of a cultural experiment."
A teenage hacker from Russia leaked a ton of scripts. During the show's fourth season, scripts started ending up online after a Russian hacker got into a writer's email account. "All season, our scripts were ending up online, and we couldn't figure out how," one of the producers said. "We hired a private investigator. We didn't understand what was happening, because everything was getting leaked, every detail. . . . A teenager, I think either [from] Russia or Bulgaria, had hacked one of the writer's e-mails, and was selling scripts on eBay. But they were underage, so they couldn't be prosecuted. It was a f*cking production nightmare. We would have to 'X' out every script. We would have to print on red paper. . . . It was like there was a 'Gossip Girl' in our system."
Dan wasn't always going to be Gossip Girl. Both Nate and Eric van der Woodsen were first considered by the writers earlier on in the series.
Ed Westwick probably didn't watch the finale. In an email asking Westwick about his favorite plotlines or memories from the show, he replied, "I still am not sure who GG was lol."