Every Gory Detail We Have About the Halloween Reboot, From the Cast to the Release Date
Halloween 2018 just got kicked up a notch. It was recently announced that Jamie Lee Curtis will be reprising the iconic role of Laurie Strode in Halloween, another reboot of the beloved horror franchise due out later this year. It's an exciting reveal for one of the first-ever scream queens because truly nothing is scarier than watching her fend off the psychotic, unstoppable killer with only a wire hanger in the 1978 original. Then again, doesn't Laurie get stabbed by her deranged sibling and thrown to her death in the franchise's eighth movie, Halloween: Resurrection? If you have questions about that, or anything else related to the movie, check out all the juicy details we've rounded up so far ahead.
The Cast
Curtis is definitely attached as Laurie, and Judy Greer is in talks to play her daughter, Karen Strode. Miles Robbins, of Blockers and The X-Files fame, is playing a character named Dave, and Runaways actress Virginia Gardner is on board as Vicky.
The Story
The horror film will see Laurie (Curtis) facing down Michael in one final, bloody confrontation four decades after she nearly lost her life. What will be interesting to see is how the film handles the story continuity issues, since it's revealed she's Michael's little sister later on in the sequels, and he also kills her in Resurrection. According to John Carpenter, who's on board as an executive producer and creative consultant, the reboot will ignore everything after the original film.
"It's kind of a . . . I don't know how to describe it. It's almost an alternative reality," he explained to Stereo Gum. "It picks up after the first one and it pretends that none of the others were made. It's gonna be fun. There's a really talented director and it was well-written. I'm impressed." David Gordon Green and Danny McBride are in charge of the script (Green is also directing), and Jason Blum is on board as a producer.
The Director
Pineapple Express's David Gordon Green is helming the reboot, and judging from a sneak peek that Curtis shared in January, it looks like they're already hard at work. Green is also responsible for bringing comedies like Your Highness and The Sitter to the big screen, as well as TV episodes from shows like Red Oaks and Vice Principals. So, not only has he collaborated with cowriter Danny McBride about a billion times, but he also has a knack for comedic timing, which might hint at the tone Halloween is hoping to strike this time around.
The Poster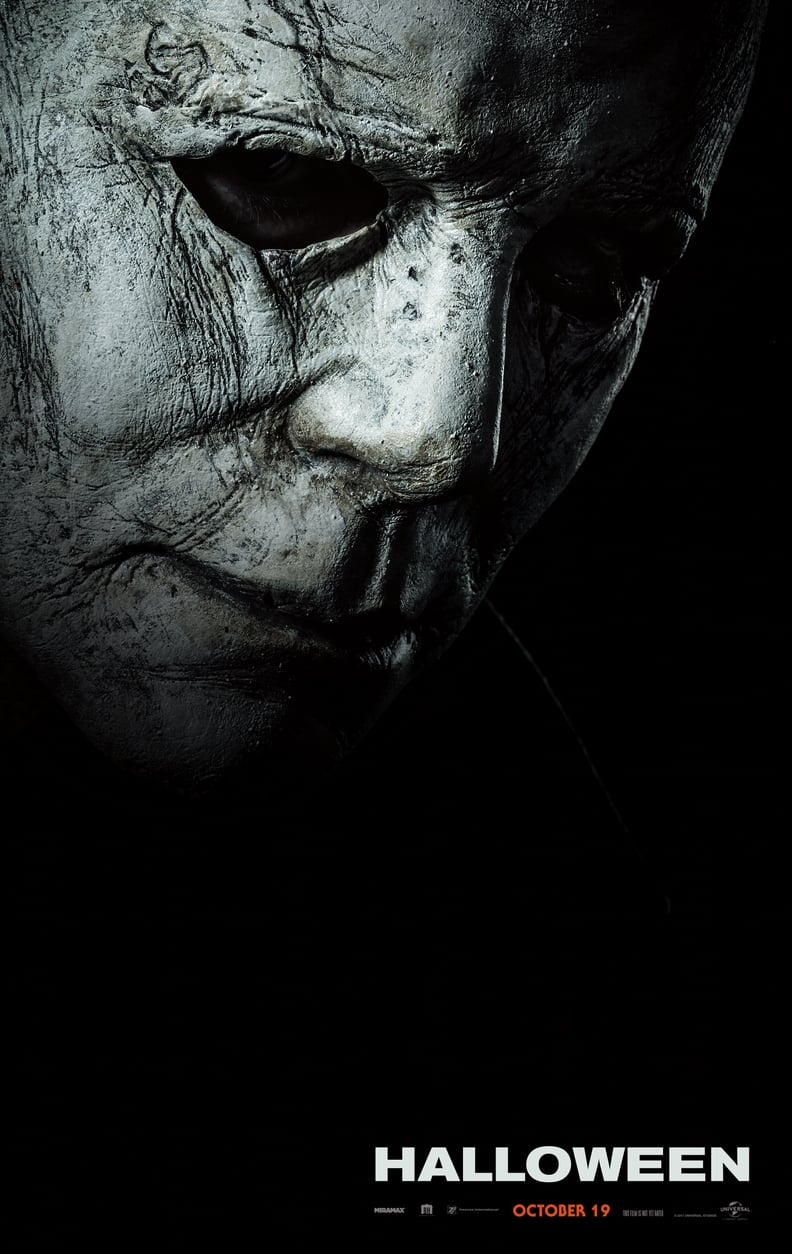 Michael's mask — which was originally a William Shatner mask covered in white paint, FYI — has certainly seen better days.
The Release Date
Prepare to scream when it stalks its way into theaters on Oct. 19, 2018. In other words? Best. Halloween. EVER.