Harry Styles Sex Scenes in Don't Worry Darling, My Policeman
Harry Styles Says He Felt "Vulnerable" Filming Sex Scenes For "My Policeman"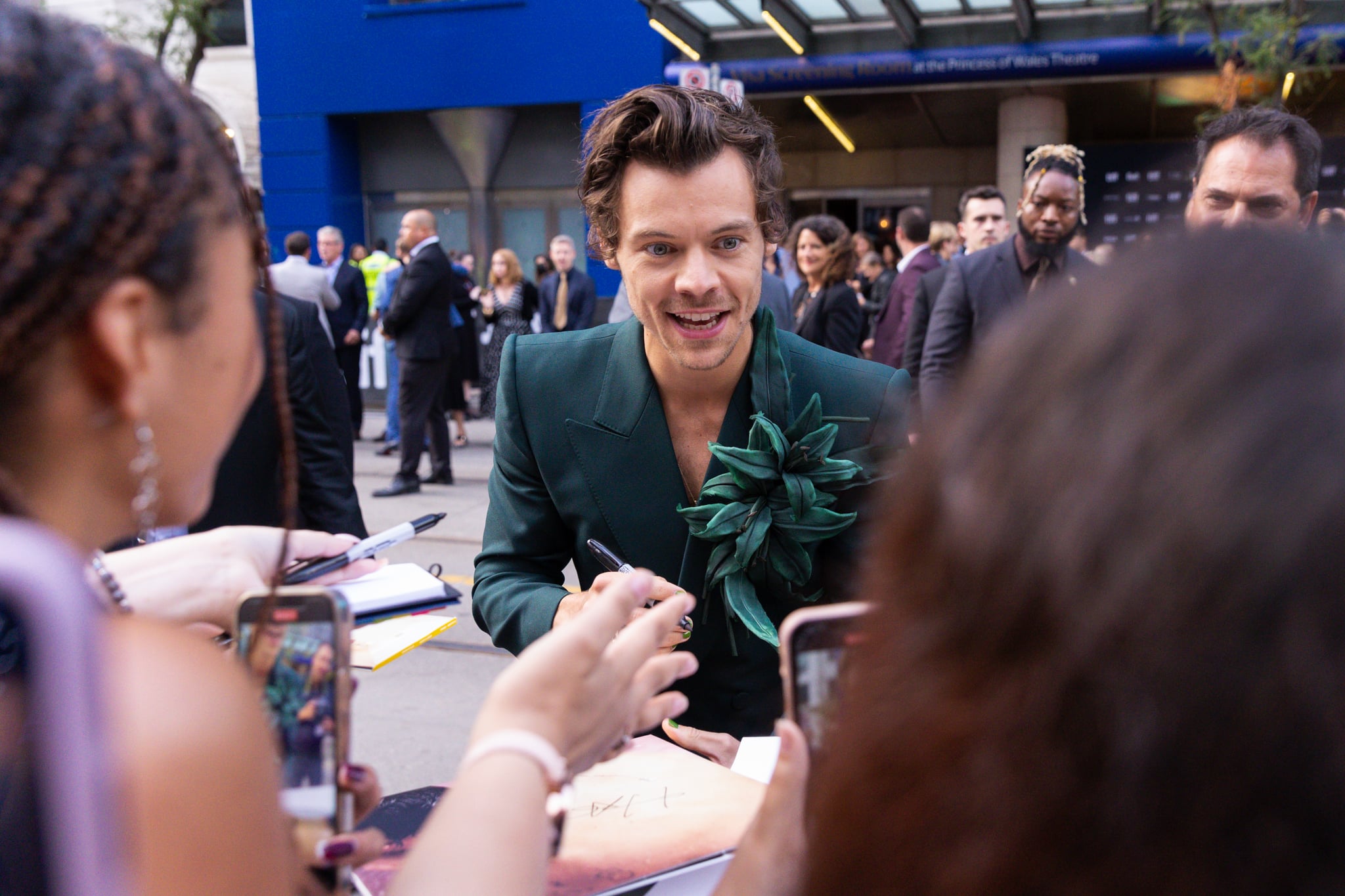 Harry Styles stars in two movies this year, "Don't Worry Darling" and "My Policeman." The movies are quite different — "Don't Worry Darling" is a thriller about sexism and the patriarchy, while "My Policeman" is a period piece about a gay man (Styles) living a double life with his wife (Emma Corrin) and his lover (David Dawson). But both movies have one thing in common: Styles filmed his very first sex scenes for them. Here's everything Styles and his costars — Florence Pugh, Corrin, and Dawson — have said about portraying intimacy on set.
Styles addressed the subject back in April during an interview on "Capital Breakfast" with Roman Kemp, Sonny Jay, and Sian Welby. Kemp asked him about the two films, saying, "What is the film that I can safely watch with my parents? Because I've heard that it is getting racy."
Laughing, Styles answered, "I don't know that you can watch either with your parents. I'm going to have to do another one." Kemp then asked for more details about the logistics of filming a sex scene. Styles explained, "I think it depends very much on who you're working with and what the situation is. All I can say from my own experience is I was very lucky to have a very trusting relationship with the people that we were working with, and that kind of came first. It was all discussed . . . above the filming, above anything that's happening, the cameras, me and you, we're doing this together and we trust each other, and at any point we can stop whenever."
Styles joked about filming sex scenes, adding, "I'd never done that before on camera, I don't think."
Styles also addressed the sex scenes in a May interview with Howard Stern, as reported by Entertainment Tonight. "It does feel vulnerable. I'd never kissed anyone on camera before and it felt like giving a part of myself away in some ways," he explained. Later he explained, "I wasn't naked in 'Don't Worry Darling.' I was naked in 'My Policeman.' There's no peen in the final cut. There's bum bum . . . I don't think the peen was intended to be involved. The peen, it was pre-negotiated that that would remain my own."
In "Don't Worry Darling," which came out in September, Styles has multiple sex scenes with Pugh, who plays his wife. Pugh was vocal about how annoyed she was that people were overly focusing on her sex scenes with Styles during an interview in August with Harper's Bazaar. "When it's reduced to your sex scenes, or to watch the most famous man in the world go down on someone, it's not why we do it," Pugh said. "It's not why I'm in this industry."
"Obviously, the nature of hiring the most famous pop star in the world, you're going to have conversations like that," she explained. "That's just not what I'm going to be discussing because [this movie is] bigger and better than that. And the people who made it are bigger and better than that."
Styles talked about the sex in "My Policeman" in an August interview with Rolling Stone. "So much of gay sex in film is two guys going at it, and it kind of removes the tenderness from it," he said. "There will be, I would imagine, some people who watch it who were very much alive during this time when it was illegal to be gay." Styles said that director Michael Grandage wanted to make sure the gay sex in the movie was "tender and loving and sensitive."
Dawson also opened up about filming the scenes with Styles during an interview with People back in September. He said that with the help of an intimacy coordinator, the "My Policeman" cast "explored what we wanted those scenes to be together, so that at all times we all felt a lot of trust and support in the process."
"And me and Harry also promised each other that we'd always look out for each other during it so we both felt always supported and comfortable. And, actually, I can't emphasize the importance of an intimacy coordinator, the impact that brings to the set," he explained. "You might think that it would make people feel restrained in what they do . . . but you actually gain a freedom, I think, because everybody feels very comfortable and respected in what they're making."
Styles also said during a Q&A during TIFF, "So I think having a base of a real friendship outside of the characters obviously allows for kind of the friendship scenes, if you will, it doesn't require much acting, and the kind of more intense scenes, there's a lot of trust and safety there. All of that kind of benefits I think from just a real connection."