The Surprising Inspiration Behind Henry Golding's Character in A Simple Favor
The past few years have been a whirlwind for Henry Golding, and luckily for all of us, he doesn't plan on slowing down anytime soon.
The 31-year-old British–Malaysian actor first got his start on screen as a travel host on BBC's The Travel Show in 2014, and has quickly transformed himself into one of Hollywood's hottest up-and-coming actors. After stealing our hearts with his role as Nick Young in Jon M. Chu's blockbuster rom-com Crazy Rich Asians this Summer, Golding is stepping into a much darker role in the upcoming thriller A Simple Favor, alongside Blake Lively and Anna Kendrick.
"It's such a different take of characters that I've played," Golding told POPSUGAR about his role in the film. "Sean is this much darker, mysterious, unsuspecting character. You don't know where he sits." Even though Sean is a far cry from the romantic Nick Young, Golding still finds a way to make the character charming with his natural charisma. In fact, director Paul Feig actually advised Golding to model his character after Cary Grant's character in Suspicion, Johnnie Aysgarth. "That's the frame of mind going into this character that I needed to have," Golding explained. "And I think it definitely works. It takes you on this unsuspecting sort of journey with Sean, and the audience really don't know who he is."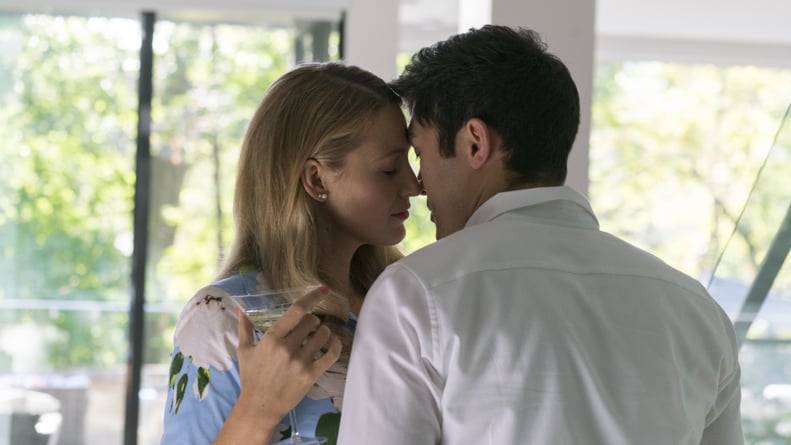 While Sean is dark and mysterious in his own right, Lively and Kendrick's characters are just as twisted. "It was amazing," Golding said about working with the pair. "If you could dream up two female leads in this universe, they're very close to the top of the list." Though the three characters have a complicated relationship in the film, Golding admitted it was a thrill filming those intense scenes. "Especially scenes where the proximity is so close — there's no one else in the room, apart from us three. There are no extras. It's in a home, in a room with myself, Anna, and Blake for the entire day. It's just a joy. And it's such a different way of acting; it's laser-focused."
In his short career, Golding has already starred alongside some talented actors, but he really looks up to the directors he's worked with. "[Some of my biggest inspirations are] directors that really pushed the boundaries of film," Golding said. "People that go out on a limb to stand out and try to bring something new to the table. Same goes with Paul Feig in [A Simple Favor], giving his spin on a genre that he's not known for. For Jon [M. Chu], putting out the weight of Asians around the world on his shoulders and killing it. Those are the types of directors I want to work with, people who stand within the arena; in the blood and in the sand, fighting their hardest to do good."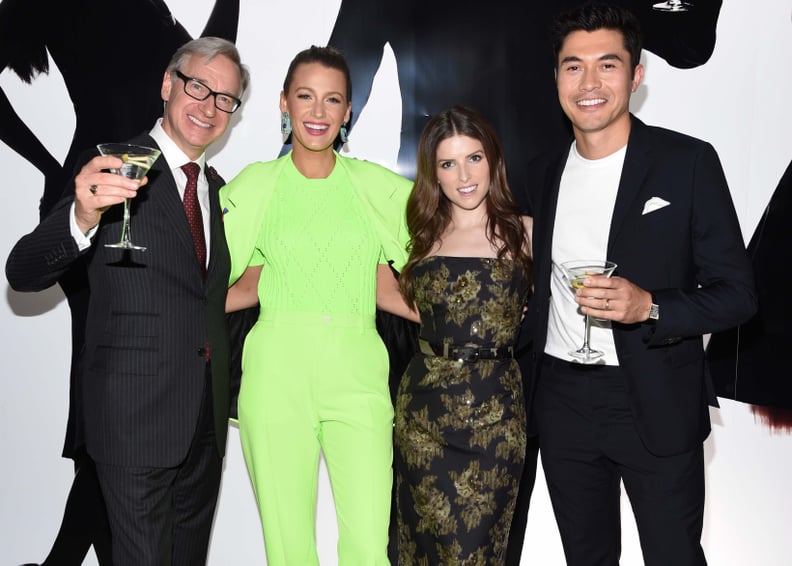 While Golding has been thrust into the spotlight over the past few months, he's trying to stay grounded despite his newfound stardom. "I think I'm level-headed enough to understand that it's hard work that really pays off, and I think the understanding of these opportunities come far and few between, so take advantage of them; work your hardest," he said. "That's what we've been doing for the past sort of year-and-a-half. But for me, it's really the joy in creating what I have loved my entire life, and that's great movies. I love cinema altogether. So for me, it's the greatest dream."

"It's so inspiring getting these stories from everybody of how it affects them, and how they intend to help share the love."
Of course, one of the most rewarding parts about his success, specifically with Crazy Rich Asians, has been seeing the fan response. "It's been a very vocal crowd," he explained. "They're like, 'This is the first time that I've cried in the cinema, not because of the story, but because of what I see on screen and what it means to that person.' It's so inspiring getting these stories from everybody of how it affects them, and how they intend to help share the love."
So, what does Golding have in store next? While he admitted that sci-fi is his "dream genre," what it truly comes down to is finding scripts that speak to him. "It doesn't matter which genre it falls in. If it's a movie that I would want to watch, that's something that I want to be a part of," he said. "Just doing justice to great material is what I'm meant for."