15 Years Later, Hilary Duff Reflects on Lizzie McGuire's Legacy: "Girls Really Needed Her"
If you grew up in the early 2000s like I did, then odds are you were obsessed with Lizzie McGuire. Not only was the Disney Channel series witty and fun, but the title character was a huge role model for young girls. Throughout the show, she's dorky, she's sweet, and most importantly, she's true to herself. Not only did I look up to the character, but I also looked up to the actress who played her, Hilary Duff. Who didn't want to be her BFF growing up? So, when I got the opportunity to talk with the actress for Claritin's "20 Minutes of Spring" project, I couldn't help but get a little nostalgic (OK, very nostalgic).

While her iconic character is fondly known for her impeccable style and "good girl" persona, Duff feels like the real reason Lizzie McGuire resonated with so many fans was simply because she didn't fit in. "She really didn't have a spot," she told me. "She wasn't popular, and she wasn't a dork. I mean, she was kind of a dork, but she was not considered a nerd at school."
"Girls really needed someone like that to look up to."
What teenage girl couldn't relate to that? When I was growing up, it always felt like there was so much pressure to "fit in," but Lizzie reminded me week after week that I didn't have to conform to someone else's ideals to be happy. It was OK that I actually enjoyed hanging out with my mom. It was OK that I was dorky in the same way Lizzie and her friends were. It was OK that I wasn't popular or at the top of my class. I could just be myself, and that was enough.
In fact, it was Lizzie's relatability that first made Duff fall in love with the character. "I think the first episode that made me obsessed was when I read the pilot," she added. "I mean, I was just 12 or 13, but it was, 'I'm not this, I'm not that, and I'm just me.' It was just so endearing and loving. Girls really needed someone like that to look up to. And that is really who I was at that time in my life, too. I'm really appreciative for that role, and I loved her, too. She was me."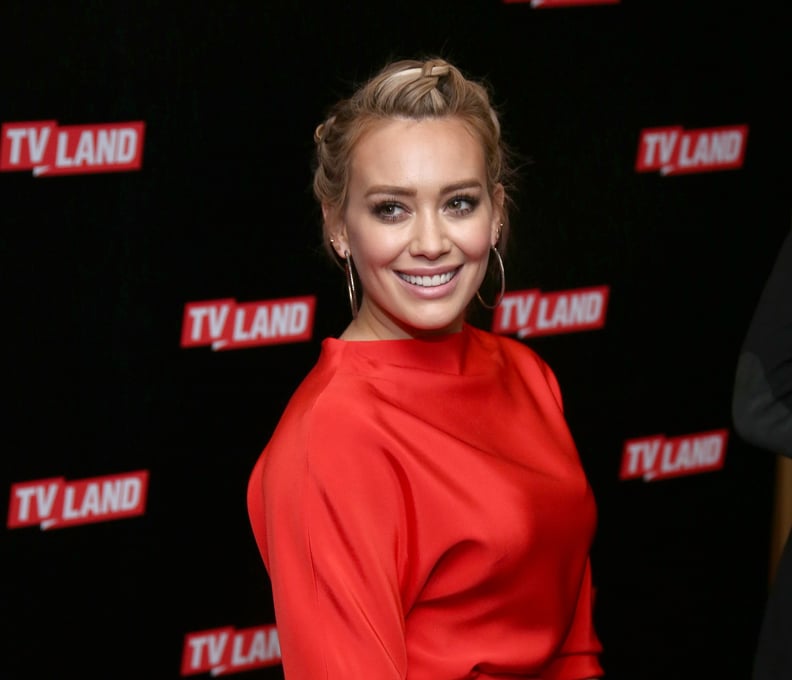 Of course, Lizzie McGuire isn't the only thing Duff is known for. After wrapping the hit Disney Channel series in 2004, the actress went on to star in countless blockbusters, design her own fashion line, and sell thousands of records. She is especially proud of herself for the latter. "That was really hard for me at the time," she said. "I know this is going to sound crazy because now if you don't do everything you basically won't cut it, but for me to try to convince people that I could be a singer and a dancer and I could go on tour and have an album, it was like breaking bones."
I'd be lying if I said I didn't own every single one of her records. "So Yesterday" was my tween breakup anthem, and I still know all the lyrics to "Why Not" by heart. Hits like those helped Duff pave the way for stars like Miley Cyrus, Selena Gomez, and Demi Lovato, all of whom went on to enjoy massive success as pop stars after starring in their own Disney Channel shows.
"I want to keep pushing myself and trying new things," she said of where she sees her career headed. "I don't think I've gotten that job yet where I'm like, 'I'm done. I did it.' I think once you feel that way maybe the drive is gone."
At only 30 years old, Duff has already accomplished so much, but she isn't done yet. After acting in movies and shows like Material Girls, The Perfect Man, and Gossip Girl over the past few years, she currently stars on the hit TV Land series Younger. Not to mention she is set to play Sharon Tate in the upcoming indie film The Haunting of Sharon Tate.
While she is certainly more than just Lizzie McGuire, her performance on the Disney Channel series has become one of her most recognizable because of how many young girls looked up to the character. Even today, as a 25 year old, the show still holds a special place in my heart because it essentially shaped my childhood. Fortunately it seems that Duff isn't done inspiring us — she's far from it.