4 Ways That Dear Evan Hansen Starts a Conversation About Mental Health
If there was a checklist for hit Broadway musicals, Dear Evan Hansen would check pretty much every box. Dramatic dialogue? Check. Emotional soundtrack? Check. Powerhouse cast? Check. Complex plot? Check. Stunning staging? Check.
But it's the way in which Dear Evan Hansen departs from the typical musical theater playbook that really makes it stand out. The central focus of Dear Evan Hansen isn't a star-crossed romance or tense family drama but rather the stark reality of mental and emotional health. Instead of infusing every scene with glitzy Broadway glamour, the show gets real — sometimes painfully so — about mental health. Here's a look at just four of the reasons why the show is so groundbreaking.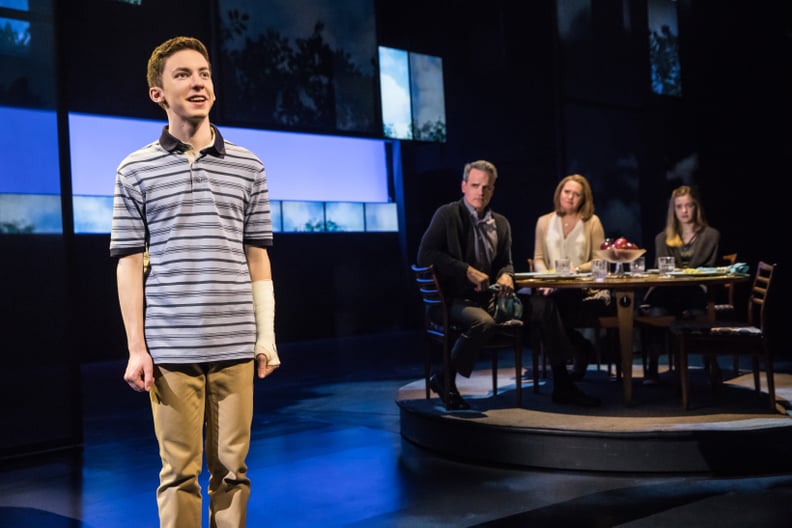 It Offers an Unvarnished View of Mental Health
Titular character Evan's high school experience is a lonely one — he's friendless and isolated; no one will even sign the cast on his broken arm. In order to help him boost his morale, Evan's therapist suggests he try writing encouraging notes to himself about why each day will be a good day. This is where the play begins: on the first day of a new school year with the first self-addressed letter. Loneliness, social anxiety, and isolation are certainly not light subjects for a musical to take on, but Dear Evan Hansen portrays Evan's experience in a way that's relatable and familiar. Everyone sitting in the audience experiences those feelings themselves or knows someone who has.
It Highlights the Impact of Social Media
Dear Evan Hansen is also the first Broadway musical to highlight the psychological impact that near-constant social media use has on adolescents. The combination of social media with the high school experience can make teens feel simultaneously more connected than ever and lonelier than ever. Even the staging of the musical — with tons of LED screens showing various posts, videos, and photos — reflects the barrage of information from social media. That's another reason why the show has been so moving for everyone from high school students to their parents: it shows the huge impact that the internet can have on all of us.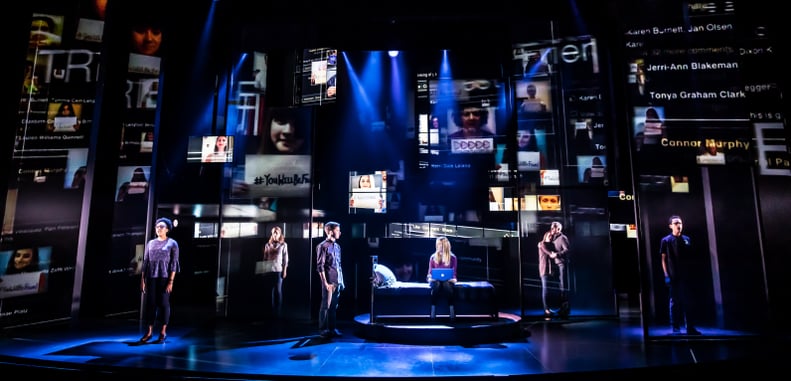 It All Comes Back to Hope
The central message of connection, empathy, and understanding transcends everything that happens in Dear Evan Hansen. The lyrics from one of the musical's most moving songs, "You Will Be Found," are particularly powerful: "Even when the dark comes crashing through / When you need a friend to carry you / And when you're broken on the ground / You will be found." It's a poignant reminder that there's hope for each one of us — no matter what you're going through — and one more way that this musical is focusing our attention on a subject that needs to be talked about. Dear Evan Hansen's popularity has prompted countless parents, families, and teenagers to talk about their own struggles with social media, anxiety, and more — normalizing the conversation around mental health.
It Continues the Conversation Off Stage
Dear Evan Hansen is certainly a powerful experience — one its creators hope will move you long after you leave the theater. The musical also partners with nonprofits such as the Crisis Text Line, The Trevor Project, the JED Foundation, the Born This Way Foundation, and the Child Mind Institute in hopes that more and more young people and their parents will discover these resources. Some of the proceeds from Dear Evan Hansen's limited edition line of clothing and accessories go to the show's partners, as well. In honor of Mental Health Awareness Month, Dear Evan Hansen is also sponsoring our Mental Health Matters hub to share more inspiring and informative stories about mental health. Through the simple act of discussing mental health on stage, the writers, producers, and cast of Dear Evan Hansen are broadcasting a powerful message: every person matters.


More from Dear Evan Hansen