Is The Queen's Gambit Based on a True Story?
The Queen's Gambit Is Based on a Fictional Book, but It Does Have Roots in Reality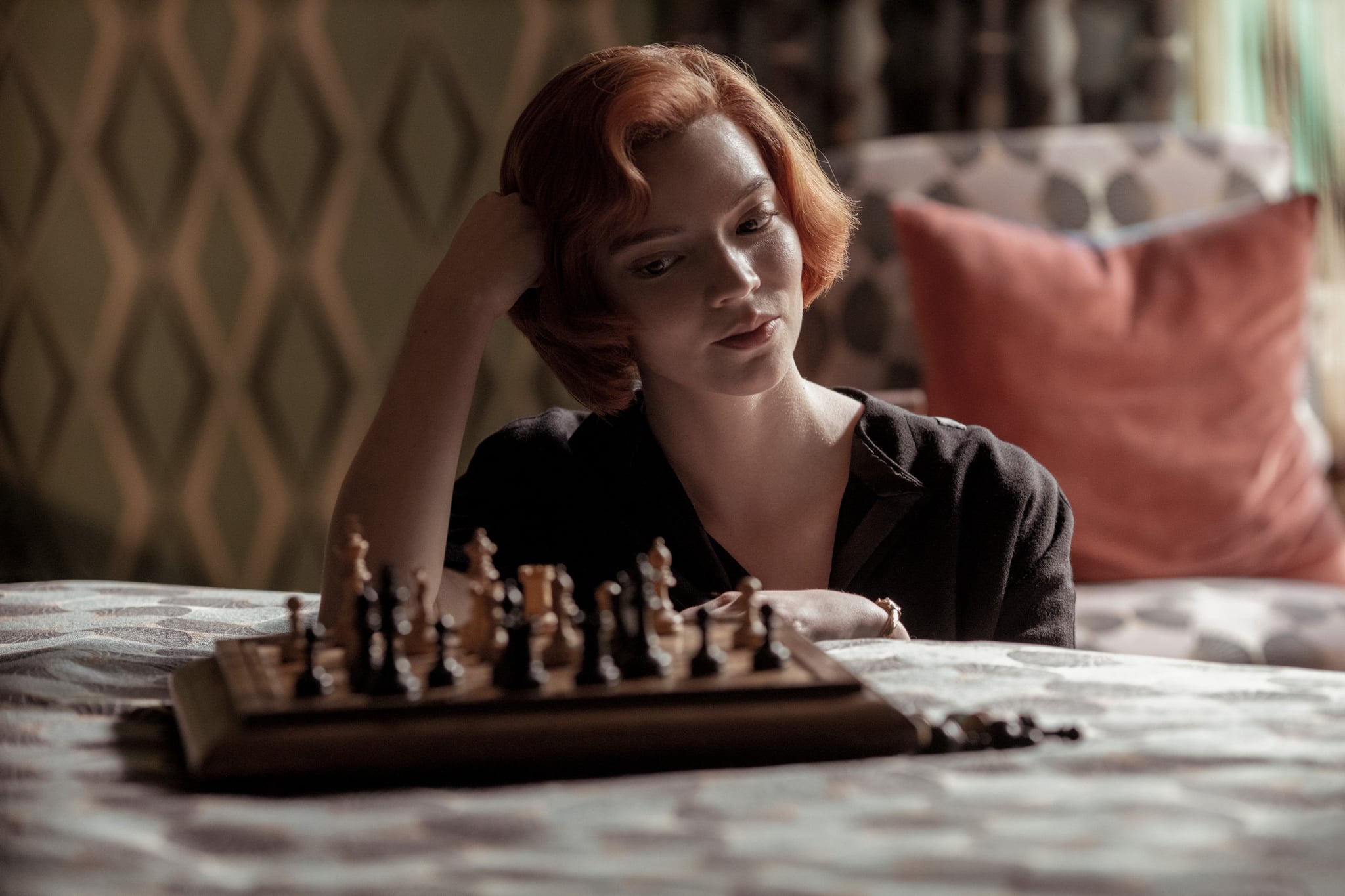 Between You and Mindhunter, Netflix is accumulating dramatic TV series left and right, and it's diving right back into the genre with The Queen's Gambit. In the miniseries, Anya Taylor-Joy stars as Beth Harmon, a troubled orphan on the rise as a chess prodigy in the '50s and '60s. While the historical costumes and subject matter suggest that it's a realistic period drama, the Netflix miniseries isn't based on a true story. While it has all the makings of a biopic, The Queen's Gambit is actually an adaptation of Walter Tevis's 1983 novel of the same name, which has loose roots in reality.
What Is The Queen's Gambit About?
According to The New York Times, Tevis was a class-C chess player who learned how to play the game at age 7. The author died at a young age, passing away at 56 to lung cancer in 1984, the year right after The Queen's Gambit came out. The novel itself follows the life of young genius Beth Harmon, a girl who plays chess with a janitor at her orphanage. Eventually, she wins her first tournament at 14 and becomes an American champion at 18. She's terrified of the world champion, a Russian who she eventually meets during a Moscow tournament. Over time, Beth retreats into isolation and becomes dependent on drugs and alcohol.
Who Is Bobby Fischer?
At the time of The Queen's Gambit's release, New York Times critic Harold C. Schonberg (as well as other reviewers) likened Tevis's protagonist to the chess prodigy Bobby Fischer. At age 15 in 1958, Fischer became one of the youngest people ever to become a grandmaster. By 1972, he became a world champion. But soon after, Fischer would withdraw from competitive chess altogether, succumbing to a reclusive lifestyle and notably becoming paranoid in the '70s. Prior to isolating himself, Fischer made "outlandish demands on tournament directors," according to The New York Times. He wanted "special lighting, special seating, special conditions to ensure quiet." Fischer also worried that opponents were poisoning his food and bugging his rooms.
When he occasionally re-emerged, his inflammatory comments about Jewish people and America overshadowed his legacy. And while he may be an inspiration for Beth, he's also been known for his past dismissive remarks about women, saying, "There isn't a woman player in the world I can't give knight-odds to and still beat." (He later claimed that his words were distorted and taken out of context.) Fischer passed away in 2008 after having kidney failure.
What Do Psychologists Believe About Fischer's Behavior?
As much as The Queen's Gambit is about Beth's struggles as a young woman in a male-dominated field, it also brushes on psychological illness. We don't know much about Fischer's private life, but mental health experts suspect that he may have struggled with an undiagnosed condition. In a piece for Pacific Standard, psychologist Joseph G. Ponterotto presented the theory that Fischer's mother may have had paranoid personality disorder and that Fischer himself may have been predisposed to this condition. From Ponterotto's point of view, Fischer's psychosocial stress as a chess celebrity and his genetic predisposition could account for his erratic behavior. Psychologists also believe that Fischer could have been on the spectrum or had schizophrenia.
So yes, The Queen's Gambit is technically based on a work of fiction, but there are certainly realistic elements in it that run in parallel with Bobby Fischer's complicated life. See for yourself how Beth's story unfolds when The Queen's Gambit debuts on Netflix on Oct. 23.