Your Eyes Aren't Deceiving You — Taylor Lautner Isn't Sharkboy in We Can Be Heroes
Netflix is bringing back your favorite childhood superheroes, Sharkboy and Lavagirl, for its new film We Can Be Heroes. The movie, which is set to release on Jan. 1, will show the dynamic duo from 2005's The Adventures of Sharkboy and Lavagirl in 3-D as parents. While Taylor Dooley is reprising her role as Lavagirl, Taylor Lautner will not be returning as Sharkboy. Instead, the character will be played by JJ Dashnaw, who conveniently wears a mask in the film. Dashnaw has done stunt work in a number of big films, including Jumanji: The Next Level, Thor: The Dark World, and the Spy Kids movies, so it's likely Sharkboy will have some action-packed moments.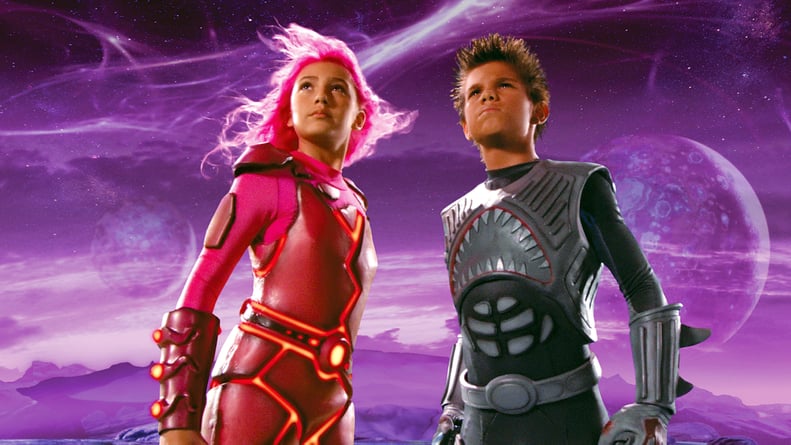 While it's unclear why Lautner didn't reprise his childhood role for the movie, there is some good news. Dashnaw will only have a silent cameo, meaning there's still a chance Lautner could reprise his role for another film. "The only speaking role is for Lavagirl," director Robert Rodriguez told Collider. Perhaps there will be an official Sharkboy and Lavagirl sequel with both Dooley and Lautner?
Since his breakout role in The Adventures of Sharkboy and Lavagirl in 3-D, Lautner has established quite a career. In addition to starring in feature films like Cheaper by the Dozen 2 and Valentine's Day, he also gained a huge following for playing Jacob Black in the Twilight saga. His latest role was in 2016 when he played Dr. Cassidy Cascade on Scream Queens season two.