Janelle Monáe's "Dirty Computer" Will Forever Be the Anthem to My Own Queer Journey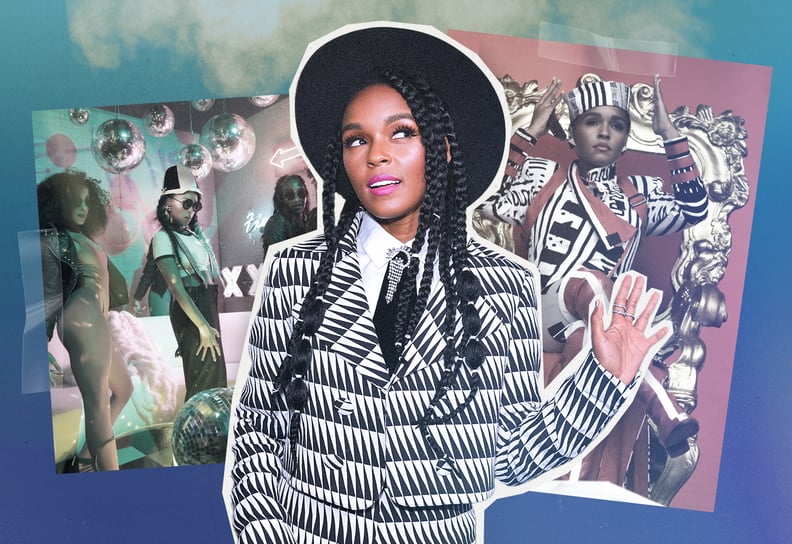 Getty | Christopher Polk; Variety; Tim Mosenfelder; Jose A. Bernat Bacete
Photo Illustration: Ava Cruz
Getty | Christopher Polk; Variety; Tim Mosenfelder; Jose A. Bernat Bacete
Photo Illustration: Ava Cruz
This LGBTQ+ History Month, we're asking writers to reflect on a moment in queer pop culture history that has allowed them to experience queer liberation in their own lives. Check out our coverage here.
---
When Janelle Monáe released "Make Me Feel," the funky hit single off her third studio album, "Dirty Computer," in February 2018, the song consumed my thoughts. I was 19 at the time, and the year had been a significant one for me — I had been dealing with my parents' divorce, started rehashing religious trauma, and shaved all my hair off. And on top of all that, I began to question my sexuality.

But Monáe's catchy lyrics — "That's just the way you make me feel" — kept echoing in my head. The song itself was immediately praised as a bisexual anthem, and Monáe's music video with Tessa Thompson portrayed an irresistible flirtationship between the two.
At that point in my life, I'd often struggled to put my sexuality into words, so I'd run away from the thought of labeling myself. But something changed that spring, and I don't think it's a coincidence that "Dirty Computer" was released alongside my own journey, providing a soundtrack to emotions I'd long kept deep within myself.
Since childhood, I'd attended weekly Sunday service at my Baptist church with my parents and went to a private Christian school from kindergarten to eighth grade. Years of homophobic, transphobic, and misogynist language was spouted from the mouths of my Sunday school teachers and the dean at my school, but that never stopped me from listening to secular music.
I was 11 when I first heard Monáe's music, and it was ironically during a Kmart commercial for the back-to-school season, as it played "Tightrope" featuring OutKast's Big Boi. The catchy track — which happened to be the debut single for 2010's "The ArchAndroid" — feels timeless and still holds a place on Monáe's setlist for their ongoing "The Age of Pleasure" Tour. I occasionally listened to "The Electric Lady," but something clicked when "Dirty Computer" was released.
Perhaps it was because, alongside "Dirty Computer"'s release, Monáe gifted their fans an entire 48-minute "emotion picture" of a dystopian and science-fiction scope into a world that began with her character Jane 57821 being labeled as "dirty," which referenced the marginalized and oppressed. The film and album also introduced me to the concept of Afrofuturism. Little did I know that Monáe's usage of Afrofuturism throughout their discography portrayed a future full of Black, queer people, one that I felt I could truly belong to.
In high school, I assumed that my allyship to the queer community ended there — but nothing more. As I surrounded myself with more friends that identified as LGBTQ+ and consumed more queer media via Tumblr, though, I began rethinking my sexuality. I was astonished by Monáe's unapologetic nature to their Blackness, womanhood, and queer identity, which is something that I didn't know was possible to do at once. Between the album's empowerment anthems like "Django Jane" and colorful labia-lined pants from the "PYNK" music video, I quickly became obsessed with the album and attended the "Dirty Computer" Tour three times the following year.
"Monáe perseveres past the misogynoir, and I've been taking notes."
Five years later, the entire album feels timeless and as moving as it did on the first listen. In "I Like That," Monáe made a reference to being called "weird," and as a Black girl who's definitely leaned on the "otherness" or alternative spectrum of Blackness, I feel seen every time I listen to it. Their androgynous, suit-forward style has been an inspiration for my evolving style, and their public stance to be a "free-ass motherf*cker" will always inspire me to express myself to the fullest. Beyond style and personality, I've admired Monáe's approach to sexual liberation amid online discourse that has revolved around others trying to police their body.
Regardless of the negative pushback they've received for their music videos or performances that celebrate sexual autonomy and Black bodies, Monáe perseveres past the misogynoir, and I've been taking notes ever since my 19-year-old self first listened to "Make Me Feel."
Indeed, the summer after "Dirty Computer" was released, I attended my first Pride and haven't missed an annual celebration since. Although I haven't come out to a majority of my family, I would hope that my expression of Blackness and gender identity can silently speak for itself. As I revisit Monáe's discography, I'm grateful for their enduring queer bops.
In September, I even attended Monáe's "The Age of Pleasure" Tour at Brooklyn's Kings Theatre. The three-act show was the second sold-out stop in New York City, and although the night was a precursor to the city's recent flooding, you'd have no idea that Brooklyn was plagued with rain, thanks to Monáe's dazzling performance. Described by the singer as a "safe oasis," the two-hour set was an ode to the pleasure politics of "The Age of Pleasure" while paying homage to the revolutionary queer anthems from "Dirty Computer" and "The ArchAndroid."
Five years ago, I may have known very little about the intersection of my queer identity and Black womanhood, but thanks to Monáe's artistry, I'm able to regularly reflect on my own revolutionary politics and apply them to my life.