Still in Awe at Jennifer Hudson Singing The Jeffersons' Theme Song For ABC's Live Special? Same!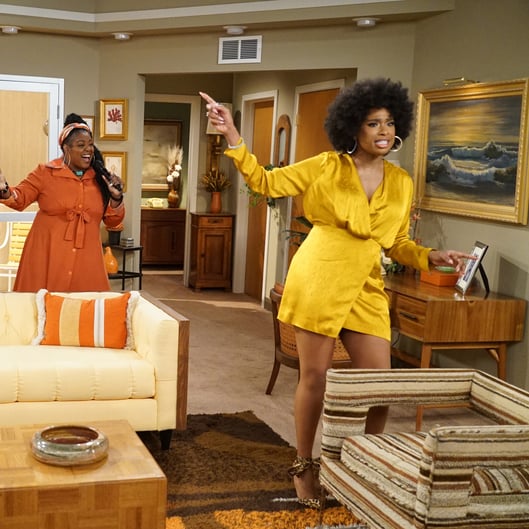 Honestly, the moment Jennifer Hudson gets within five feet of any microphone, we all know magic is about to happen. The Oscar-winning actress and singer surprised a live audience with her rendition of The Jeffersons' iconic theme song during ABC's special Live in Front of a Studio Audience, and she absolutely crushed it! Forget getting a piece of the pie, her performance was the whole dang bakery!
Hosted by late-night host Jimmy Kimmel and legendary producer Norman Lear, the one-time, live-action TV event was a live staging of classic episodes from All in the Family and The Jeffersons. Though she wasn't among the various big names previously announced to guest star on the star-studded special (which include Jamie Foxx, Kerry Washington, and Wanda Sykes), Hudson performed the song with a trio of gospel singers to back her up, similar to how Ja'Net Dubois performed the original theme song for the '70s series alongside a gospel choir. As she usually does, Hudson brought down the whole house with her performance and received some rave reviews online.
"Hands down this was by far the funniest thing I've done in my career," Hudson shared on an Instagram post. "We finally got a piece of the pie!!!!"
If that pie tastes anything like what Hudson's performance sounded like, we have no doubt it was delicious. Check out Hudson's opening sequence above, as well as some photos and reactions from fans ahead!
Live in Front of a Studio Audience Opening Sequence
Hudson's Performance of "Movin' on Up"