Julia Roberts and Jennifer Aniston Costarring in New Movie
Jennifer Aniston and Julia Roberts Set to Costar in a Body-Swap Movie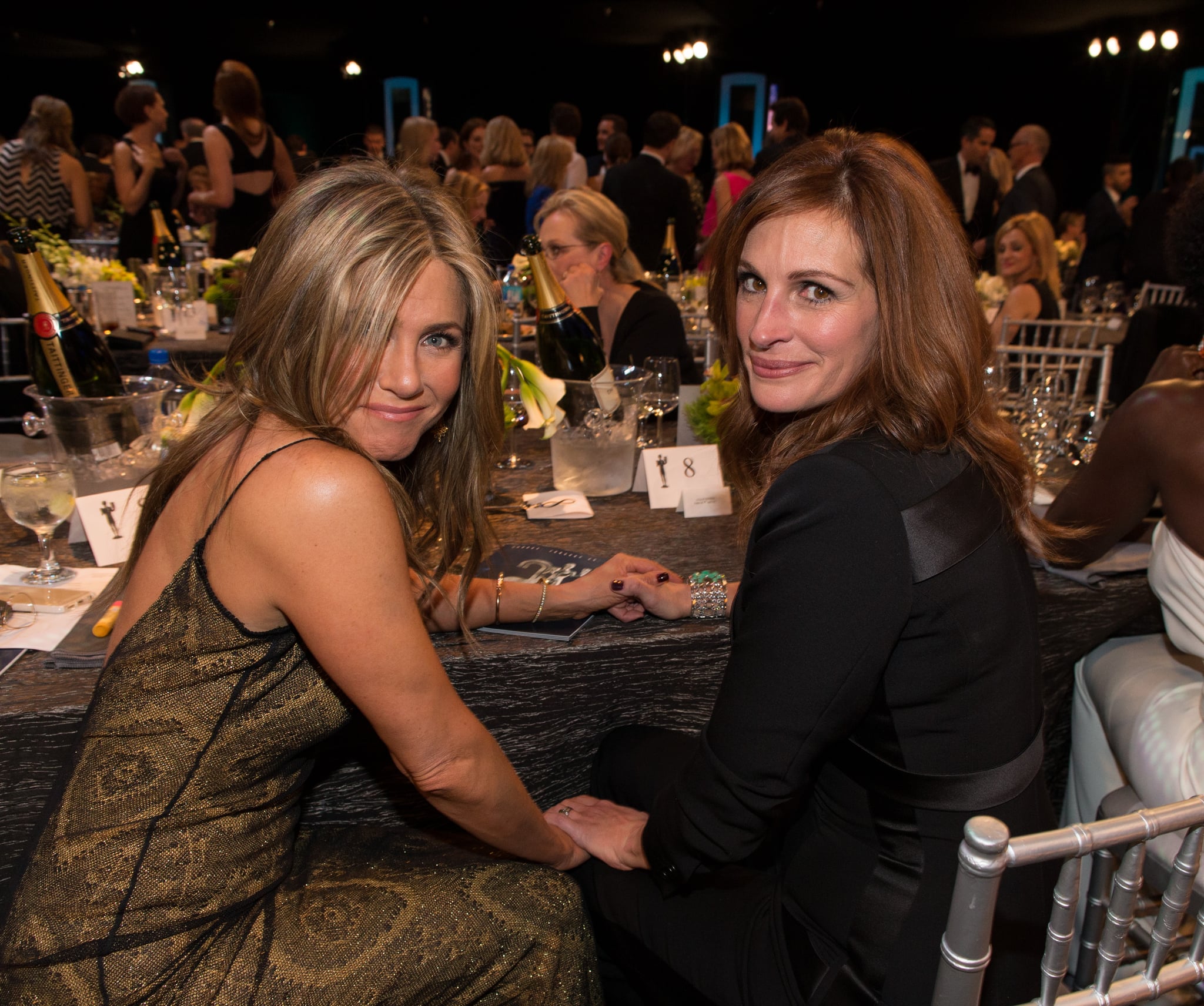 Jennifer Aniston and Julia Roberts are having their very own "Freaky Friday" moment. The two actors are officially costarring in a movie described as a "body swap comedy" by Deadline, which broke the news about the project on Jan. 30.
The feature is set to be written and directed by Max Barbakow, the force behind 2020's "Palm Springs." Meanwhile, LuckyChap Entertainment — the company run by Margot Robbie, Tom Ackerley, and Josey McNamara — will produce in addition to Barbakow, and the feature will stream on Prime Video. Further details about the plot, cast, and release date have yet to be revealed, and it remains unclear how the movie will provide a fresh twist on the classic body-switching trope. Reps for Prime Video, Aniston, and Roberts did not immediately respond to POPSUGAR's requests for comment.
The actors' movie announcement comes several months after the premiere of "Ticket to Paradise," which starred Roberts and her longtime friend George Clooney as a couple trying to stop their daughter's wedding. In addition to netting more than $160 million at the box office, per Collider, "Ticket to Paradise" gave Clooney and Roberts an excuse to provide many fresh details about their friendship and experience quarantining together during filming.
Meanwhile, Aniston is gearing up to star alongside Adam Sandler in "Murder Mystery 2," a sequel to the original 2019 flick that's premiering on March 31. The trailer was released on the same day as reports about Aniston's upcoming collaboration with Roberts.
Roberts and Aniston last worked together on 2016's star-studded "Mother's Day." At the film's premiere, Aniston confessed to feeling intimidated by Roberts. "It's Julia Roberts! Oh my gosh!" she said, per Entertainment Tonight. "It's just a different thing when you get to work with them and then you're doing what you both do, together. I even flubbed in the first take and called her Julia!"