Ke Huy Quan 2023 Oscars Speech
Ke Huy Quan Emotionally Reflects on Journey From Refugee Camp to Oscars: "The American Dream"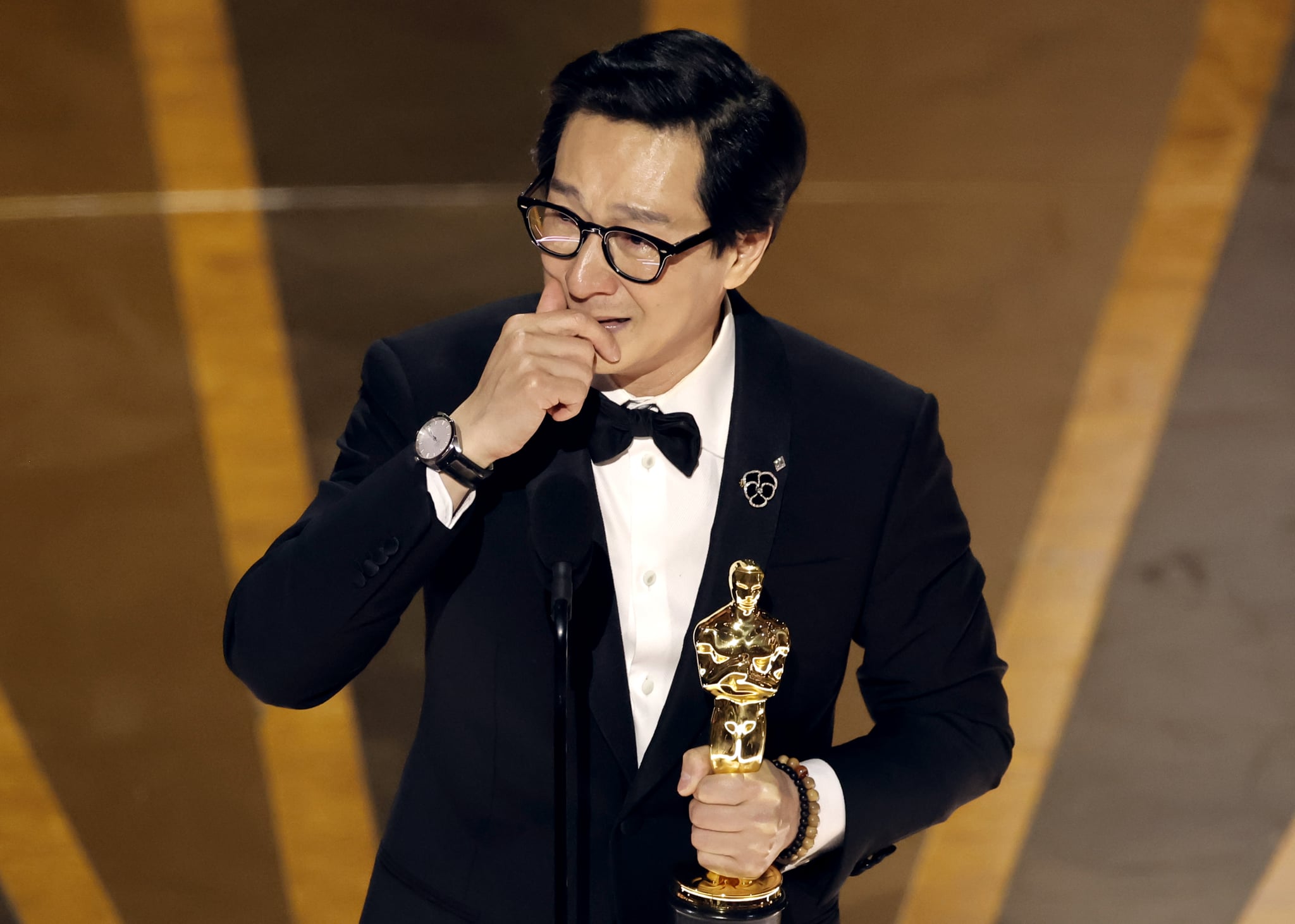 Image Source: Getty / Kevin Winter
Ke Huy Quan's win for best supporting actor at the 95th Academy Awards may not have been a big surprise considering he's been sweeping in his category this awards season, but the "Everything Everywhere All at Once" star made all of us cry with his moving, emotional acceptance speech for best actor in a supporting role.
"My mom is 84 years old, and she's at home watching — Mom, I just won an Oscar!" he began, before diving into the litany of thank-yous that typically feature so heavily in acceptance speeches. However, Quan shared more about his own remarkable journey, from his childhood as an immigrant and his decades-long disappearance from Hollywood after his child-star roles in "Indiana Jones and the Temple of Doom" and "The Goonies," to his fairy-tale comeback with "Everything Everywhere All at Once."
"My journey started on a boat. I spent a year in a refugee camp," he said. "And somehow, I ended up here, on Hollywood's biggest stage. They say stories like this only happen in the movies — I cannot believe it's happening to me. This, this is the American Dream!" he exclaimed, holding his Oscar statuette.
He thanked the Academy, as well as his costars (including his "'Goonies' brother for life, Jeff Cohen"), and shouted-out his family, through tears, for the incredible support they gave him. "Thank you to my mom for the sacrifices she made to get me here," he said. "Thank you to my brother, David, who calls me every day to remind me to take good care of myself. I owe everything to the love of my life, my wife Echo, who, month after month, year after year, for 20 years told me that one day, my time will come."
If anyone wasn't in tears already, his final exhortation, addressed at everyone watching around the world, finished off the speech with the kind of inspirational, passionate reminder that every creative person sometimes needs to hear. "Dreams are something you have to believe in. I almost gave up on mine," he said. Gesturing straight at the camera, he finished, "To all of you out there, please keep your dreams alive!"
Watch Quan's moving speech below.