This Female-Directed Music Video About Sexual Harassment Is Sparking a Powerful Conversation
Leon Bridges is a man with a vision. The gospel and soul singer continues to impress audiences and the music industry with his confessional lyrics and modern beats that simultaneously have the power to transport listeners back in time. But it's Bridges's most recent music video for the single "Bad Bad News" that's really striking a chord with women specifically.
The video stars body-positivity activist and plus-size model Paloma Elsesser, whose character walks out of a subway terminal late at night, dressed in a red trench coat, only to find herself catcalled by a stranger. Elsesser, who is compelled to find her catcaller, searches the streets of New York, incorporating dance moves into her journey as she looks for the person who wronged her.
Elsesser's quest is caught through alluring shots of her dancing under the dusty street lights of the city as she makes her way past neon signs displayed on store windows. When Elsesser finally addresses the man who catcalled her, she leans her head on his chest and twirls around, making sure he sees her face clearly, silently making the point that she is human and that her body is her own.
This powerful execution wouldn't be what it is without Bridges's haunting chords, but also without the video's director, Natalie Rae, who elegantly brings Leon's vision to life. During a recent conversation with Rae, she told us that the video was inspired by the #MeToo movement and should be seen as a victory song — an anthem for women who are taking back their power.
"The chorus of the song is 'I was told I was born to lose, but I made a good, good thing outta bad news,'" Rae explained. "No one has made a better thing out of bad news more than women have around #MeToo last year."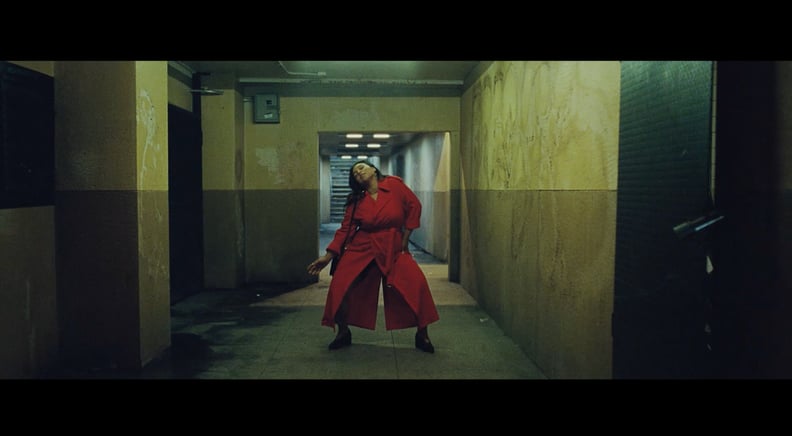 This interpretation especially resonated with Elsesser, who, according to Rae, saw her own personal run-ins with catcalling and sexual harassment reflected in "Bad Bad News." Elsesser told Rae that having grown up with curves, there was this flood of attention that she didn't know how to handle at a young age, causing her confusion and self-doubt. She's since taken these experiences and insecurities and turned them into pride and body positivity, which have helped propel her plus-size modeling career and social media presence.
"She's certainly taken her bad news and turned it into a good thing," Rae said.
For Bridges, "Bad Bad News" is his love letter to women everywhere. According to Rae, the song and video symbolize the support and solidarity between men and women during this political shift. "This was an inspiration for Leon to try [to] propel the moment in a video that says, 'I'm listening, and I'll follow your footsteps,'" she added.
While there is no verbal apology from Elsesser's catcaller, you can see the expression on his face slowly turn to understanding, and finally shame, as Elsesser forces him to see her for who she is: not a victim, but a human being.