How Lovecraft Country Challenges H.P. Lovecraft's Racist Legacy
H.P. Lovecraft was an originative horror writer for the last quarter of his life and a veritable white supremacist for the entirety of it. Following this fact, it's natural to question why executive producer and showrunner Misha Green and HBO sought to dedicate an entire series and Black-led cast to the author's work in their latest release, Lovecraft Country. Adapted from Matt Ruff's 2016 novel of the same name, the 1950s-set series follows Atticus "Tic" Freeman, a Black man too smart for his own good, on his journey to find his missing father in the American Northeast, the setting of many Lovecraft novels. Played by Jonathan Majors, Tic is accompanied by his Uncle George (Courtney B. Vance), an author of safe traveling guides for Black people, and childhood friend Letitia Lewis (Jurnee Smollett), a stubborn feminist whose skirts are too short for society's standards.
The series doesn't dawdle in broaching Lovecraft's legacy of literary racism, calling out the author's penning of a 1912 poem, "On the Creation of N-Word," in the first episode. As the Los Angeles Times reports, Lovecraft characterized Black people as "beasts in semi-human figure filled with vice." Tic mentions the poem while fingering a Lovecraft novel, to which Uncle George responds, "Now that's one of Lovecraft's we don't hear mentioned often." Tic's missing father, Montrose, forced him to memorize the poem after finding Tic thumbing through the author's 1939 novel, The Outsider and Others. Montrose thought it imperative to educate his son on the then-overlooked prejudice Lovecraft exuded, and in a similar sense, Lovecraft Country will do the same for its audience.
Lovecraft, born in 1890 and living most of his life in Rhode Island, had a tumultuous upbringing, losing both of his parents before adulthood. Evident from a collection of his letters, Lovecraft was a hardened xenophobe who was anti-everyone who wasn't white Protestant. He maintained a paranoid fear and hateful contempt toward those he saw as other, going as far as championing KKK lynchings and warning against miscegenation. Literary scholars find his contempt for the other to be consistently embodied in his work, and Green addressed this in a Q&A with HBO: "You can definitely tell he was a racist from his work. It's hard to miss those troubling themes." In spite of Lovecraft's well-proven and recorded bigotry, his legacy has endured as one of innovation and genius before his time.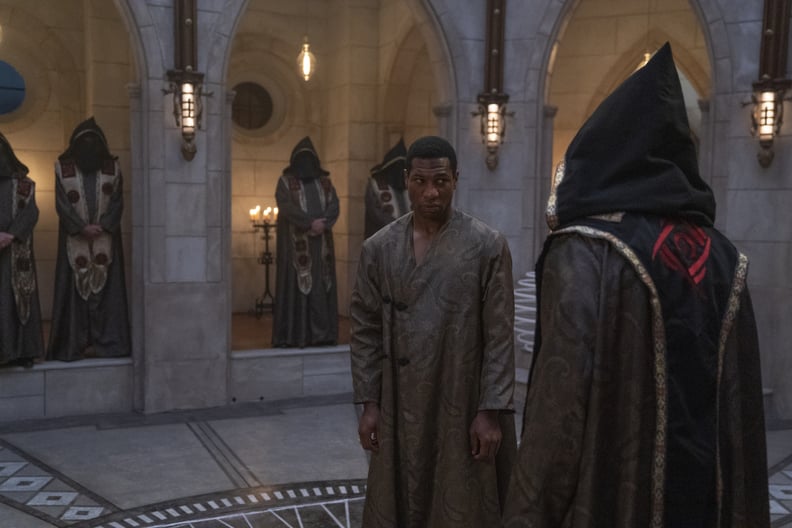 Like Woody Allen, Roman Polanski, and many other men whose work should be tarnished by their exposed natures, Lovecraft's artistry has overshadowed his egregious beliefs in the literary canon. He began writing in the early 20th century, when scientific and technological exploration was creating a world that outpaced the average imagination. Lovecraft, already plagued with a fear of difference, combined his prejudices with the period's uncertainty in horror novels that dissected the peril of interspecies encounters, spurning the "cosmic horror" genre. Notoriety and fame eluded him during his 46 years of life, but critical acclaim of his extensive lore and dread-laden storytelling sealed his literary legacy posthumously. Ridley Scott, Guillermo del Toro, Stephen King, and scores of horror and science-fiction storytellers who came after him have all been influenced by his works.
Ruff told the Los Angeles Times, "[Lovecraft's] shared mythology got passed down into the DNA of the genre. [A genre] dominated by white folks and white critics [who] tended to just completely overlook the racist aspects of his fiction." To put it plainly, the white leaders of literature told other readers to deal with it. Having read sci-fi novels since childhood, Tic has learned to do just that. While walking to his hometown of Chicago, Tic raves about Princess of Mars, a book detailing the epic, outer-space hero's journey of a Confederate soldier. His traveling companion questions how he can love a story that celebrates those fighting for his enslavement. Tic responds, "Stories are like people. Loving them doesn't mean they're perfect. You just try to cherish them, overlook their flaws."
Well, Lovecraft Country does not aim to love something despite its flaws. It wills itself to do the opposite, to stare deeply into a subject's moral cracks, studying what intricacies and assumptions fuel them in effort to turn them against their wielder. Lovecraft was a racist more often than he was a writer, embedding his biases into his now-prolific narratives. But what happens when a Black, woman showrunner recruits acclaimed Black actors to embody his contempt for otherness from their own point of view? How is Lovecraft's legacy told when the flaws are what's remembered, not the accolades?
Green told HBO she was reclaiming the horror genre for those who have been perpetually cast out, only allowed to appreciate it from the outer circles. As Tic enters the Northeast in search of his father and ominous birthright, the opposing side of Lovecraft's story is examined. That the real monsters are not the others that torment from the eerie loom of the shadows, but those who come upon the life forms and deem them as such.