Lucy Boynton and Laura Dreyfuss The Politician Interview
The Politician's Lucy Boynton Was So Scared She Ruined Her Audition, She Ran Straight to a Bar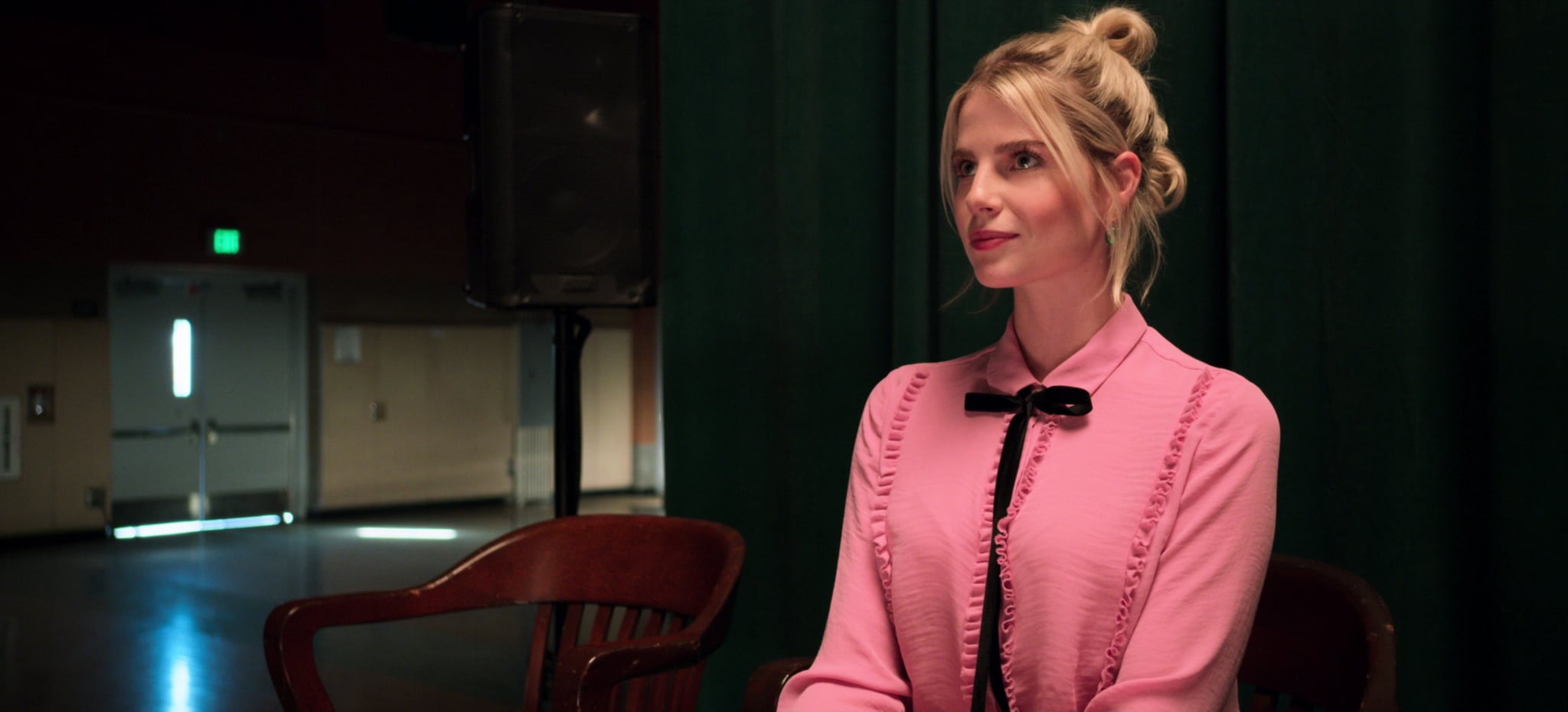 In Netflix's new dark comedy-drama The Politician, Lucy Boynton steals the show as Astrid, the power-hungry "first lady" pulling the strings behind her boyfriend River, a candidate for class president in a bitter high school battle of words and wills. It's hard to imagine anyone else playing the role after you've binged the show (and trust me, you will binge it), but Boynton herself wasn't so sure after her audition.
"It was such a quick audition," she told me and a group of other journalists at the Soho Hotel in London earlier this month. "I exited, turned right, turned right again straight into a bar, like, 'I think I ruined that.'" Clearly the show's creators Ryan Murphy, Brad Falchuk, and Ian Brennan had other ideas, as she quickly joined the cast.
"I think originally the rumors were that that it was going to be a kind of political musical, but it's strayed far from that."
Her costar Laura Dreyfuss recalled a similar speed to proceedings, meeting with casting directors and the show's creators over a couple of weeks. But her connections to the project were multiple; not only had she worked with Ryan Murphy on the final season of Glee, but The Politician also reunited her with Ben Platt, with whom she shared the stage for over a year as one of the original cast members of the Broadway show Dear Evan Hansen. Her character on The Politician is a far cry from that role, though. Rather than playing Platt's love interest, she plays his right-hand woman, a political schemer with her eye on the prize. And she definitely doesn't sing. Though Platt has a memorable musical moment in the first episode, those who are looking for The Politician to be "Glee with politics" may be disappointed. "It would be fun to sing, but I don't think that will happen," Dreyfuss explained. Boynton clarified, "I think originally the rumors were that that it was going to be a kind of political musical, but it's strayed far from that."
Indeed, though it's not as gory as other Ryan Murphy shoes like American Horror Story, The Politician definitely leans heavily on the dark side and throws viewers for a loop on numerous occasions. "With Ryan Murphy, Brad Falchuk, Ian Brennan things, you can never really tell where it's going to go," Boynton explained, which is part of the reason why she was attracted to the project. Working with Murphy and entering his stylized, over-the-top world definitely left an impression on the actress, especially in the early days.
"My first full day of filming was at River's house, and there's a beautiful balustrade and double staircase, and you see Astrid coming down in a billowing pink dress, which is very much her pink, and these white boots, which are iconically Astrid, and I remember watching playback on the monitors and seeing that moment and the framing of that, very panoramic and the rich colors, and it's so Ryan Murphy all over, it's like 'oh sh*t, this is real!'"
"We got to collaborate a lot on our costumes, and also on our makeup and hair."
Boynton is known for being a style icon off screen, so it's fitting that her character follows suit, and it sounds like the cast did have some say in creating the soon-to-be-iconic looks of their onscreen personas. McAfee also has some serious fashion moments. "We got to collaborate a lot on our costumes and also on our makeup and hair," Dreyfuss explained, confessing that McAfee's long, messy waves were actually a result of her turning up for the first costume fitting with fresh-off-a-flight bedhead. "Ryan loved it so much he was like, 'I want her hair like that, all the time,' so every day, no matter now perfectly clean my hair was, they'd be messing it up."
In the show, the two actresses play bitter rivals, which meant they'd often work separately. "Our storylines are running quite parallel and don't intersect that much, so to watch it, it kind of feels like watching someone else's show," Boynton explained. However, but they bonded over certain memorable moments and characters. When I asked the stars if there was any other role in the show they'd love to play, they agreed instantly. "Oh God, Dusty! But I just want to watch that up close!" Boynton exclaimed, citing Jessica Lange's larger-than-life "stage mom." "She's a genius, Jessica Lange," Dreyfuss added.
Speaking of geniuses, another star who really made an impression was Bette Midler, whose involvement on the show was revealed on Emmys night. "Everyone on set, the cameramen, even Brad our director, we were all looking at each other like 'it's Bette Midler!'" Dreyfuss said. "It was never lost on us how incredible that was. She's just such a legend. Even looking into her eyes during a scene, I would have 40 outer body experiences at once."
"Peyton wants to go all the way to the top."
Without stepping too far into spoiler territory, the format of The Politician was designed to follow a new political race each season, which means at the close of season one, the core cast is waving goodbye to high school. This offers an interesting change for the actors. "Outside of the context of high school, which is kind of how all of their relationships and interactions have been established . . . it's interesting to see how they'll adapt and change," Boynton said. Dreyfuss agreed: "I think they're going to have to recalibrate their entire plan for life . . . they have to navigate a whole new landscape."
One obvious question is how this all ends, and it does seem like the end game is for Peyton (Ben Platt) to run for office as President of the United States. "Who knows if he'll win, but I think the goal is that Peyton wants to go all the way to the top," said Dreyfuss. "It would be interesting to see the kind of person he becomes."
The Politician is currently streaming on Netflix.