Netflix's Cuties Poster Drama Explained
People Are Trying to Cancel a Sundance-Winning French Film They Know Nothing About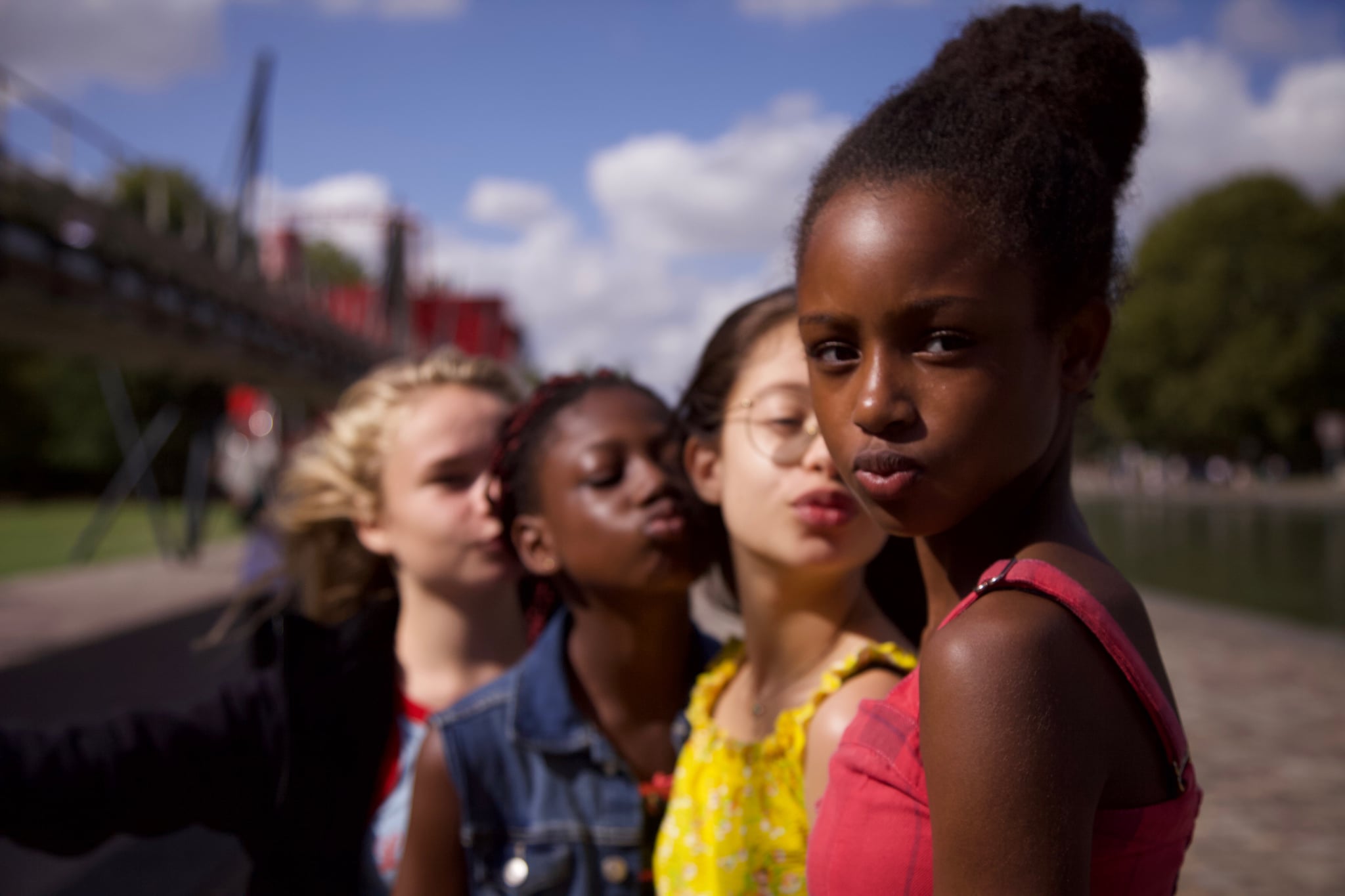 On Aug. 20, Netflix issued an apology following a wave of backlash for its marketing materials promoting Maïmouna Doucouré's Cuties. The poster featured the French film's main characters — the titular dance troupe named Cuties — in spandex dance costumes of shorts and crop tops. The streamer's now-deleted movie description read that lead character Amy "becomes fascinated with a twerking dance crew," and in an attempt to join them, she "starts to explore her femininity, defying her family's traditions."
Netflix WTF IS THIS pic.twitter.com/v4FjZkH7K5

— certified cruella stan (@8wariorlittle) August 19, 2020
An uproar was immediately ignited over the poster's apparent sexualization of children, and the backlash equated Netflix's marketing with the film's intent. "We're deeply sorry for the inappropriate artwork that we used for Mignonnes/Cuties," a Netflix spokesperson said in the statement on Thursday. "It was not OK, nor was it representative of this French film which won an award at Sundance. We've now updated the pictures and description."
The damage, however, was already done. Along with accusations that Netflix was run by pedophiles, petitions went up demanding the streamer remove the film from its lineup. I should note that Cuties won't premiere in the United States until Sept. 9, so the masses currently protesting the film's release haven't actually seen it. But that hasn't stopped over 178,000 people from signing the petition or another petition with the same purpose from gaining over 336,000 signatures.
Now, here's the thing: there are few things so regularly touched upon in all forms of media like coming-of-age stories. Whether it's a tale of finding yourself as a child, discovering who you want to be as a teen, or realizing what you're meant to do as an adult, people have always been obsessed with the idea of the moments where we realize our potential and our personhood in ways we haven't before. So, in perfect circumstances, audiences would be naturally drawn to a story like the one presented in Doucouré's Cuties just for the premise.
According to the film's official synopsis, it follows Amy (Fathia Youssouf), an 11-year-old who lives with her mom, Mariam, and younger brothers as they await her father to join the family in Paris from Senegal. Amy comes across her neighbor Angelica's free-spirited dance clique named Cuties and is instantly fascinated with the group's contrast to her family's traditional values. Eager to explore something different from her family's lifestyle, Amy joins the group as they embrace an "increasingly sensual" dance routine in hopes of reaching stardom at a local dance contest.
From watching the trailer alone, it's obvious this film is not about sexualizing young women; it's a story about womanhood, growing up in a world that sexualizes you before you even understand your identity, the trials of craving stability and freedom when you're young, and the natural conflict that comes with all of that, as well as family and heritage. Reviews of the film specify that it takes a critical view of the ways modern culture sexualizes young women.
"This modern story is still somehow universal to every generation, from the first sight of menstrual blood to the rebellious stage of preteens."
The Root's Tonja Renée Stidhum wrote: "Doucouré's incorporation of the higher stakes of social media left me shifting uncomfortably in my seat, as the reality of what it must be like to grow up as a little black girl in this digital age settled in my spirit. And that uncomfortable feeling was necessary. It was hard enough growing up in the '90s, desperate to fit in among the 30-plus students in my classroom, so I can only imagine how it feels when you multiply that number by the thousands of onlookers judging your social media profile. And yet, this modern story is still somehow universal to every generation, from the first sight of menstrual blood to the rebellious stage of preteens. The more things change, the more they stay the same, indeed."
In the wake of the backlash, people who have actually seen the film from its premiere at Sundance (where Doucouré nabbed the directing award) have begun to defend the director and her film, especially after she received so much hate that she deleted her social media. Marvel actress Tessa Thompson tweeted her disappointment with the "current discourse" around the film and her distaste for Netflix's marketing of its content.
Disappointed to see how it was positioned in terms of marketing. I understand the response of everybody. But it doesn't speak to the film I saw. https://t.co/L6kmAcJFU1

— Tessa Thompson (@TessaThompson_x) August 20, 2020
Yes, it's important to note that Netflix used a very different poster than the original French artwork to promote the film. That was purposeful and meant to draw a response. But it's also important to acknowledge that the scene from that poster does happen in the film, and it's there for a reason. Many people saw the scantily clad young women and immediately rushed to "defend" their virtue, while also taking it upon themselves to send death threats to Doucouré, a Black woman who used her life experience as a young refugee to create the film.
Because that's what all of this has been: an embarrassing overreaction from people too wrapped up in conspiracy theories who jumped the gun in the name of fighting child sexualization.
People were quick to harass Doucouré because they couldn't take five minutes to look up the trailer and premise and realize they were overreacting. Because that's what all of this has been: an embarrassing overreaction from people too wrapped up in conspiracy theories who jumped the gun in the name of fighting child sexualization. It's especially frustrating considering how obsessed American audiences are with other coming-of-age stories just like Cuties. Where was this outrage over the foul-mouthed raunch fest known as Good Boys that starred preteens Jacob Tremblay, Keith L. Williams, and Brady Noon? Good Boys features a scene with all three tweens on a sex swing but still has an 80 percent approval rating on Rotten Tomatoes, so I'm guessing we were OK with that brand of sexualization.
I can only hope people realize they've made a mistake and watch Cuties when it premieres on Netflix on Sept. 9. I know I'll be watching and appreciating the work Doucouré put into telling this story, which has just as much value as any other coming-of-age story audiences have salivated over in the past. And I hope this nonsense hasn't negatively impacted what is no doubt a promising filmmaking career.