Why We Probably Could Have Done Without Netflix's New Rom-Com Sierra Burgess Is a Loser
The latest addition to Netflix's robust lineup of romantic comedies brings the classic mistaken-identity trope to high school. Sierra Burgess Is a Loser is a modern retelling of the 1897 play Cyrano de Bergerac that replaces a poet who is insecure about his nose with an awkward but brilliant teenage girl. The film's release was met with a lot of love from fans who appreciated the body-positive theme, while also getting heat from those who were concerned with the premise, overall message, and several problematic jokes used in the film.
The titular Sierra Burgess (Stranger Things' Shannon Purser), is an instantly relatable character in that she's both confident and insecure in the way that all teens seem to be. Though she's comfortable in her skin and proud of her intellect, she's also aware of how people see her and that she isn't "conventionally attractive." It's the main source of contention in her relationship with mean girl Veronica (Kristine Froseth), who takes every chance she gets to antagonize Sierra about her appearance. It's Veronica who brings Sierra and Jamey (Noah Centineo) together when, as a prank, she gives him Sierra's phone number instead of her own. By the time Sierra learns who Jamey thinks he's really texting, she's already fallen head over heels for the sensitive jock.
This is where the sweet rom-com takes a turn for the uncomfortable; instead of coming clean about the case of mistaken identity, Sierra convinces Veronica to help her keep up the charade. In exchange, Sierra will tutor her to impress the college boy who previously rejected Veronica. While a friendship blossoms between the two that is more interesting to watch than the texts between Sierra and Jamey, Veronica's involvement makes it all a lot less innocent than it started out. Veronica takes selfies, participates in a FaceTime chat, and even goes on a date with Jamey — which makes the catfishing even more apparent and creepy. Veronica actually switches Sierra in for a kiss with Jamey that is hella dubious, consent wise. It's meant to be a sweet moment, but considering Jamey has no idea who he's actually kissing, it's just wrong.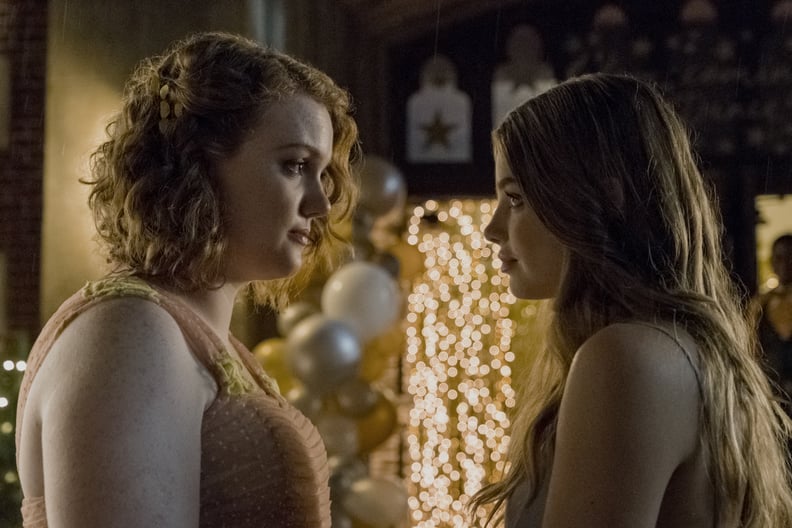 The deeper the two get into the scheme, the more I found myself wishing they'd end the game and focus on Veronica and Sierra's relationship instead. The friendship between the two is refreshing in the way that feels more rewarding than the romance between Sierra and Jamey. Their romance would have been more interesting if their conversations validated their deep feelings, but Sierra and Jamey's text messages are basic and generic — just like their relationship. While Purser and Centineo are perfectly cast as Sierra and Jamey, each bringing the perfect amount of earnestness to their performances, they can only do so much with what they were given.
Sierra and Jamey's text messages are basic and generic — just like their relationship.
In the end, Sierra royally f*cks up her relationship with pretty much everyone and attempts to "redeem" herself with a song. Sure, Purser has a beautiful voice, but let's be honest: it's definitely not enough to redeem the character. The resolution is a little too tidy for the mess she made. The idea that after all her misdeeds, Sierra is easily forgiven and isn't made to really suffer any consequences is a hard pill to swallow.
Sierra Burgess has so much going for it, but it's impossible to ignore the red flags that make the movie hard to enjoy. Aside from the creepy premise and consent issues, there are numerous homophobic and transphobic lines regarding Sierra's weight, gender, and sexuality. (At one point someone even "jokes" that her unattractiveness is because she's a hermaphrodite.) Yes, it's great to have a female lead who's beautiful without conforming to societal standards of beauty and to have an onscreen female friendship that's nuanced and thought-provoking. But it's also great to have a film be progressive without stepping on the backs of marginalized communities to do so.
Keep reading for some on-point responses from viewers who had a lot to say about Sierra Burgess Is a Loser.