Paul Feig Still Cries Over The Office's Wedding Dance Scene, and It Almost Didn't Happen
When director Paul Feig finishes a project, whether it's a film like Bridesmaids or A Simple Favor or an episode of television the likes of The Office or Zoey's Extraordinary Playlist, he rewards himself with a martini. "When I got into cocktail culture, you'd go to a bar and order a martini, and people would assume you wanted a vodka martini. But I read that basically a real martini is gin, not vodka. That's an imposter martini," Feig told POPSUGAR. It was this discovery that led him on a 25-year quest for the perfect gin and to the creation of Artingstall's Brilliant London Dry Gin, which he launched in February 2020. "I got to make the gin that I always wanted to make. And now, I'll admit, it's really hard for me to drink another gin."
When it comes to drinking buddies, it was almost a given that Feig would pick Melissa McCarthy's character from Bridesmaids. "I think I'd definitely probably go out with Megan from Bridesmaids. I think she would be a very fun drinking partner," he shared. Unsurprisingly, he also went with someone from A Simple Favor. (No, not Blake Lively.) "And I dare say Anna Kendrick from A Simple Favor. As cool as Blake was, I think there's something about Anna that is more nerdy like myself."
"I think I'd definitely probably go out with Megan from Bridesmaids. I think she would be a very fun drinking partner."
As for which of his films goes best with a martini, there was really only one true answer. "I would have to say — other than all of them — A Simple Favor. I mean, that movie was built on martinis and my love of martinis," he said on the phone with a laugh. Looking back on it, A Simple Favor certainly makes more sense than my guess of Spy. Susan Cooper isn't exactly James Bond. Although Spy might not be the best for a martini, it is the movie Feig thinks is best suited for a sequel. "That's one that was set up to have a sequel or be a franchise. Because that's the great thing about a spy movie, it's a new adventure every time," he added.
"But that being said, one of the reasons that movie works is because we meet Melissa's character and she's not confident and doesn't believe in herself. By the end, she is confident. So will it be as fun to watch her now be confident? I don't know," he continued. "I also think A Simple Favor could have a great sequel. Actually, screenwriter Jessica Sharzer and I have talked about it and have some really fun ideas. So who knows?"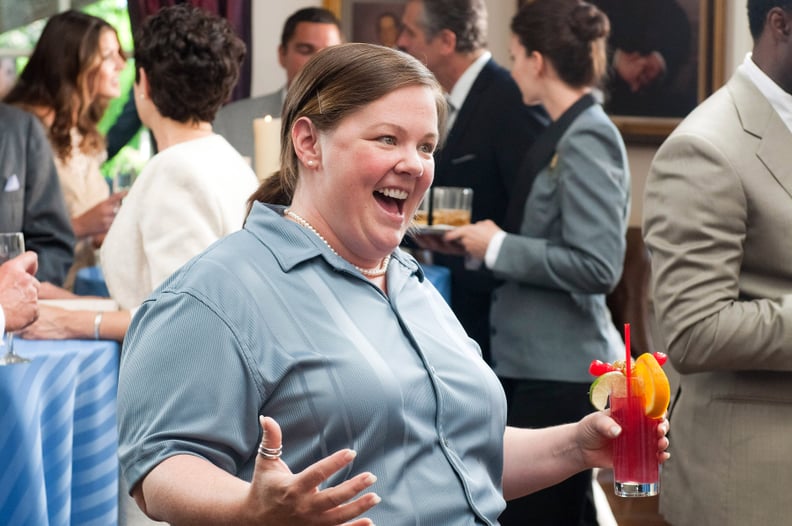 Speaking of sequels, I couldn't pass up the chance to talk to Feig about one for Bridesmaids. While star Maya Rudolph would be down to participate, writer and star Kristen Wiig has said she's not interested in writing another one. "This is Kristen's baby, and Kristen is the one that has to make that decision. I kind of support her in the idea that there might not be one just because I think sequels are very hard," Feig explained. "I think sequels are things that people think they want, and then when they get it, they don't necessarily rejoice in the fact that it's there. Because what's special about a movie is discovering the characters, the story, and the world, then watching the main character go through the changes that makes them a more complete person by the end of the movie."
"Sequels are things that people think they want, and then when they get it, they don't necessarily rejoice in the fact that it's there."
Feig continued, "And so, to do a sequel, you have to take a person who's overcome their obstacles and is in a better place and put them back in trouble so they have to get out again. Which makes you go, 'Well, didn't we just dig you out before?' Or you just have more of a superficial story with the trappings of that first movie." That's not to say Feig has completely written off the idea of a sequel: "If Kristen had a great story and wanted to do it, and she wanted me to direct it again, I would definitely be on board. But I think it's dangerous territory to make a sequel to a movie that people love. It's like when you have an amazing experience and then you go, 'Oh, that was so fun. We have to do it again.' You can try to re-create it, but it's usually never quite as fun."
Outside of Bridesmaids, A Simple Favor, and Spy, Feig also directed several episodes of The Office, the most memorable of which happens to be "Niagara." Oddly enough, one of the episode's standout moments wasn't even in the script until a week before they did the show. That's right — we almost missed out on the iconic "Forever" wedding dance.
"We had a completely different ending where David Denman's character Roy rides into the wedding on a horse trying to break up the wedding. And then, Pam's like, 'No, I'm not still in love with you. Go away,' and sends him away on his horse," Feig explained. "Then Dwight has this whole thing where he's drawn to Niagara Falls. He wants to go over the falls. He thinks he can go over the falls. So he ends up taking the horse and jumping into the water, where he and the horse go over the falls. We were all saying to Greg Daniels, who created The Office, 'That's crazy. It's just too bananas for this show.' And he still kind of wanted to do it."
"To this day, when I watch it, I start crying. It just gets me."
Luckily, Feig and others were able to talk him out of it. However, they now had to come up with an even better ending. "Right then, that wedding video where they used that song had come out and gone viral. So we all went, 'Oh, this would be fun if we kind of had our cast do that,'" he shared. Although they'd figured out how to end the episode, panic set in as Feig realized they were running out of time. "I remember just going, 'Well, I think they've done a little bit of practice on it, but not really. Let's just shoot it and see what happens.' And that very first take, they came out and nailed it so hardcore that I was in tears. I mean, it was so weirdly emotional, and that was it. I think we might've done one extra take, and the rest is history," Feig revealed. "It just had that fresh, kind of raw quality that something like that would have in real life. I was always so happy that we didn't overrehearse it and overshoot it. That's why I think it's so emotionally kind of impactful. The cross-cutting between that with Pam and Jim on the Maid of the Mist and Niagara Falls, it was special. I mean, every time I'd be in the editing room editing that sequence, I would start crying. To this day, when I watch it, I start crying. It just gets me."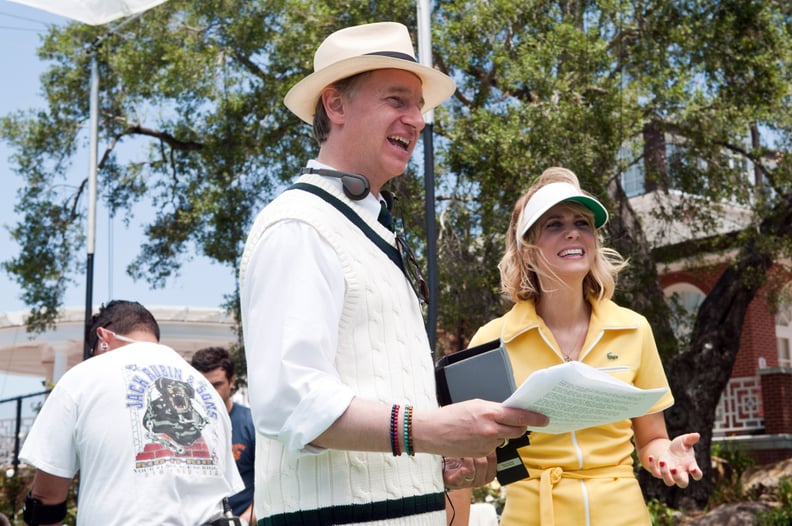 For Feig, what's interesting about the moviemaking process is how different the finished product looks from the original screenplay. When asked if there were any fun tidbits about his more iconic films people might not know, Feig laughed and said, "How much time do you have?" He added, "I mean, movies are very funny. I always tell people to read the original screenplay of whatever movie they love, and they'll see that it's not only completely different but that so many moments they love just sort of happened in the moment."
It's happened with every movie he's made, including the upcoming The School For Good and Evil, a Netflix project he's currently filming. "Even today, I was going to do a scene one way, and then one of the actors was like, 'Well, what if we did this?' Then you're like, 'Oh my gosh, that's 10 times better than the idea I had. Let's do it.' So, honestly, you can't even begin to list them, because it's literally every day on set that you're being surprised by people or you're surprising yourself and them."
"I could not be more excited about this film. We're just three weeks into production, and every single day has been fun."
Although he couldn't tell me much about The School For Good and Evil, which is set to premiere in 2022, what he could say was compelling. "It's going to be awesome. I have the greatest cast. I'm so excited about this cast of both newcomers and famous people that you know and love," Feig replied, his excitement evident on the phone. "It's got the most amazing costumes and sets you've ever seen. I mean, the script was in development for seven years before I even read it, and then I developed it for a year and a half."
Feig is confident that not only will fans of the books be happy, but it'll also open the world up to a whole new audience. "I think people who don't know the books are going to be easily sliding into this world because it's just a very fun, funny, emotional, dangerous, scary, uplifting, all-those-things world. And I could not be more excited about this film. We're just three weeks into production, and every single day has been fun. I'm just amazed by this cast. Every time I get them on set, they just surprise me."
Despite being best known for his directorial work these days, Feig got his start as an actor, and he still takes the time to act every now and again, surprising even himself while on set. "Honestly, the most challenging role of my career happened when I executive produced Zoey's Extraordinary Playlist and Austin Winsberg, the creator, for some reason demanded that I play an undertaker in an episode on the first season," he shared. "I was so out of practice with acting and memorizing lines that when I got to the set — working with Mary Steenburgen, Jane Levy, and that amazing cast — I couldn't remember my lines. The minute the director said action, I was like, 'My lines are gone. I can't do it. I have to have cue cards.' I literally had to do my role reading off the cue cards, which was terribly embarrassing. If it wasn't a show I produced, I would've been fired."
RSVP to test your Paul Feig knowledge and learn how to make classic Artingstall's Brilliant London Dry Gin cocktails May 1 at 6 p.m. ET here.