Poet José Olivarez on Poetry Collection Promises of Gold
José Olivarez on "Promises of Gold," His Bilingual Poetry Collection Seeped in Love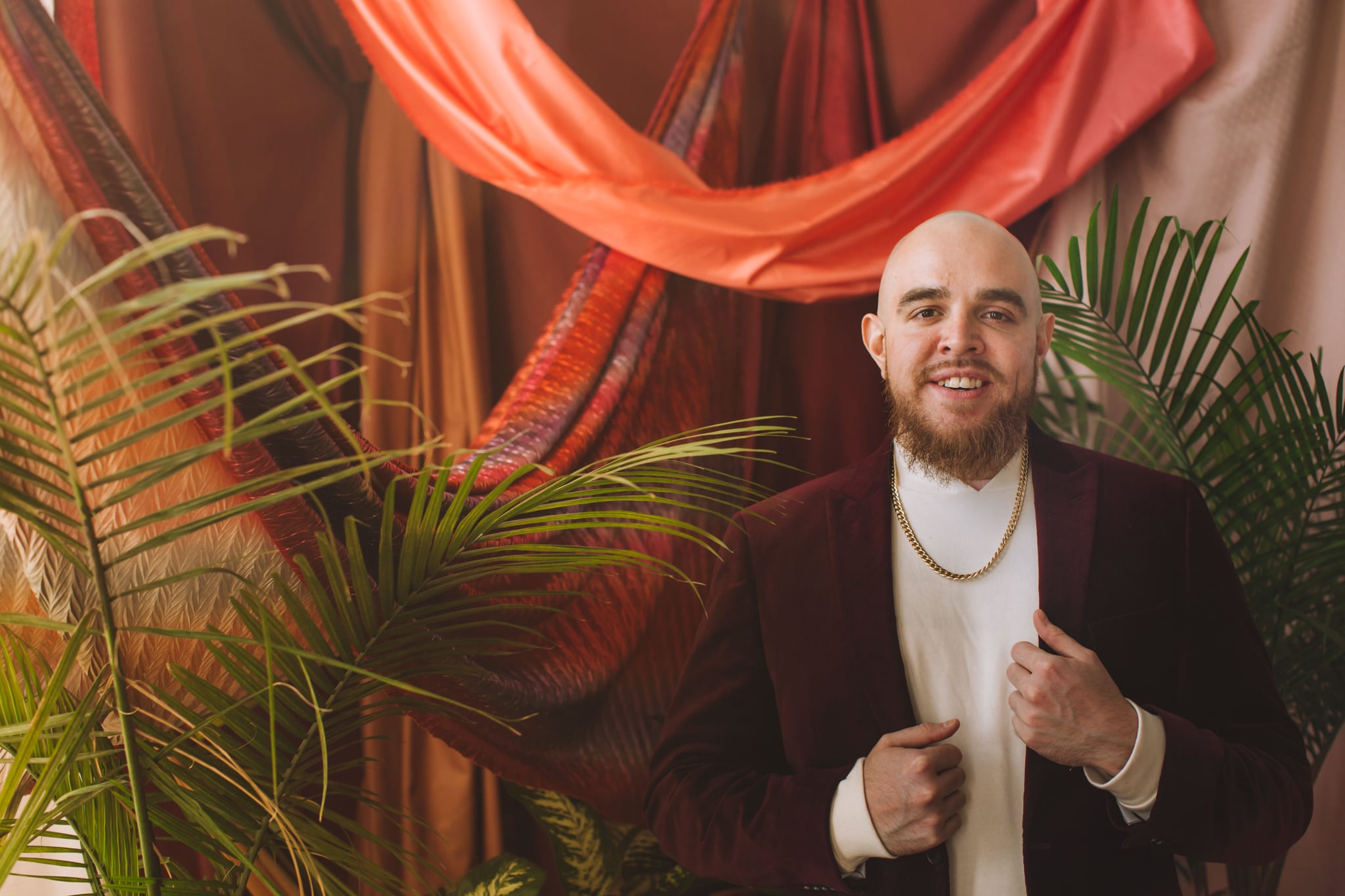 Image Source: Mercedes Zapata
Can we take a moment to remember March 2020? The month when the COVID-19 pandemic began uprooting life in the United States as we knew it. When people grew sick and death tolls rose. When businesses shut down, education systems were transformed, and nearly every sport was halted. In those early days, there were so many unknowns about the infectious disease itself. "I definitely remember feeling a lot of fear," José Olivarez recalls. "And for a while, that fear stopped me from writing because there were doubts and questions in my head. It didn't necessarily feel like the most urgent or important thing when so much was at stake every day all the time."
The Mexican American poet and author worried about his parents. His mom, a custodian, and his dad, who worked at a steel mill, had to leave home to earn a living. Olivarez had other relatives and friends who were forced to do the same. And when it was clear that COVID-19 had no end in sight, Olivarez, author of the 2018 poetry collection "Citizen Illegal," began reflecting on how he could show up for his family and friends in this new reality. The idea of friendship burrowed itself in his mind.
"I just remember thinking about how friendships are some of the most important love relationships in our lives, and they're also one of the least discussed in popular culture," he says. "There's so much romantic comedy, and it's always about trying to find a partner . . . but I just kept thinking about that community of people that are going to be there for you through all the heartbreaks, through job losses, through deaths." So Olivarez began writing these poems for his homies and relatives — "love letters," as he calls them. He did wonder if he was being selfish by focusing on a new body of poems at a moment in time that felt so dangerous. But his homies swooped in to affirm the poet.
"My friends helped me to see that one of the ways that we contribute to the world, as artists, is by making art," Olivarez says. The love poems would make up "Promises of Gold," which was released on Feb. 14 from Henry Holt & Company. In this ardent collection, Olivarez explores all kinds of love — whether familial, romantic, or brotherly. The book is bilingual in that it was translated fully into Spanish by poet David Ruano González, making it accessible (by flipping the book) to Spanish-only speakers wanting to read Olivarez's work.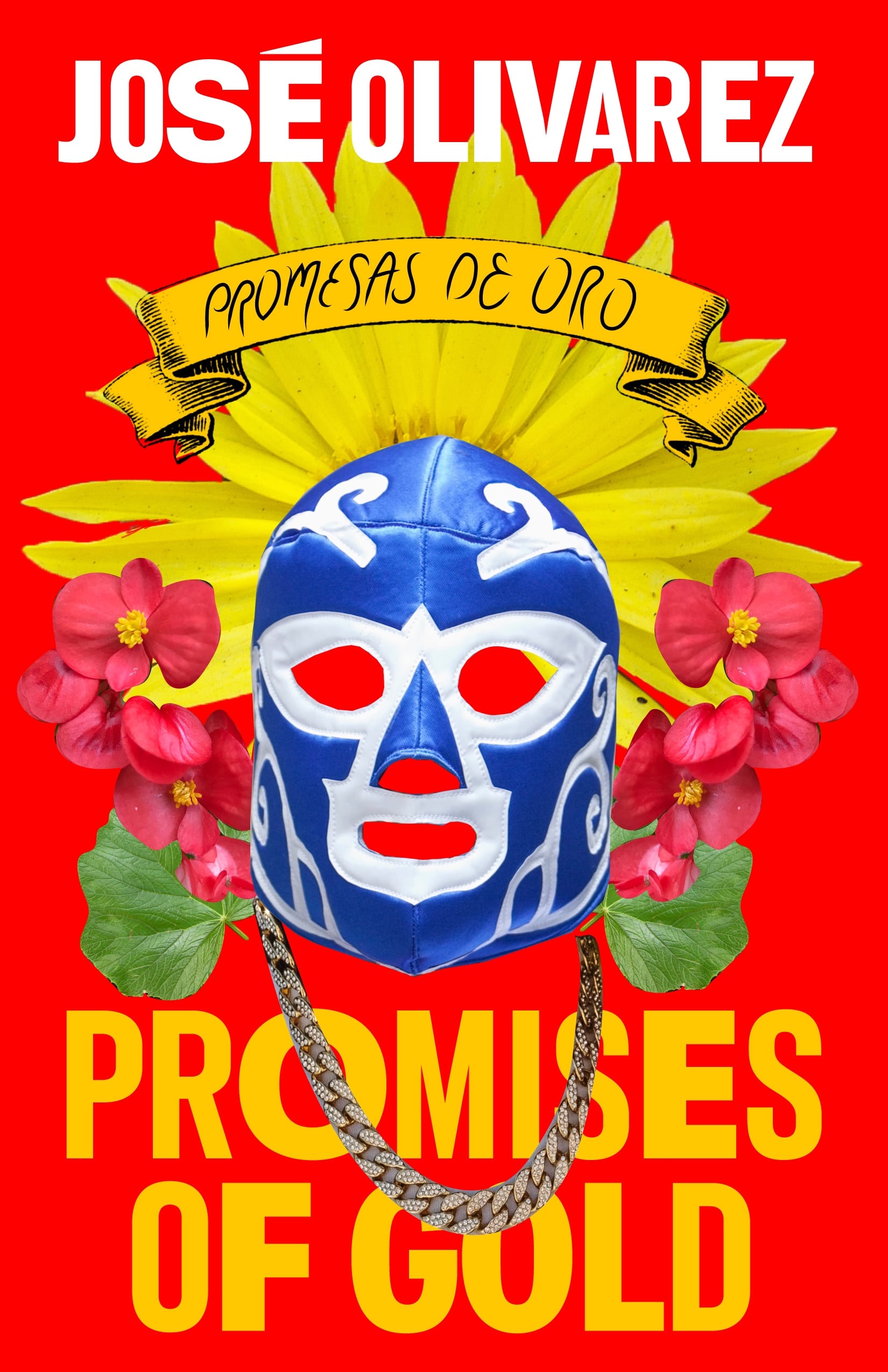 Image Source: Henry Holt & Co.
Exercising great care and a disregard for the awkward, Olivarez offers an intimate view into the joys, sorrows, and even discomforts that embody these different love shapes. In "All the Names We Say Because We Don't Say Love," for example, Olivarez introduces us to a page-long list of terms of endearment that are often used instead. To name a few: "bruh," "ugly ass," ole sensitive ass," this guy," "my guy," and "hermano." The poet, whose official bio begins with being "the son of Mexican immigrants," offers heartfelt observations of life, love, and hard truths about the American Dream, colonialism, and the sacrifice of immigrant parents.
The love Olivarez clearly has for his people, his brothers, his wife, his family, his homies, and his hometown of Calumet City, IL, seeps deep into "Promises of Gold." In one poem titled "Ode to Tortillas," Olivarez interrogates with nuance and gentle humor what it means to be Mexican. He informs readers that there are two ways to be a Mexican writer: one who writes about tortillas or writes about croissants; one who can translate from Spanish or translate to Spanish — or refuses to translate altogether. Olivarez also describes two other ways to be a Mexican writer that, according to him, are tried and tested: you can write about migration, or you can write about migration.
The poet then poses a question that he seemingly wants his audience to sit with for some time: "Can you be a Mexican writer if you never migrated? If your family never migrated?" "Ode to Tortillas" takes a playful pivot to the infinite ways to eat a tortilla. Olivarez writes, in part:
"You can eat tortillas with your hands or roll them up and dip them in caldo like my mom does. You can eat them with a fork and knife
like my bougie cousins do (what bougie cousins? I made them up for the purpose of this poem). You can eat tortillas in tacos or warmed up
by microwave and drizzled with butter. Tortillas con arroz. Tortillas con frijoles. Tortillas flipped by hand or tortillas flipped with a spatula. Tortillas with eggs for breakfast."
"There's an infinite number of ways to be Mexican, just like there's an infinite number of ways to eat tortillas."
The tortillas in Olivarez's poem symbolize the infinite ways one can show up and be Mexican or Mexican American. "I wanted to have fun with it. One of my favorite parts about the poem is that there are all these moments where the speaker says, 'There's one way to do this,' and then lists like three ways to do the same thing," Olivarez says. "We like to pretend that identity is a box and it's neat, but in reality, there's always a multitude of ways. There's an infinite number of ways to be Mexican, just like there's an infinite number of ways to eat tortillas."
That there's no concrete way to be Mexican took a while for Olivarez to realize for himself, in his own life. The poet says his family was one of the first Mexican families to move to Calumet City, in the south suburbs of Chicago. He recalls trying to figure out where he fits in the world. He has cousins from Los Angeles and wondered if he could be Mexican like them — listening to West Coast hip-hop and dressing like them. But with time, he became comfortable with their differences.
"I can be comfortable in my own Midwestern skin and not have to compare myself or always worry about, 'Am I representing correctly?'"
"I can be comfortable in my own Midwestern skin and not have to compare myself or always worry about, 'Am I representing correctly?'" he says. "I can let that worry go and just be at peace." The most beautiful work comes from the heart, from pain, from frustration, and from embracing parts of our world and life with humor. "Promises of Gold" brings readers all of the above. Olivarez says he hopes readers of his collection laugh a bit, smile, or call their friends to share some chisme.
"Maybe they get a little bit sad and emotional at other points," he says. "But I just hope that the book allows them to access some emotions and maybe have some check-ins with some of the people that they love in their lives."