In Power Book II: Ghost, Diana Reveals Monet's Secrets
In Power Book II: Ghost, the Tejadas Finally Learn the Truth About Zeke's Parents
Watch out! This post contains spoilers.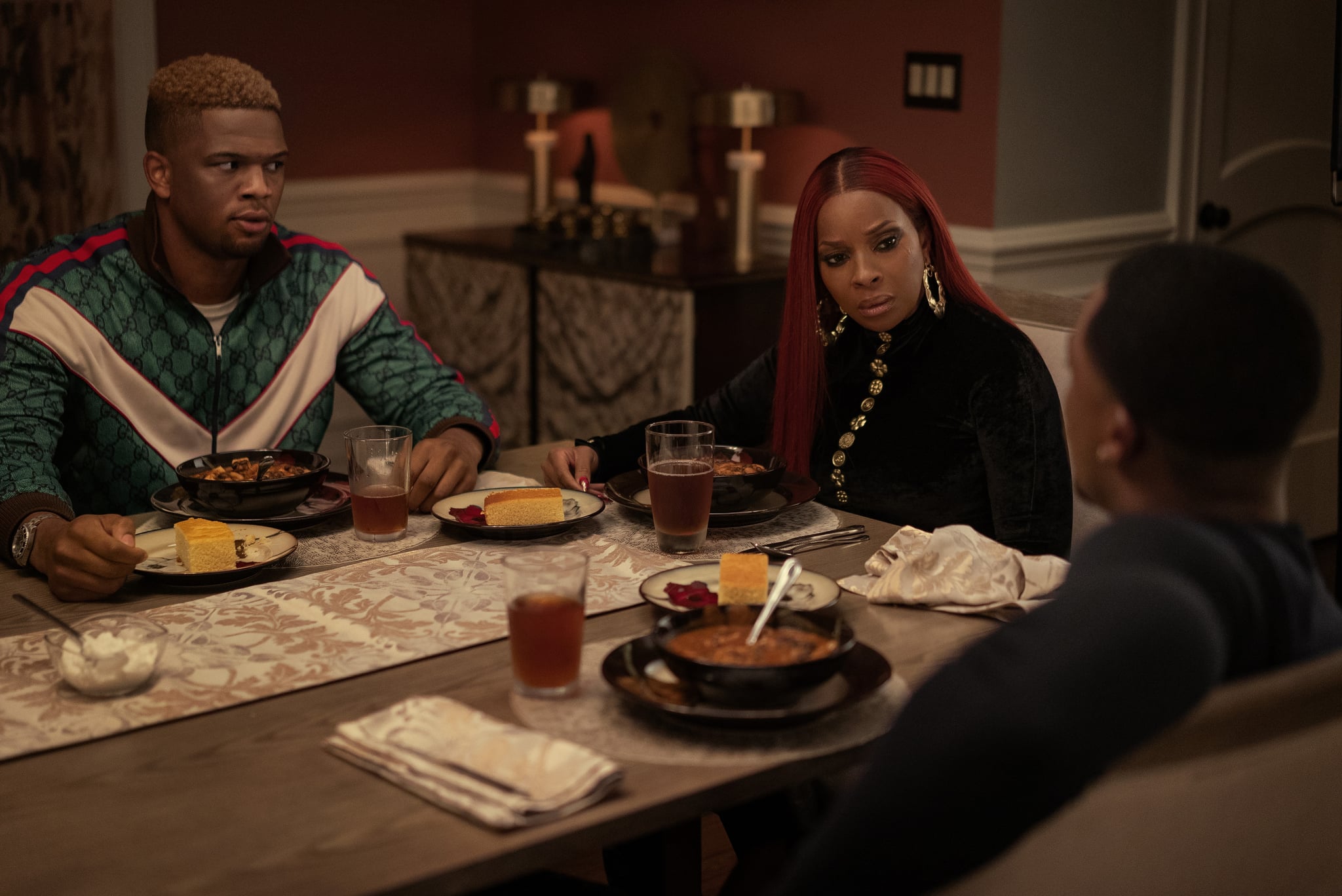 The Power universe loves throwing us huge curveballs, and the latest episode of Power Book II: Ghost doesn't shy away from this formula. In episode four, the series reveals a huge secret Monet (Mary J. Blige) has been keeping for years about her family, and the revelation comes as a shock to us all. If you've ever wondered about the mystery behind Zeke's (Daniel Bellomy) biological parents, we finally have the answer.
At the end of episode four, Monet shares that she is actually Zeke's mother (not his aunt, as we previously thought) and that his father is Mecca (Daniel Sunjata) — aka the mysterious flame from Monet's past who's come back into her life. Oof! Monet never informed Mecca of her pregnancy with Zeke, but he eventually figures it out after he gets involved in Zeke's legal troubles. Their secret gets exposed just after Zeke lands himself in the middle of the high-profile murder investigation of Professor Jabari Reynolds, which positions Zeke as the prime suspect (although he later proves to be innocent).
While we learned earlier in the season that Monet and Mecca share a lot of history, we finally get to see just how deep those ties run. Now, Monet is caught in a love triangle with her husband Lorenzo (Berto Colon) and Mecca, which gets exposed by Diana (LaToya Tonodeo) during a family dinner in episode eight. Diana also drops more truth bombs behind Zeke's birth: it turns out that he, not Cane (Woody McClain), is the oldest of the Tejada children, since he was actually born in 1998 (not 2002).
"I'm not going to lie to you. He's here to shake some sh*t up."
Ahead of season two's premiere, POPSUGAR learned that Mecca's character was created to make things messy for Monet and to throw a wrench in her plans for the future. "I'm not going to lie to you. He's here to shake some sh*t up," Sunjata tells POPSUGAR. "I think he does that successfully — he has a reason, though. He has two main reasons, which will be revealed over the course of the season, for everything that he does. And I'll say he's very committed to his desired outcome. When I say fully committed, I mean he's all in. It's all or nothing." Blige previously shared that her character's roles as a mother, leader, and protector would all be tested "in a big way," and now we see how.
Now that everything's out in the open, viewers are eager to see what will happen to the Tejada family next (especially after that epic cliffhanger between Monet and Professor Milgram). Season two promised viewers epic fights and thrills, and there's still plenty of time for more action to pop off. We'll just have to wait for the season finale to see how it all ends.