Quinta Brunson Is Embracing Change in She Memes Well Book
Quinta Brunson Has 2 Important Words For Black Content Creators: "Keep Going"

Image Source: Riker Brothers
Quinta Brunson has had an impressive career as a producer, actor, and writer, and now she's adding author to her growing résumé. On June 15, the 31-year-old released a collection of essays about her life and career, perfectly titled She Memes Well. Even though Brunson has captivated many fans with her writing — including her Instagram series The Girl Who's Never Been on a Nice Date and her various series at BuzzFeed — she was initially skeptical about sitting down to write a book. "At first, I felt like I didn't have anything to talk about," she told POPSUGAR. However, after talking with her publisher, she began to see that her experience with the internet was "a unique experience for the social media sharing age."
"My experience working in the digital world became things that I wanted to talk about," she added. "Also, my unique experience as a young woman that was transitioning from digital to traditional media, and also as a young Black woman, and what that meant in that world as well. While the book isn't all about that, it was built out of that idea, even with the title, She Memes Well, was based on my experience being a meme so many times, and that led to, what is the idea of a meme? Sharing a moment. And that became the general idea for a book, defining moments worth sharing in my life that I felt made me who I am."
As Brunson began writing her book, one of the most difficult parts was actually figuring out what message she wanted to send to readers. "What is it that I want people to know about me and my ideas of the world and making sure that I believed in what I put out there became really important to me," she said. "Which meant constant check-ins with myself pretty much. It's weird. It's like doing therapy on yourself, which I think is a unique process for sure."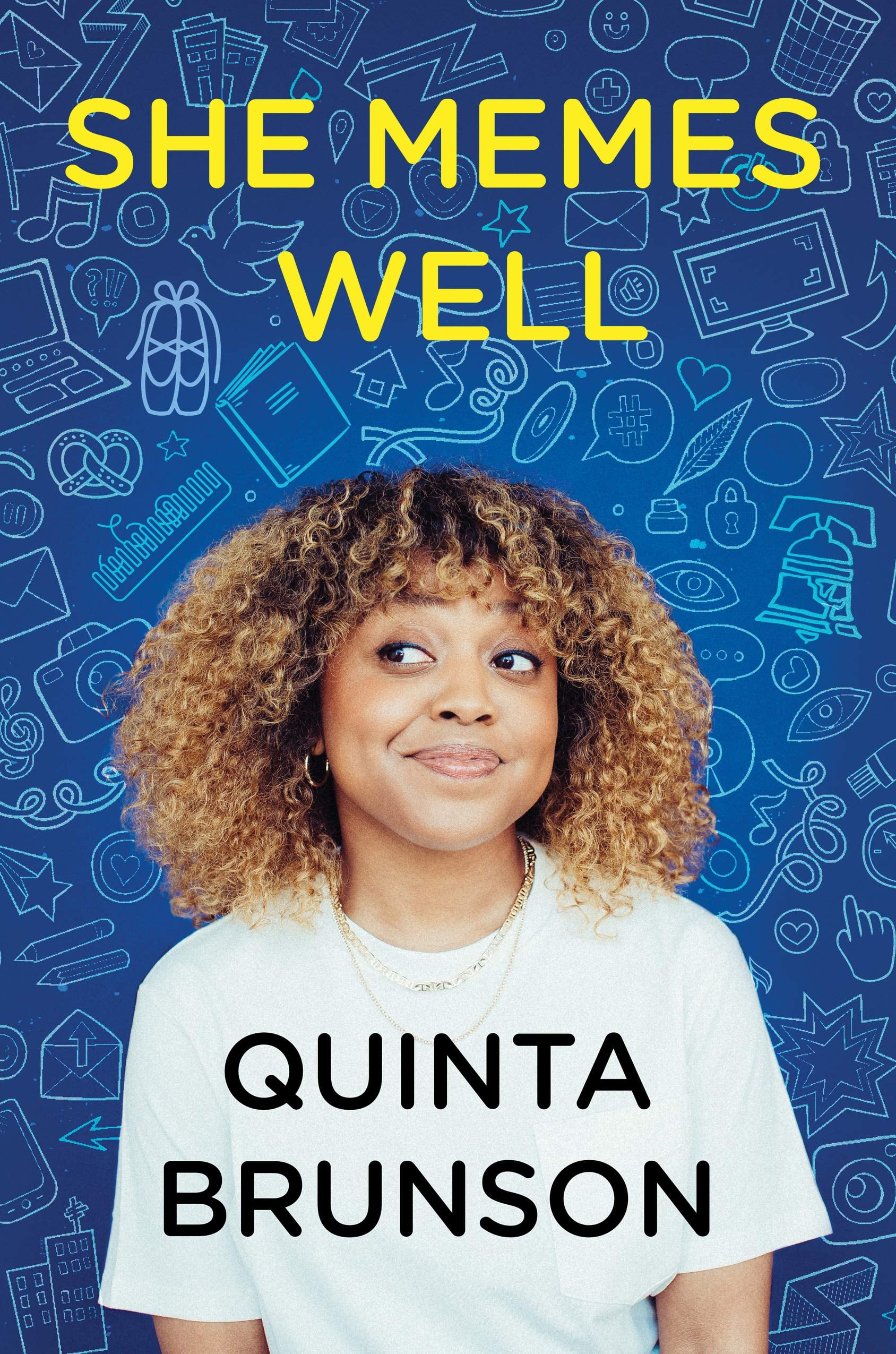 Image Source: Sela Shiloni
One particular takeaway Brunson hopes readers take from the book is the importance of embracing evolution. "I look at this book as just another form of creative output," she said. "It's just more personal because it's about me specifically, but tapping in to try to find the truth, no matter how uncomfortable, is important and a part of evolution. I really hope this book gets to young readers. I really wanted young people, specifically women, to embrace the evolution of themselves and know that where they plan to be might not always be where they end up, but as long as they keep focused, they'll get to a version of it. That was the trajectory of my career. When I started, I thought I was going to be on SNL, I thought I was going to go straight from an improv stage to SNL, and that's not how it happened. But I never got down about that, I just embraced the change in the ever-changing tides and just kept my plan of creating comedy. I want younger readers to see that. I think there's a lot of pressure on young people to be ubersuccessful and to be this version of success that may not be realistic. What's realistic is letting yourself grow to who you are supposed to be and not a version of what you think you are supposed to be."
"A lot of what we do for social change takes place on the internet and I don't want the history books to forget about it."
In addition to discussing her personal evolution in the book, Brunson also touches on the evolution of the meme, noting how most recently they've helped start important conversations around politics and race. "I would be remiss to not talk about what memes have done for our political movements, how much they've informed people, how much they've mobilized people," she said. "I often see the social media element left out of the conversation of organization and mobilization and I think that's so wrong. A lot of what we do for social change takes place on the internet and I don't want the history books to forget about it because it's not easy to write about or because they want to ignore it. People still want to ignore the internet and it's like, 'What?' It's more important than TV and film now. We get our news from the internet. That's what I didn't want to do in my book. I didn't want to ignore what is a huge part of how we're making change these days."
While the internet has done a lot of good, Brunson understands there are two sides to the coin. "I've seen it evolve in very positive ways, and I've also seen it evolve into very negative ways," she emphasized. "There was just a documentary about QAnon on HBO and you can see how social media has fueled something for the worst, and then you can see how social media has fueled things for the better. Our conversations about oppressed people in America and other countries have changed so much because the internet gives us more information and that's a total testament to the evolution of people now being able to connect in an additional way than they ever were before. It's up to us how we want to use these vehicles, but we can't ignore that social media has been a big part of our social and political movements."
With the ongoing conversation surrounding Black creators not getting proper credit for their work, Brunson hopes Black creators don't get discouraged from creating. "I have a maybe not popular thought on that," she started. "For me, I kept my blinders on and just kept moving. This world, in the current state it's in, people don't even do it on purpose, they just inadvertently don't credit Black creators. I don't know what it is, but there's this strong disconnect. It's wild. I don't want that to discourage young Black creators and other creators of color or oppressed groups. I want them to keep going. I want them to believe in themselves and almost ignore these people who ignore them. You will find your lane, you will find the people who will support you and champion you."
"I know it's hard to not get discouraged by that," she added. "It just happened to me on TikTok. Currently, people use my voice in a TikTok that [went] viral, but the credit on the voice is somebody else who used the TikTok first. So it's real-time erasure, literally, of my presence. And what am I going to do about that? I could throw a fit, I really could, but I just don't feel like it. I want to do the things that matter the most, but what I also want to do is leave the room for creators to feel however they feel. If there's a creator out there who's like, 'Hell no, give me my credit,' then you'll go with that. But I don't want it to stop people in their tracks. I want them to keep going because I think it's important."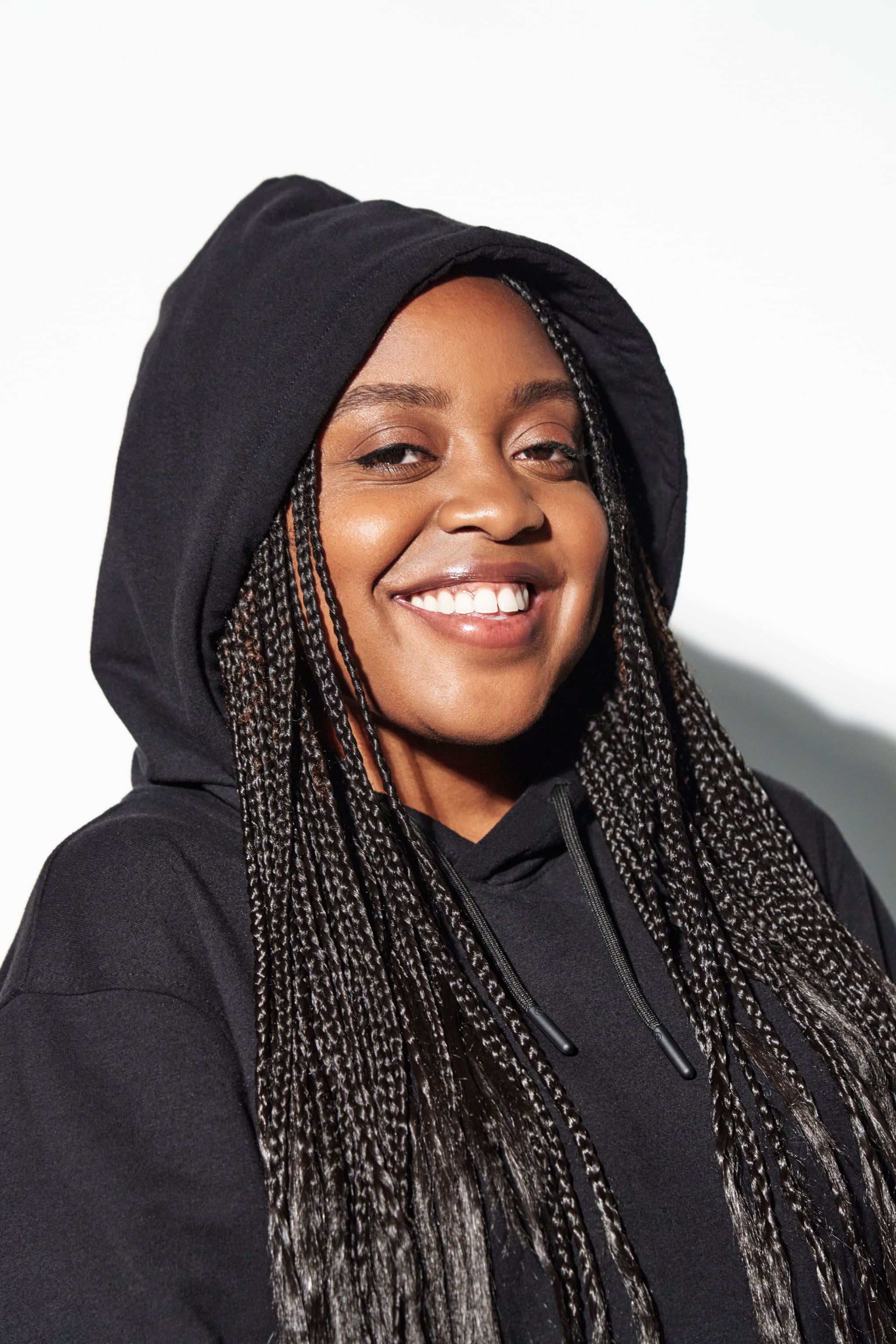 Image Source: Riker Brothers
Following the release of her book, Brunson is still busy creating. In addition to joining the cast of TBS's with Daniel Radcliffe and Steve Buscemi, her ABC comedy Abbott Elementary — which she created, writes, produces, and stars in — was recently ordered to series. The show is certainly close to her heart as it was inspired by her mother. "My mom was a public-school teacher and I wanted to make a show about teachers," she said. "I pitched it three years ago to some producers as an animated show actually, but other projects were happening, so we tabled it. Then they came back to me before the pandemic and were like, 'We think we're going to do this now, if you're down.' Then during the pandemic, everyone started appreciating teachers [more and] the conversation of what teachers do came into the forefront. So now I'm really inspired to tell the stories of what teachers actually do in these schools, specifically in underfunded schools, and balancing the humor that is naturally there. I've attempted to tell a lot of different stories, but this one is the one that I'm the most emotionally invested in. I feel this is the most important story that I've attempted to tell."
Looking forward to the future, Brunson added that she doesn't necessarily have a specific career bucket list. Though she would love to write a movie, which she's working on now, she explained that she's "more of a life person than a career person." "I want to have a baby, I want to have a farm, and then have my career complement those things. I just want to be able to have my family and take care of my family and my community too, which I think I'm going to be able to. This show to me is a part of taking care of my community, where I'm from, and that's important to me. And that's not only in a monetary way, but storytelling."