Take the 2023 POPSUGAR Reading Challenge
The 2023 POPSUGAR Reading Challenge Is Here!
As POPSUGAR editors, we independently select and write about stuff we love and think you'll like too. If you buy a product we have recommended, we may receive affiliate commission, which in turn supports our work.
Why do you read? No matter your motivation — relaxation, distraction, entertainment — the POPSUGAR Reading Challenge is a great way for you to expand your horizons and, who knows, maybe even discover a new favorite subgenre: looking at you, "A book with mythical creatures."
For this ninth iteration of the challenge, we're subtly leaning into the nostalgia all around us. From Y2K fashion (TW: low rise jeans) to reboots and the resurgence of the film camera, it's no secret that trends of the past are now of the moment. With prompts like "A book you should have read in high school," "A book set in the decade you were born," and "A book you wish you could read for the first time again," you'll be on your way down memory lane.
Whether this is your first time taking the challenge or you've been with us since the beginning, the goal of the POPSUGAR Reading Challenge is for you to have fun and diversify your reading. There are no "rules"!
Ready to get going? We're listing helpful resources ahead — from ways to track your progress to our books community and everything in between, we're here to help you on your journey.
Without further ado, keep reading for the 2023 POPSUGAR Reading Challenge, plus book suggestions from our team for each prompt!

2023 POPSUGAR Reading Challenge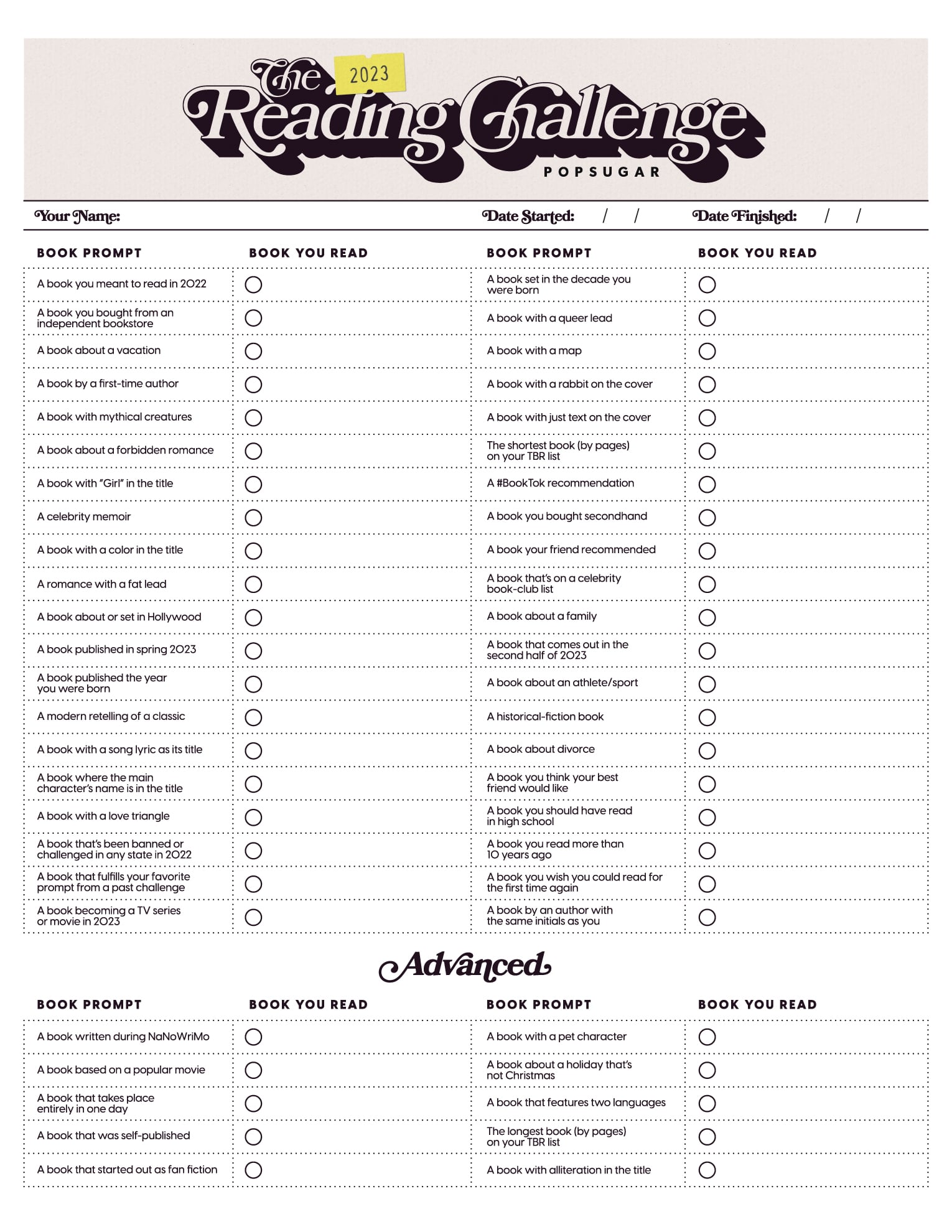 A book you meant to read in 2022
A book you bought from an independent bookstore
A book about a vacation
A book by a first-time author
A book with mythical creatures
A book about a forbidden romance
A book with "Girl" in the title
A celebrity memoir
A book with a color in the title
A romance with a fat lead
A book about or set in Hollywood
A book published in spring 2023
A book published the year you were born
A modern retelling of a classic
A book with a song lyric as its title
A book where the main character's name is in the title
A book with a love triangle
A book that's been banned or challenged in any state in 2022
A book that fulfills your favorite prompt from a past challenge
A book becoming a TV series or movie in 2023
A book set in the decade you were born
A book with a queer lead
A book with a map
A book with a rabbit on the cover
A book with just text on the cover
The shortest book (by pages) on your TBR list
A #BookTok recommendation
A book you bought secondhand
A book your friend recommended
A book that's on a celebrity book-club list
A book about a family
A book that comes out in the second half of 2023
A book about an athlete/sport
A historical-fiction book
A book about divorce
A book you think your best friend would like
A book you should have read in high school
A book you read more than 10 years ago
A book you wish you could read for the first time again
A book by an author with the same initials as you
Advanced
A book written during NaNoWriMo
A book based on a popular movie
A book that takes place entirely in one day
A book that was self-published
A book that started out as fan fiction
A book with a pet character
A book about a holiday that's not Christmas
A book that features two languages
The longest book (by pages) on your TBR list
A book with alliteration in the title