A Breakdown of the Who, Where, and Possibly Why in Ariana Grande's "God Is a Woman" Video
Ariana Grande has come through with another music video, and this time she's shaking the table with some seriously trippy visuals — and we're into it. Not only does the "God Is a Woman" video feature a surprise vocal cameo from Madonna, but there are also screaming lemmings, Greek and Roman mythological creatures, and more. "God Is a Woman" is not just a female empowerment bop; it's Grande's anthem embracing her femininity and her sexuality and combining those themes with spirituality in a visually rich and symbolic-as-all-hell music video.
There's so much to unpack in the music video, it might seem a bit much. Luckily, I am more than ready to tackle the challenge of decoding the references and have included some of the standouts here. Enjoy!
01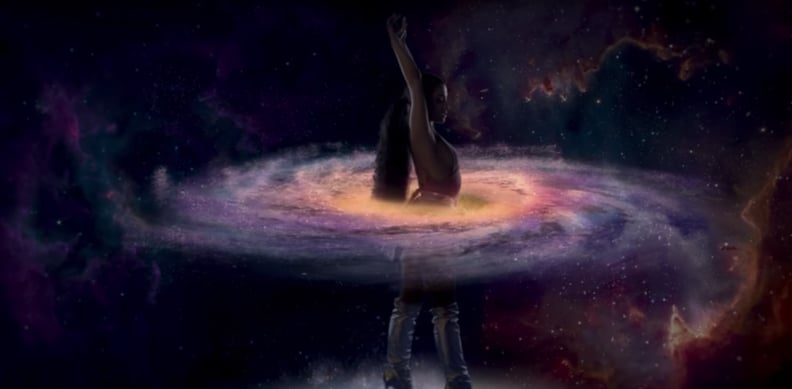 Center of the Universe
The first reference is pretty blatant, and I love it. This is the first visual of the video, and Grande sings about how "you" love how she moves them and how she touches them. It definitely alludes to her being the center of that person's universe; she is the one giving them pleasure, and she is their ultimate focus.
02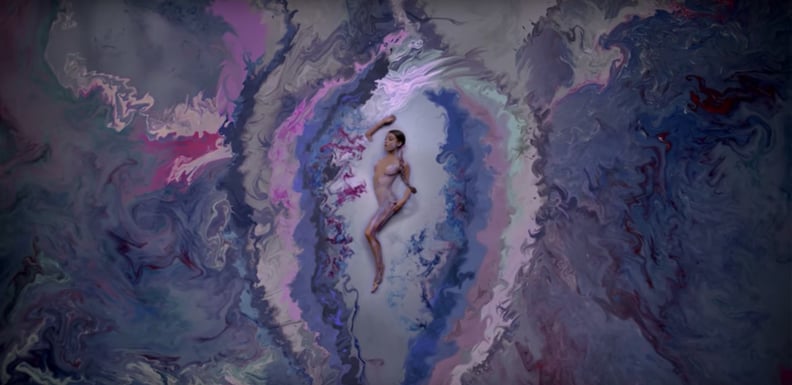 The Painted Pool
Grande lounges in a paint-filled, vagina-shaped pool (with her body painted by artist Alexa Meade), giving off serious Georgia O'Keeffe vibes. The visuals here are clearly referring to the female form and all its beauty.
03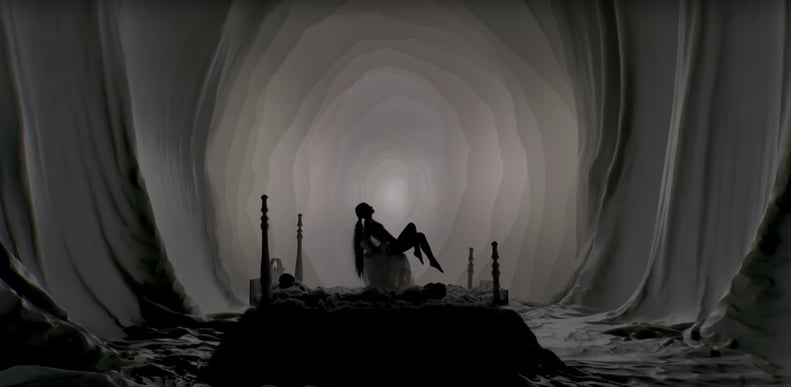 A Womb
Grande is perched on a platform on top of a bed as male dancers writhe around her. This could be a reference to how she is the center of the universe everywhere — especially in bed.
04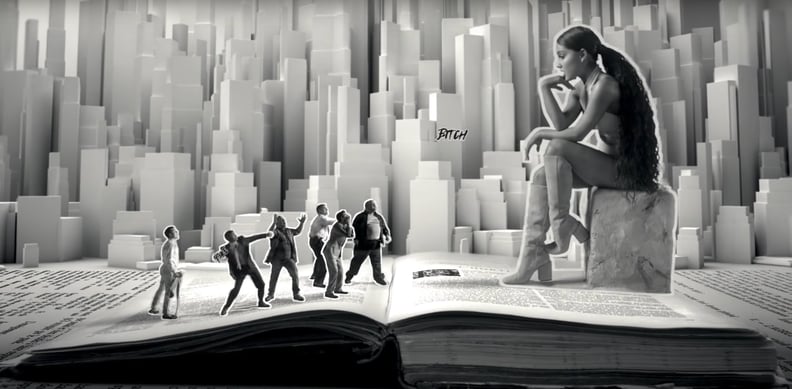 Haters R Us
Grande sits impassively (in a similar position to Rodin's "The Thinker") as men throw vitriol at her. The words, like "slut," "b*tch," and "fake," bounce off her as she looks into the camera, telling her babe to lay her down because he knows just how she wants it. This is a very obvious reference to how men try to slut-shame women and have done so toward Grande in the past. It also shows that Grande doesn't care and will continue to embrace her sexuality the way she desires as she continues to sing to her bae about how she wants to be loved on.
05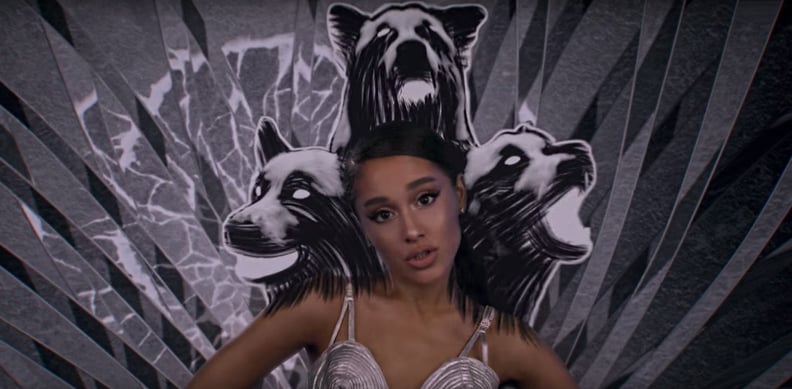 Cerberus
As Grande sings about flourishing when people keep trying to come for her, she has the three heads of Cerberus over her shoulder. Cerberus is the canine guard of the gates to the underworld, which could make this an allusion to Grande being protected from the hate that people attempt to throw at her. None of their trash will get past the gates because she has protectors at her back.
Also, we know Grande is a huge Harry Potter fan, and Hagrid's pet Fluffy was also a large, three-headed dog, so that's a nice touch.
06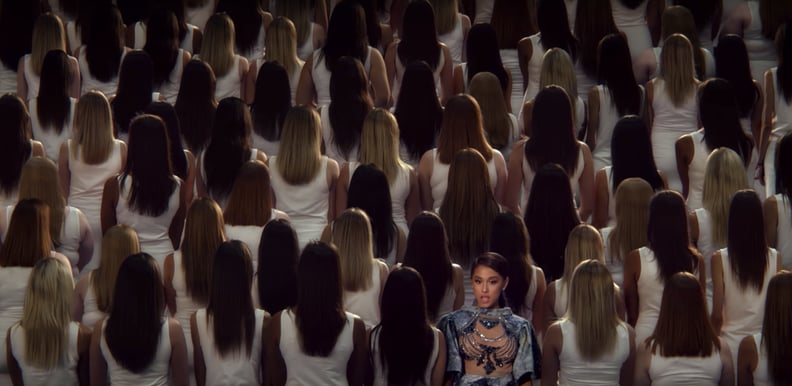 Everything You Told Me Not to Be
Grande stands before a crowd of women with their backs turned toward her as she sings, "I can be everything you told me not to be." Having her in jeweled clothing while the rest are in simple white garb makes Grande stand out, which could be an allusion to all of the different "women" she could have been, but she chose to be herself instead. She goes on to sing how "He see the universe when I'm in company. It's all in me," which adds to the idea that the scene is about her individuality being important.
07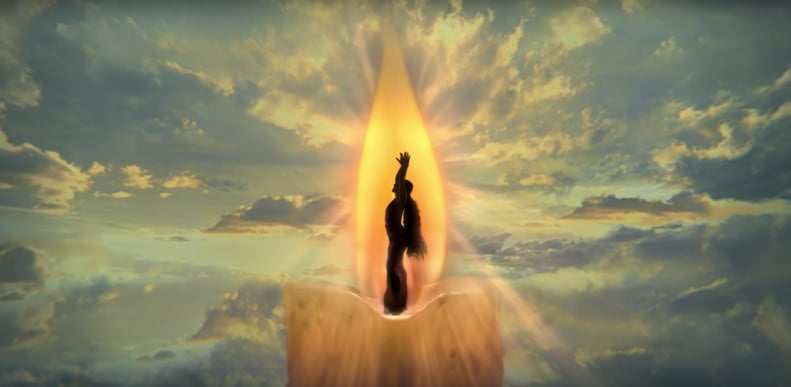 In a Flame
Grande is a flame atop a candle, which some see as another vagina reference. This could also be seen as a religious reference, as candles are heavily used in churches, prayer, and biblical art.
08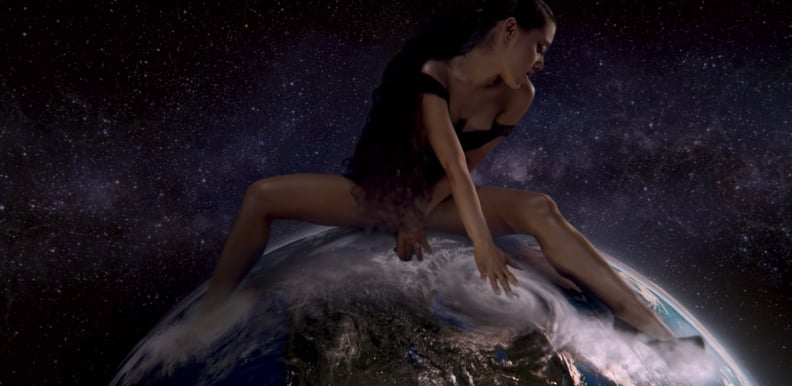 Sitting on Top of the World
Grande is literally on top of the world. She is God and she is the master of the elements, as we see her literally moving the clouds. She is everything.
09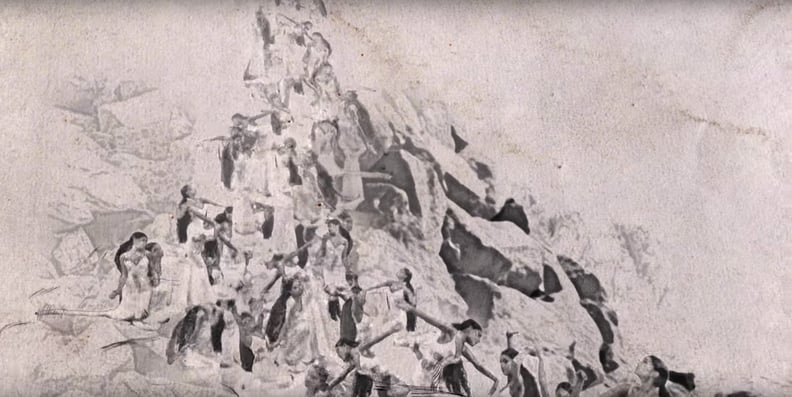 A Mountain of Grandes
We travel down a mountain composed of multiple Grandes because, again, she is everything, especially majestic natural wonders.
10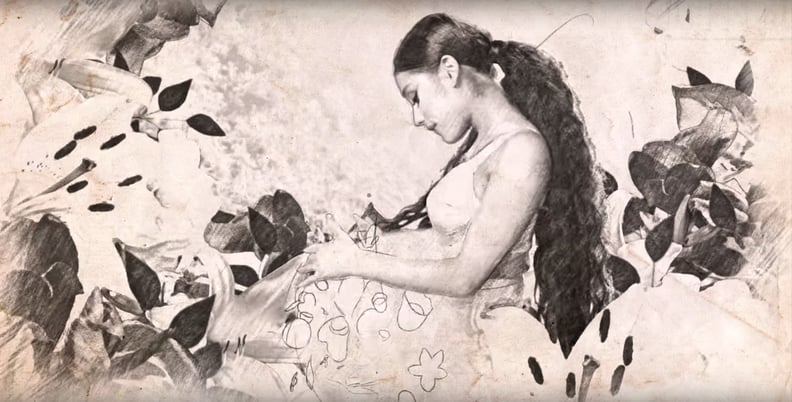 Mother Nature
This is perhaps the most blatant visual in the video for Mother Nature. Not only is Grande surrounded by nature that blossoms as she touches it, but she's literally pregnant, alluding to women being creators. This is also a reference to the idea that God is a woman, but also women are gods.
11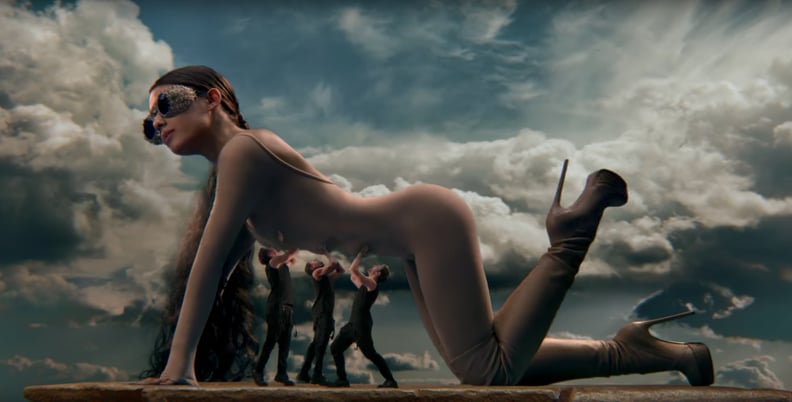 The She-Wolf
This visual alludes heavily to maternity, as men suckle at Grande's "teats." This could be likened to how women are the ultimate providers or to the she-wolf in Greek mythology that eventually raises Romulus, the first king of Rome. Images of the she-wolf often show her with Romulus and his brother, Remus, nursing on her teats.
12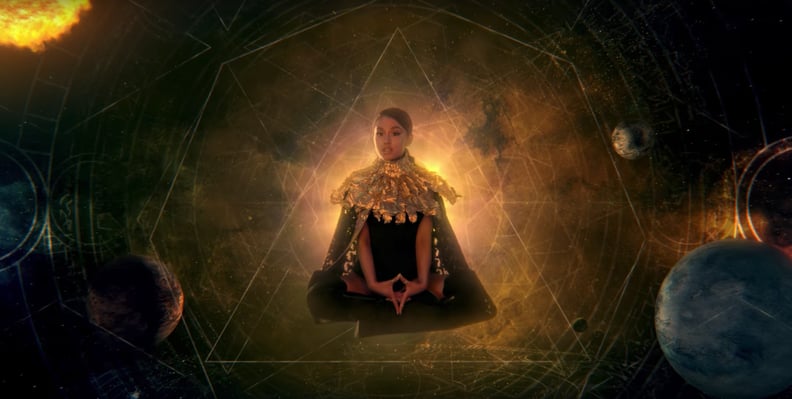 Lotus Position
Of course Twitter saw this visual and immediately believed it to be a reference to the Illuminati. However, it looks more like the drawings and notes of ancient philosophers and artists like Leonardo Da Vinci. It could be Grande drawing a connection between the cosmos and spirituality, as there are planets all around and she's adopting the Lotus position, which is used for meditation in various spiritual traditions.
13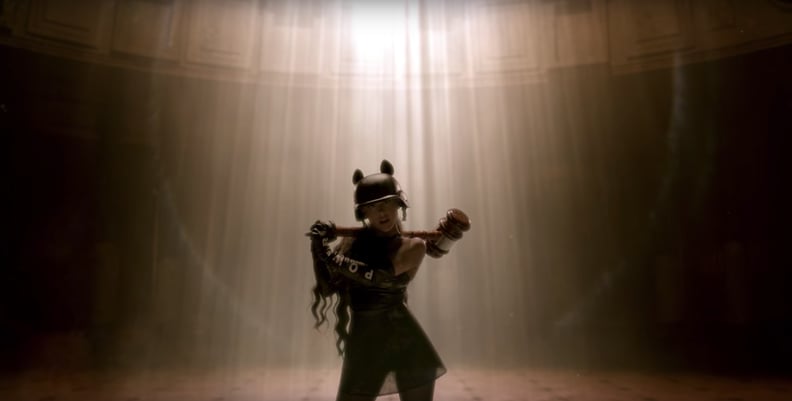 The Gavel
The mallet Grande is holding while in the Pantheon is actually a large version of a gavel, which is almost exclusively used by the United States in courts of law. It's Grande taking hold of the law and using it, when usually it's the other way around.
14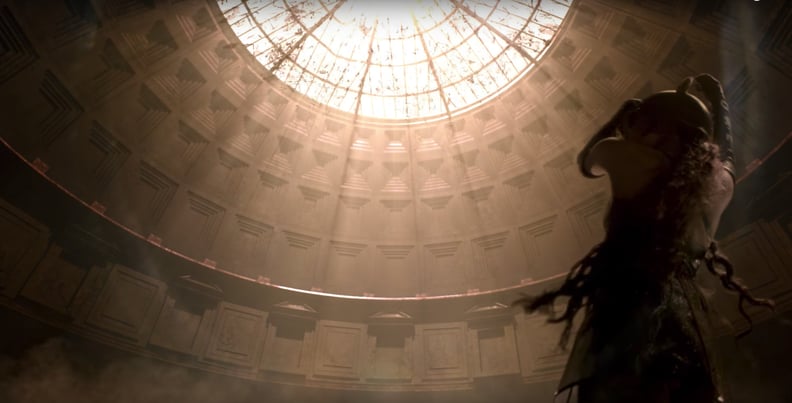 Breaking the Glass Ceiling
This reference is a little on the nose, but when combined with the fact that Grande breaks the glass ceiling with a gavel after we've listened to Madonna recite the iconic Ezekiel 25:17 verse from Pulp Fiction, it's a little deeper. This could be Grande alluding to women taking the law in their own hands, as we've seen happening lately, and making the changes that need to be made. Combined with the verse that's been changed to use she/her pronouns, it could also be a call for women to support one another.
15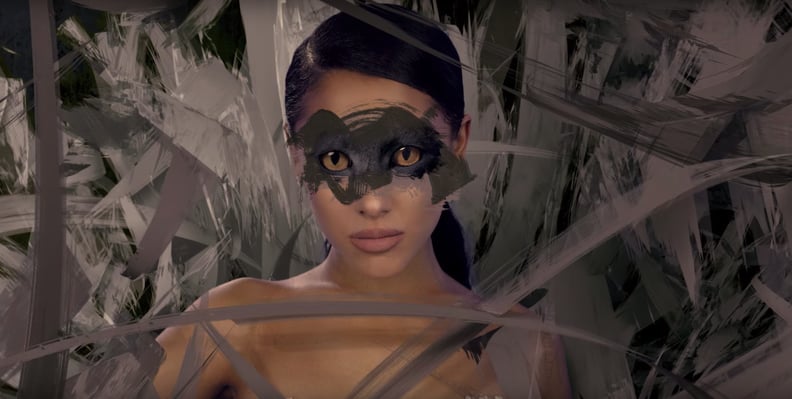 Cat Eyes
Grande has what look to be cat eyes in this scene while she sings about it being all in her. This could be a reference to her independence, since cats are well known for being independent creatures. It could also be a reference to being worshiped, as cats were worshiped and considered sacred in ancient Egyptian society.
16
The Pantheon
Grande relishes the broken ceiling in the Pantheon that has a woman's spread legs as the focus. Light fills the room, from what looks like between the women's legs, which could be Grande combining sexuality and spirituality — a way of saying that all women are made of light and have that light between their legs, despite people who make it seem otherwise.
17
The Tightrope
Grande tiptoes across a tightrope while holding balloons, which could be a reference to life being all about delicate balance.
18
The Handmaid's Tale
Most people have likened this visual to The Handmaid's Tale because of the hoods and the way Grande is leading the women in song. It has a very strong religious vibe, especially since it looks as if the women are praising Grande, who is in the center.
19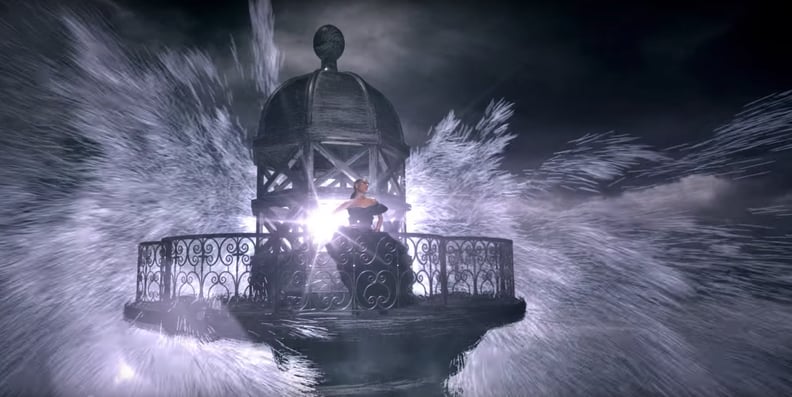 The Lighthouse
I believe I've mentioned how the overall theme to the song is that God is a woman? Well, when she sings in falsetto and hits that high note, the waters will rush to her command.
20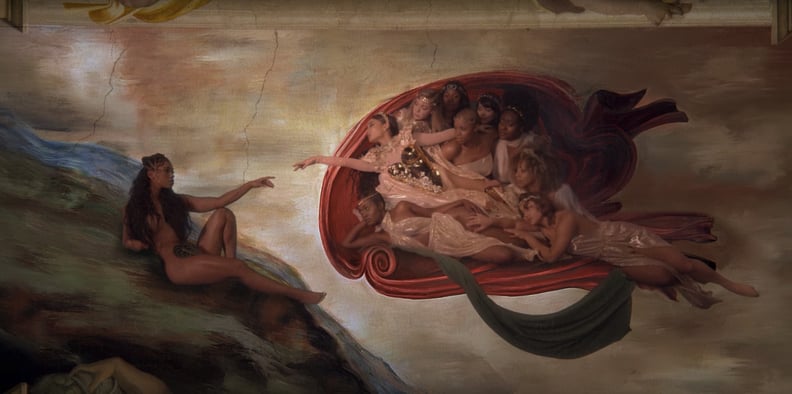 The Creation of Adam
Not only has the iconic painting by Michelangelo for the Sistine Chapel been reimagined with all women, BUT the women are also of varying races and God is a black women. Go awf, sis!