The Walking Dead: Rick Grimes's Most Inspirational Speeches Ever
Rick Grimes has lost more than his fair share of marbles over the years on The Walking Dead, but there's one thing that's remained consistent about his leadership: the man gives good speech. In the promos for season eight, we get to hear a sample of the crowd-rousing that's about to commence, as he steels the survivors with phrases like, "That bigger world is ours by right" and "With everything we've beaten, everything we've endured, everything we've risen above, everything we've become, no matter what comes next, we've won. We've already won."
Don't you get chills just reading those words? Rick is unquestionably good at his job, and it's obvious he knows how to key up his people. With a sure-to-be-epic battle between the Alexandrian allies and the Savior squad nigh, there's bound to be plenty more word-slinging where that came from. In the meantime, let's take a look back at some of Rick's most riveting monologues to date.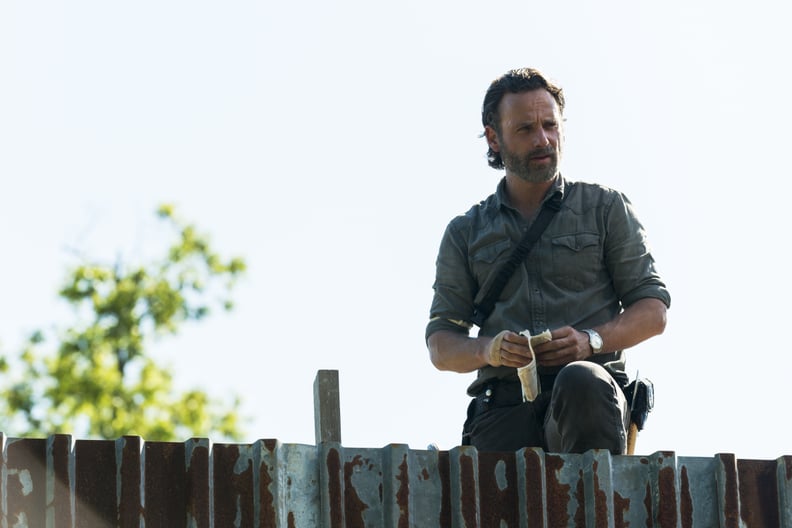 Convincing the King
Recruiting King Ezekiel to join forces for a potentially unwinnable battle is no easy feat, but Rick pulls out an old parable that plants the seed of acquiescence in season seven.
His metaphor-ing is pretty precise — he talks about how the road to a kingdom (wink!) lay marred with a massive rock that cost people their lives and livelihood and yet had never been moved. Think of the rock as Negan, and it all makes so much sense. Finally, one girl whose family's trade caravan is destroyed by the obstruction decided to do something about it to prevent others from getting hurt, and she reaped a massive reward as a result.
"She dug at that rock in the road with her hands until they bled, used everything she had to pull it out," he explains. "Took hours. In the end, when she was going to fill it up, she saw something in it; it was a bag of gold. The king put that rock in the road because he knew the person who dug it out, who did something, they deserved a reward. They deserved to have their life changed for the good, forever."
The message is clear: "Move that rock!"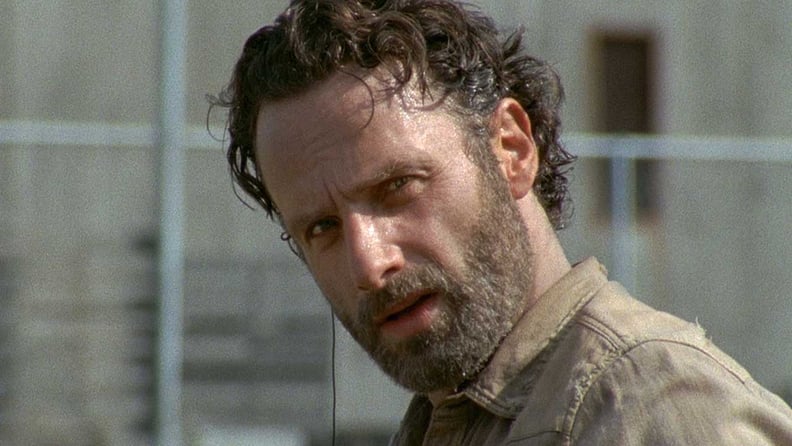 A Mercy Plea
In season four, when the Governor is still the biggest bad Rick's company has had to face, our fearless leader tries to extend an olive branch to his opponent's underlings for shelter in exchange for putting down their arms.
"Look, I fought him before, and after, we took in his old friends. They've become leaders in what we have here. Now, you put down your weapons, walk through those gates, you're one of us. We let go of all of it, and nobody dies," he says in his trademark guttural refrain. "Everyone who's alive right now, everyone who's made it this far, we've all done the worst kinds of things just to stay alive. But we can still come back. We're not too far gone. We get to come back. I know we all can change."
Even the Governor's patch can't conceal the nervousness in his eyes over Rick's compelling pitch. While the impassioned plea is mostly unsuccessful, it's enough to convince Tara to turn a coat.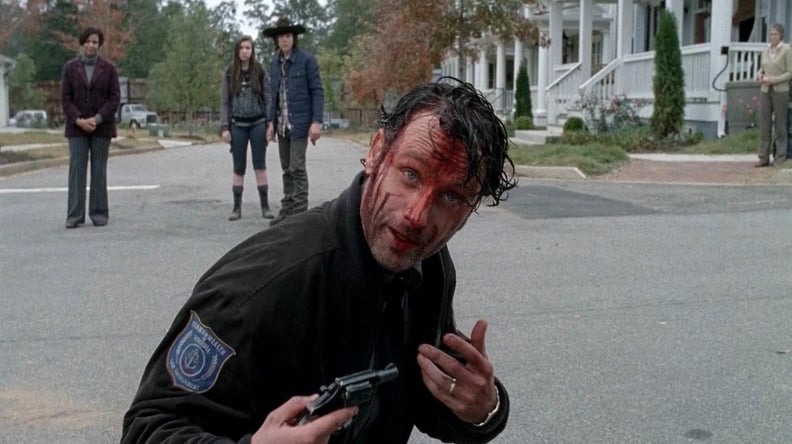 Reality Check
Season five features some pretty peak Rick-isms, like when Michonne has to knock him out in front of everyone to keep him from raving on about the Alexandrians' ignorance of the world and its dangers. Once it becomes clear to the group that their flimsy wall isn't mighty enough to protect them — courtesy of another unwelcome guest — Rick gets really real, and even Deanna has to listen up.
"It got inside on its own. They always will — the dead and the living — because we're in here. The ones out there, they'll hunt us, they'll find us, they'll try to use us, they'll try to kill us," he says, employing his signature bad-news-first style before adding, "But we'll kill them. We'll survive, I'll show you how. I was thinking, I was thinking how many of you do I have to kill to save your life? But I'm not going to do that. You're gonna change. I'm not sorry for what I said last night. I'm sorry for not saying it sooner. You're not ready. But you have to be, right now you have to be. Luck runs out."
When Rick Grimes offers you a personalized survival skills class like that, you have no choice but to take it, especially when he's just gotten through giving you the play-by-play on how you're gonna die if you don't. Shudder.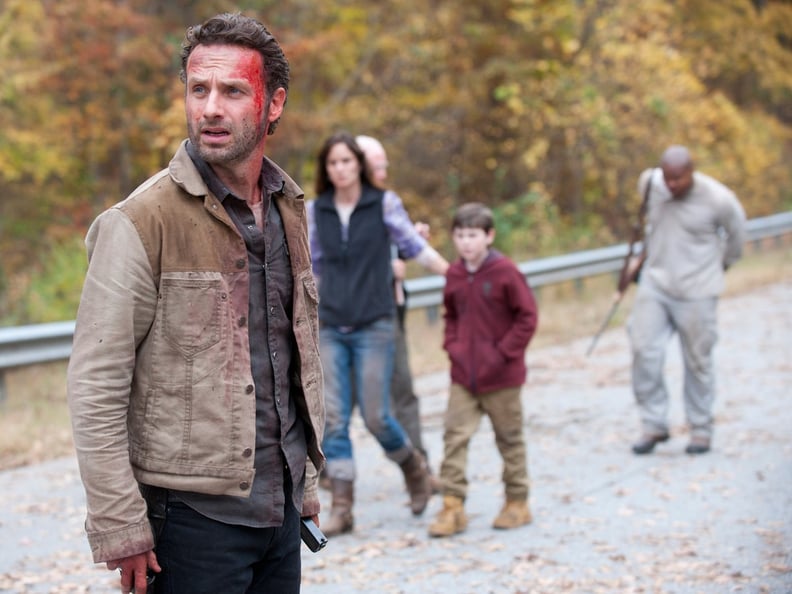 Dreaming Big
Back in season two, the group is in pretty dire straits. The farm has been overrun, everyone's been split up to face close calls galore, and they are eventually surrounded by walkers at every angle. And still, Rick's grandiose visions for what his new family will achieve — what they deserve — is strong even then.
He tells the beleaguered group, "There's gotta be a place, not just where we hole up, we fortify, hunker down, pull ourselves together, build a life for each other. I know it's out there; we just have to find it."
Indeed, even after all they've been through, six seasons later he's still chasing that dream. Rick Grimes might be foolhardy, but you gotta give him points for perseverance.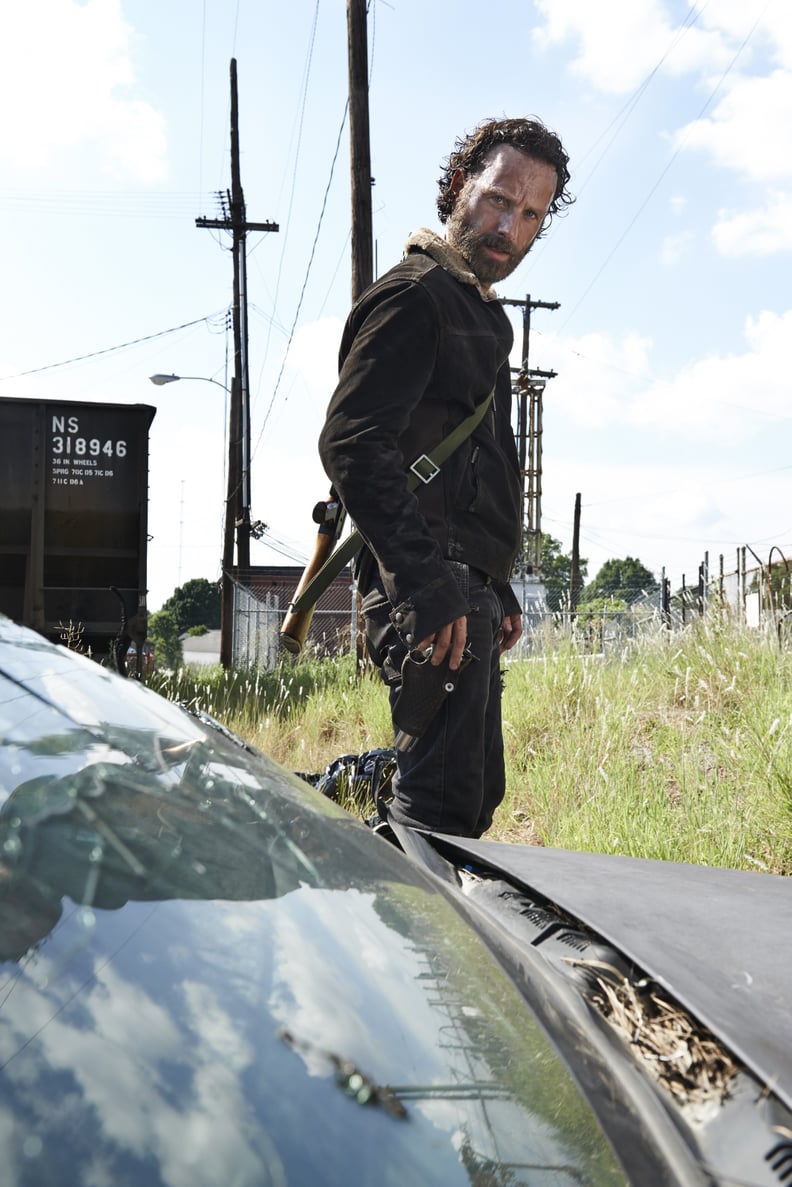 The Real Walking Dead
Rick's knack for dragging his crew through moments of despair is never clearer than when he coaches them through a tough time on the road en route to Virginia. Rick reaches deep to find an old family story that fit the situation to a T — this time, quoting his own grandfather, who survived World War II by resigning himself to being doomed every day on the battlefield.
"Every day he woke up, told himself 'rest in peace, now get up and go to war.' Then after a few years of pretending he was dead, he made it out alive. That's the trick of it, I think. Do what we need to do, and then we get to live . . . This is how we survive: we tell ourselves, 'We are the walking dead.'"
Not too shabby for a fourth wall title wink. Not too shabby at all.