Romancing Mr. Bridgerton Book Spoilers
Here's What Happens to Penelope and Colin in Their Bridgerton Book
Watch out! This post contains spoilers.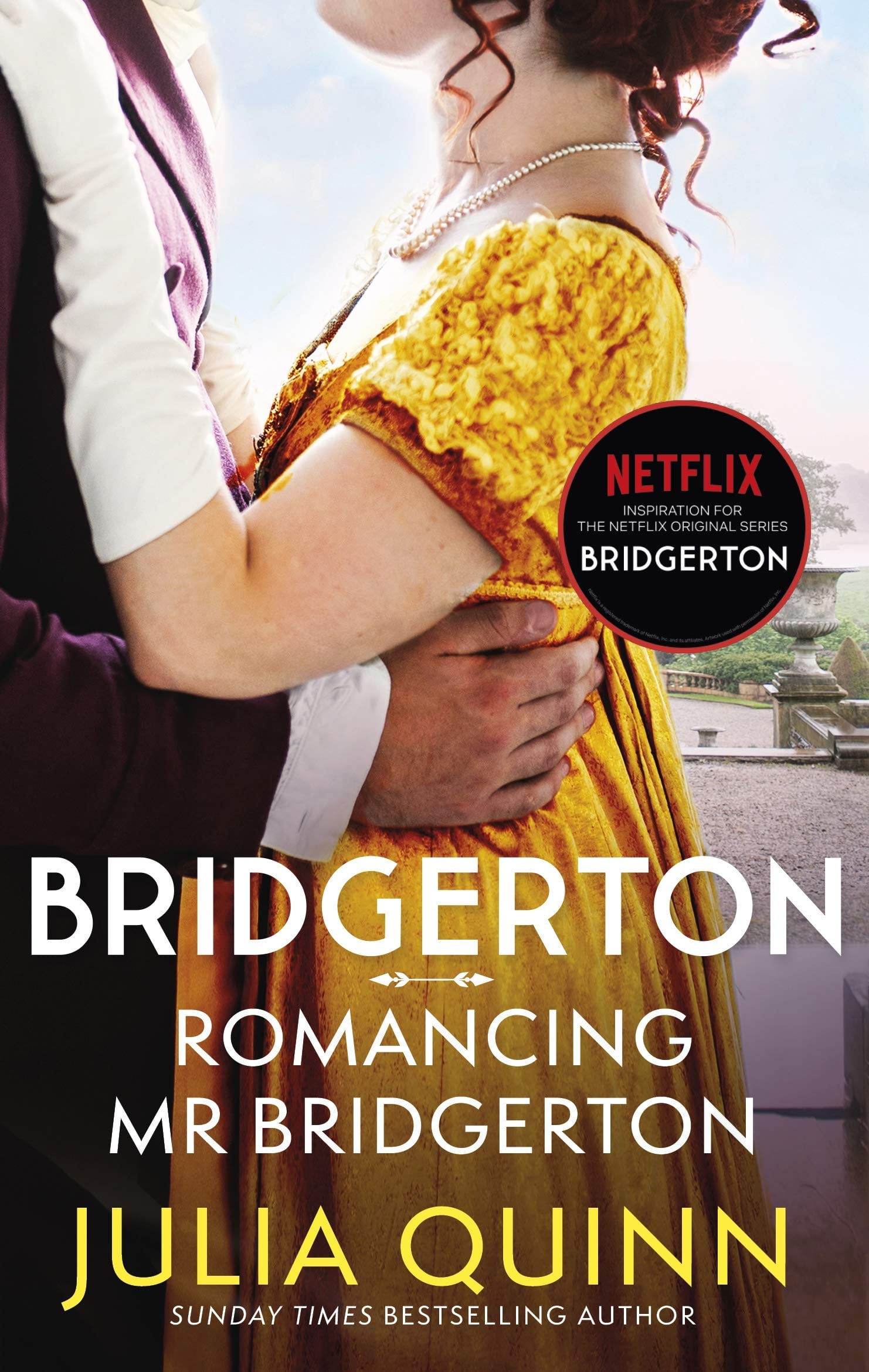 Image Source: amazon.com
It's official: the third season of Netflix's "Bridgerton" will be the first to change up the order of protagonists established in Julia Quinn's book series. Season three will focus on the friends-to-lovers romance between Colin Bridgerton and Penelope Featherington, which has been simmering throughout the first two seasons already. The book that the season will adapt, "Romancing Mr. Bridgerton," is actually the fourth in Quinn's series. While the TV show will undoubtedly tweak the story, just as the previous seasons have, here's a spoiler-packed overview of how Colin and Penelope's story plays out on the page.
How Did Penelope and Colin Meet?
"Romancing Mr. Bridgerton" begins with a flashback to when teenage Penelope first meets Colin. Penelope is not quite 16 and is out for a walk with her mother and sisters when they stop to talk to Lady Bridgerton and Daphne. A gust of wind sends Penelope's bonnet flying into Colin's face, surprising him so much he falls off his horse. Penelope is horrified, but Colin finds the whole thing hilarious, and Penelope falls for him immediately.
Over the years, Colin and Penelope become good friends with Colin apparently oblivious to Penelope's feelings. She spends year after year being forced to wear unflattering gowns by her tasteless mother and enduring the catty gossip of the ton, who see her only as an "ugly duckling" wallflower. One day, she has the misfortune to overhear the end of a conversation Colin is having with his brothers in which he snaps at them that he would certainly not marry Penelope. Colin apologizes and tries to explain (as do his brothers, Anthony and Benedict), but the hurt is done, even though Penelope pretends everything is fine.
Penelope and Colin's First Kiss
A decade passes, and neither Penelope nor Colin marry. At age 28, Penelope finds herself a confirmed spinster, not that she's surprised. Colin, at 33, has dodged "matchmaking mamas" for several seasons, spending most of his time traveling the world. When they cross paths, they pick right back up where they left off. They get into a fight, however, when Penelope stumbles across his journals and begins reading his surprisingly eloquent travel chronicles. The fight soon subsides into a quiet conversation as Penelope praises his writing and Colin admits that he's tired of being thought of as charming but not particularly bright.
Image Source: Everett Collection
Then, one day, much to Colin's surprise, he suddenly realizes that the chemistry between the two of them has changed, and he very much wants to kiss her. Meanwhile, Penelope is being hit particularly hard by feelings of loneliness, and in a moment of vulnerability, she asks Colin to kiss her because she doesn't want to die having never been kissed. He does as she asks, sending both of them into an emotional tailspin for a little while.
How Does Colin Find Out Penelope Is Lady Whistledown?
Throughout the book, everyone continues to speculate about the true identity of Lady Whistledown, who continues to terrorize the ton with her biting pen. Lady Danbury issues a public challenge to unmask the writer, while Colin suspects Eloise. After an announcement appears in the papers claiming to be a retirement letter from Whistledown, Cressida Twombley (formerly Cressida Cowper) makes an announcement at a ball, naming herself as Whistledown, although not everyone is convinced.
Still mulling over his suspicions about Eloise, Colin spots Penelope heading deep into the city, apparently alone. He follows her through the streets and to a church, where he watches her drop off an envelope. That's when he learns the truth: Eloise isn't Whistledown — Penelope is. He's furious, not just that she has kept this secret for a decade, but that she has put herself in danger every step of the way. On the carriage ride back home, they argue over the Whistledown plot. The heightened emotions get to both of them, and they wind up making out in the carriage. Colin promptly proposes to Penelope and, after some miscommunications with her mother, they're engaged.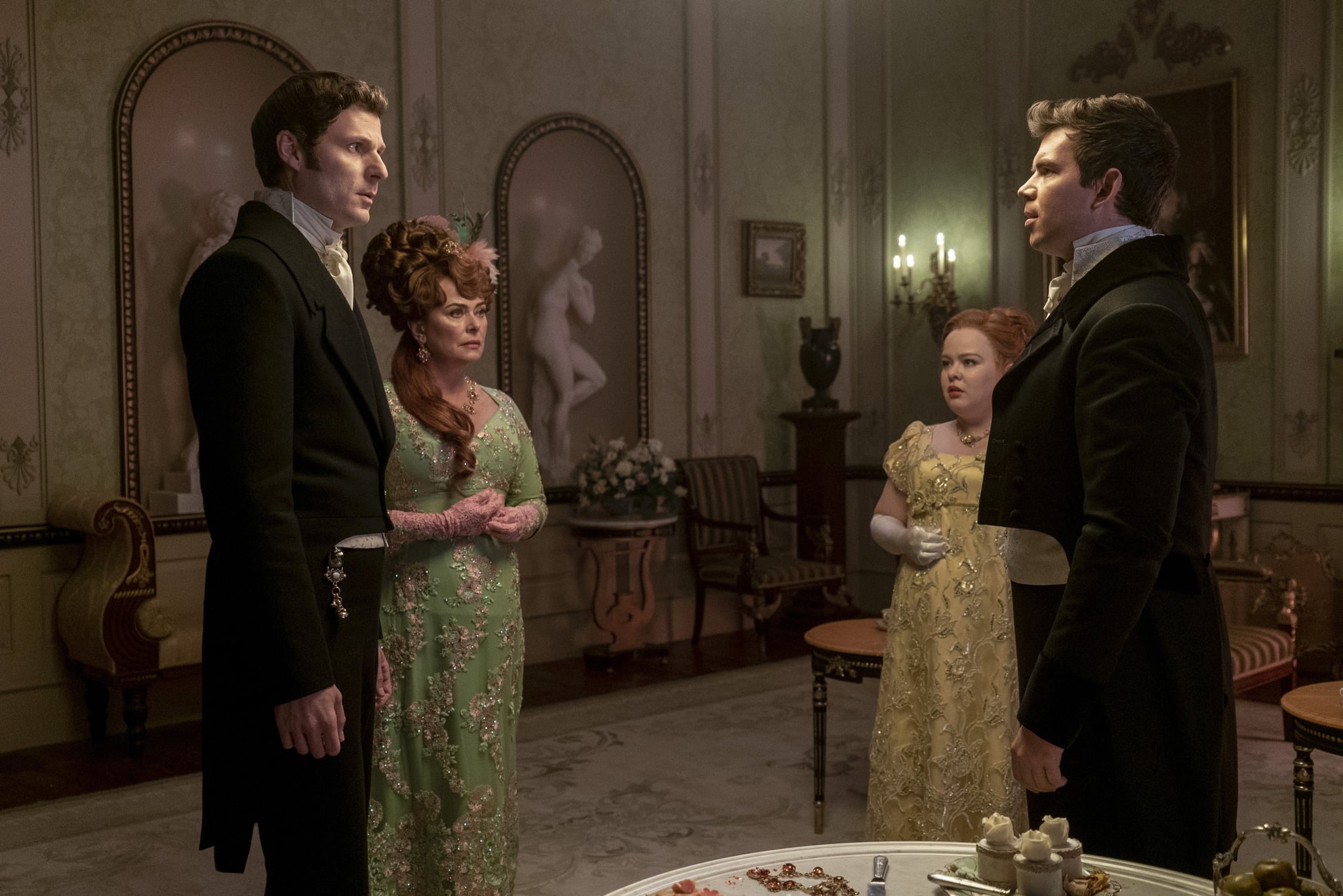 Image Source: Everett Collection
How Does "Romancing Mr. Bridgerton" End?
Even after the engagement, Colin and Penelope remain a little emotionally unsettled. Colin seeks advice from Daphne about how to know if it's really love as he tries to figure out exactly what his own feelings are. Their engagement ball is disrupted with the arrival of a new Lady Whistledown column — it turns out Penelope was able to publish her disavowal of Cressida's false claim after all. Colin is angry that she hasn't left Whistledown behind, but Penelope defends herself for trying to protect her legacy.
That fight leads Colin to answer his own question: yes, he does love Penelope. They have sex on the night of their engagement ball, and Colin manages to convince their families to move up the wedding (partially in case Penelope gets pregnant and partially because they just want to be married as soon as possible). Penelope is still hurting over her belief that Colin is ashamed of her writing and her career as Whistledown. When they have the conversation, however, Colin deflects the question, hiding the truth: he's a little jealous, actually. It takes some time, but he's finally able to admit his complicated feelings to Penelope.
In turn, she tells him the story of how she began writing Whistledown and reveals that she is, in fact, very wealthy because of her writings. She also encourages him to publish his own writings. After her marriage, Cressida comes to visit and reveals that a particular turn of phrase has tipped her off that Penelope is Whistledown. She tries to blackmail Penelope, but Colin beats her to the punch. With Penelope's permission and with the whole family's support, he announces that Penelope is Whistledown to cheers and applause.