5 Things We Know So Far About St. Vincent's New Album
Annie Clark — aka St. Vincent — is due to release her fifth studio album any moment now — or, if we want to be specific, maybe this year (more on that later.) Her last groundbreaking release, the self-titled album St. Vincent, only has fans anticipating new material even more. Though there is still no official release date, or album name, St. Vincent devotees can't help but collect clues as to what Clark has ahead for us. Her Instagram, for one, gives some details away, while her recent trips and shenanigans with girlfriend Cara Delevingne can also give us some insight as to what her album will be inspired by. Without further ado, here are five things we've deduced about the album so far.
01
She's Recording in the Studio With Sounwave
Multiple-Grammy-winning producer Sounwave posted a Snapchat of St. Vincent recording at his studio late in March — which he later shared on his Instagram. The tiny black and white glimpse of St. Vincent singing into a microphone made fans' hearts somersault, and the decorative skull wearing headphones could be interpreted as a hint that Annie is going for a darker approach in her new music. It's also fair to point out that Sounwave has produced for artists including Kendrick Lamar — whom St. Vincent has said she'd like to collaborate with sometime in her career.
02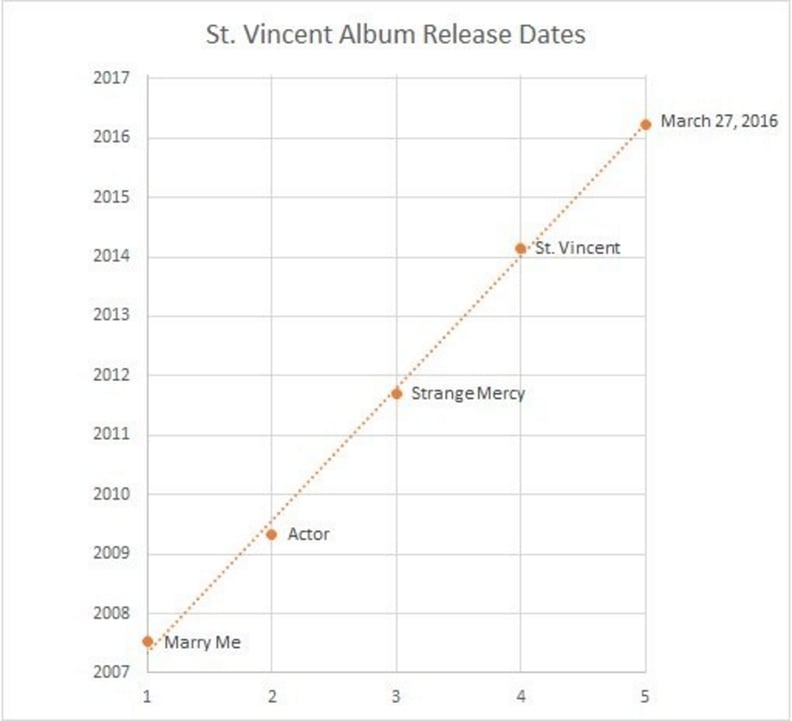 It's Likely She'll Release It This Year
St. Vincent has released four studio albums so far, each album released two years apart from each other. One Redditor even made a graph comparing St. Vincent's previous album release dates, predicting that her fifth studio album would be released March 2016. While that certainly didn't happen, the likelihood of her album dropping this year is high.
03
She Had a Fever While Writing
Being St. Vincent doesn't excuse you from coming down with a bad fever, which is what happened to the 33-year-old artist earlier this year. St. Vincent posted a handwritten note that read, "Have the flu, try again later" on Instagram, accompanied with a caption that read, "On the plus side, been coming up with crazy song ideas thanks to fever dreams." If this is the case, expect to hear some trippy songs similar to "Huey Newton."
04
It May Include This As-Yet-Unreleased Song
Talking Heads frontman David Byrne is one of St. Vincent's favorite people and collaborators. David personally requested she write and perform a song for his Contemporary Color show, which featured live performances from artists including tUnE-yArDs and Nelly Furtado, accompanied by color guard teams. St. Vincent's contribution to the show was the hauntingly beautiful song fans have unofficially named "Lunatic." Though the song is sitting in St. Vincent's vault of unreleased music, there's still the possibility she might include the track to her upcoming album, or at least as single.
05
There Will Likely Be Homages to David Bowie, Prince, and Cara Delevingne
St. Vincent's relationship with model/actress Delevingne became public after she dropped her last album. The couple have been on-again, off-again since, which makes it likely that Delevingne influenced her writing process. The deaths of two of St. Vincent's music role models, David Bowie and Prince, could also play an important role in the album's lyrical and stylistic influences. She even posted a photo of Cara holding a baby shortly after Bowie's death with the caption, "Antidote to mourning."