We Have Your Summer Jams Locked and Loaded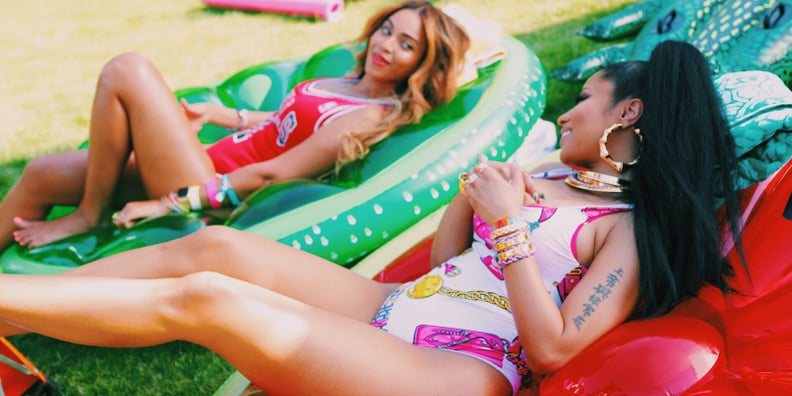 Beyoncé Knowles
Memorial Day weekend unofficially kicked off Summer, and hello, that means you need new Summer jams. A Summer jam is so different than any other kind of jam; it should be upbeat, bright — the kind of song you can blast while driving your (imaginary) convertible. Or sometimes they can be mellow, but it's a very specific kind of mellow — the kind of song you can still groove to with all the windows and doors open. With those criteria in mind, POPSUGAR's entertainment team has selected some recent tracks that fulfill these requirements. We were happy to do the work for you and present you with a collection of timely, groove-worthy songs to make you happy all Summer long, with a Spotify playlist included, too.
"Déjà vu" by Giorgio Moroder featuring Sia
Sia goes disco!
— Shannon Vestal, senior editor
"Damn That Valley" by U.S. Girls
This song deserves to be on every BBQ playlist, ever.
— Brittney Stephens, associate editor
"Beautiful Liar" by The Bad Years
It's less upbeat party time and more hammock-with-a glass-of-wine, but isn't that equally Summer-full?
— Lindsay Miller, senior editor
"Forget" by Marina and the Diamonds
She's done it again! Not only can you dance to this jam, but you can feel empowered by it, too. Consider singing it to yourself in the mirror.
— Ryan Roschke, assistant editor
"Shoegaze" by Alabama Shakes
Dreamy and cool, this song has Alabama Shakes' signature sound, and it screams Summer.
— Maggie Pehanick, associate editor
"Entropy" by Grimes and Bleachers
For when you're not clubbing but looking for a low-key dance party.
— RR
"Feeling Myself" by Nicki Minaj and Beyoncé
Like, does this one even need an introduction?
— RR
"Still Want You" by Brandon Flowers
If you're a fan of The Killers, you need to hear this upbeat single from lead singer Brandon Flowers's solo album The Desired Effect.
— MP
"Nobody Love" by Tori Kelly
Upbeat and fun. Perfect to sing along to in the car with your friends.
— BS
"Pretty Girls" by Britney Spears featuring Iggy Azalea
This is like "Fancy 2.0," except it has Britney, b*tch.
— Nick Maslow, assistant editor
"Stole the Show" by Kygo
This song just makes me want to drive around with the top down all day long.
— Caitlin Hacker, associate editor
"King Kunta" by Kendrick Lamar
A sick beat and poignant lyrics. You can't ask for more than that.
— BS
"Weekends" by Urban Cone
This track positively vibrates with the type of fun you can only have on Summer weekends.
— MP
"Want to Want Me" by Jason Derulo
This is definitely my go-to Summer workout song. The beat keeps me motivated to keep going!
— CH
"People Watching" by Air Traffic Controller
Air Traffic Controller should be on every indie-lover's list. This song in particular is catchy as hell.
— MP
"Hey Now" by Matt and Kim
The intro to this song is so fun and upbeat that I can barely sit still when I hear it.
— SV
"Yoga" by Janelle Monáe
If this song comes on and someone isn't moving to it, kindly ask them to leave.
— BS
"Peanut Butter Jelly" by Galantis
This ode to peanut butter and jelly has the weirdest lyrics and the best beat that will have you on the dance floor in no time.
— MP
"What I Did For Love" by David Guetta featuring Emeli Sandé
This song reminds me of something my friends and I would belt out during a Summer night of driving around. It instantly puts you in a good mood.
— CH
"Coming Home" by Leon Bridges
So summery and romantic. Sway along to it in your kitchen while you cook with all the windows open.
— BS
"Lost on Me" by Peace
This dance track channels '70s British pop in the best way.
— MP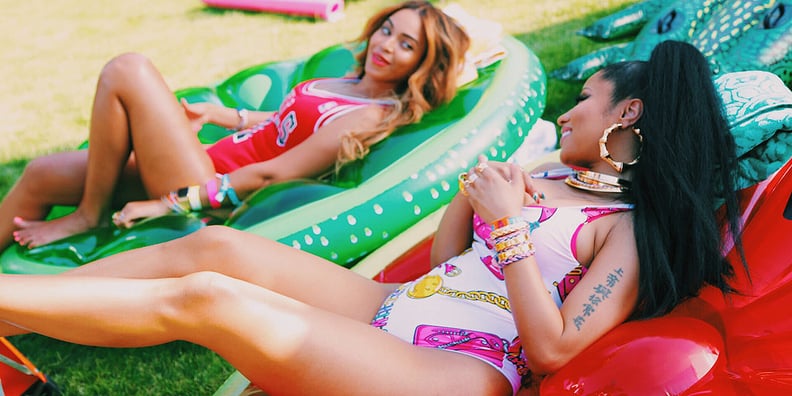 Listen to the playlist on Spotify