Is Taylor Swift's New Music Video Really a Rip-Off? You Be the Judge
This past weekend, Taylor Swift unveiled the music video for "Delicate," marking the fourth entry in her Reputation era. While the video is rife with cheeky references, a possible cameo by boyfriend Joe Alwyn, and plenty of meme-able moments, the entire release has been overshadowed by something much too big to ignore: accusations of plagiarism. In the wake of the music video's unveiling, critics were quick to compare "Delicate" to a handful of existing works. Some may be a stretch, but others are harder to ignore.
Admittedly, the concept for the video is not new. There are plenty of pop culture pieces in the universe that meditate on fame and its obvious downsides, especially in the world of music. Consider, for instance, Lady Gaga's insane "Paparazzi" music video, in which tabloids claim she's "hit rock bottom" and "We love her again!" over the course of seven minutes. Everyone's got their take.
In the case of "Delicate," Swift's (or, more aptly, director Joseph Kahn's) commentary on fame seems especially reminiscent of Britney Spears's "Lucky" video, which follows a global pop star who has all the fame and fortune she could want but is very unhappy deep down. And yeah, Swift plays a very famous person (presumably herself) who is overwhelmed and can't truly be herself until she's literally invisible.
Even though people have been making the allegorical fame comparisons to "Lucky," the styles and narratives of the videos are worlds away from each other. However, that is not the case for a Kenzo perfume ad that came out a year and a half ago. When it comes to plagiarism, this is probably the video to pay attention to.
The Kenzo ad, which Spike Jonze directed, dropped in August 2016. We watch as a clearly miserable young woman (Death Note's Margaret Qualley) sits at some kind of fancy gala dinner. She eventually leaves and liberates herself from her stuffy upper class shackles, thus embracing her true self: a wild woman who makes insane faces, does spasmodic but simultaneously beautiful dance moves, and even shoots laser beams out of her fingertips. It hearkens back to a music video Jonze directed 15 years prior: Fatboy Slim's "Weapon of Choice," which features none other than Christopher Walken living his best life in a completely empty hotel. "Delicate" seems to have taken inspiration from "Weapon of Choice" as well, but the Kenzo ad is much more recent and much more similar.
Granted, "Delicate" and this perfume ad play by different rules. Yes, Taylor Swift still gets to run around and do wacky dance moves (while barefoot, to the horror of some viewers), just like Qualley's character does in Kenzo's ad. In "Delicate," though, she's only able to do so because a magical note makes her invisible to her security team and endless parade of adoring fans. Swift also takes it up a notch: she dances on the NYC subway and takes her moves out into the pouring rain and a city street. Qualley is not invisible; she merely has a nearly empty space as her playground.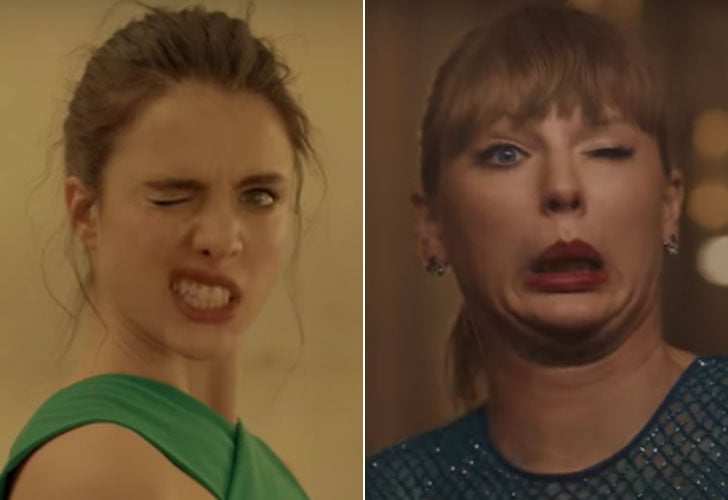 And yet, both women do traipse around lavish spaces, behaving in ways that are not quite kosher for their surroundings. Both women make strange, unflattering faces as a sort of internal release of goofiness. And both women embody a contemporary style of choreography that seems random yet refined at the same time. In the wake of the controversy, Kenzo has yet to respond, but Page Six reports that a PR person who used to work with the company made a playful comment: "Listen, Tay, I feel you. It's hard to stay fresh. Call us, we can help." The person in question has since removed the post.
So, is "Delicate" a copycat? It's tough to say. Sure, it shares some very striking similarities with Jonze's work. But it also has a life of its own and departs in pretty glaring ways. At the end of the day, it depends on who you ask.