Texas Chainsaw Massacre Cast Talk Behind-the-Scenes Secrets
The "Texas Chainsaw Massacre" Cast Were Just as Scared as You
Watch out! This post contains spoilers.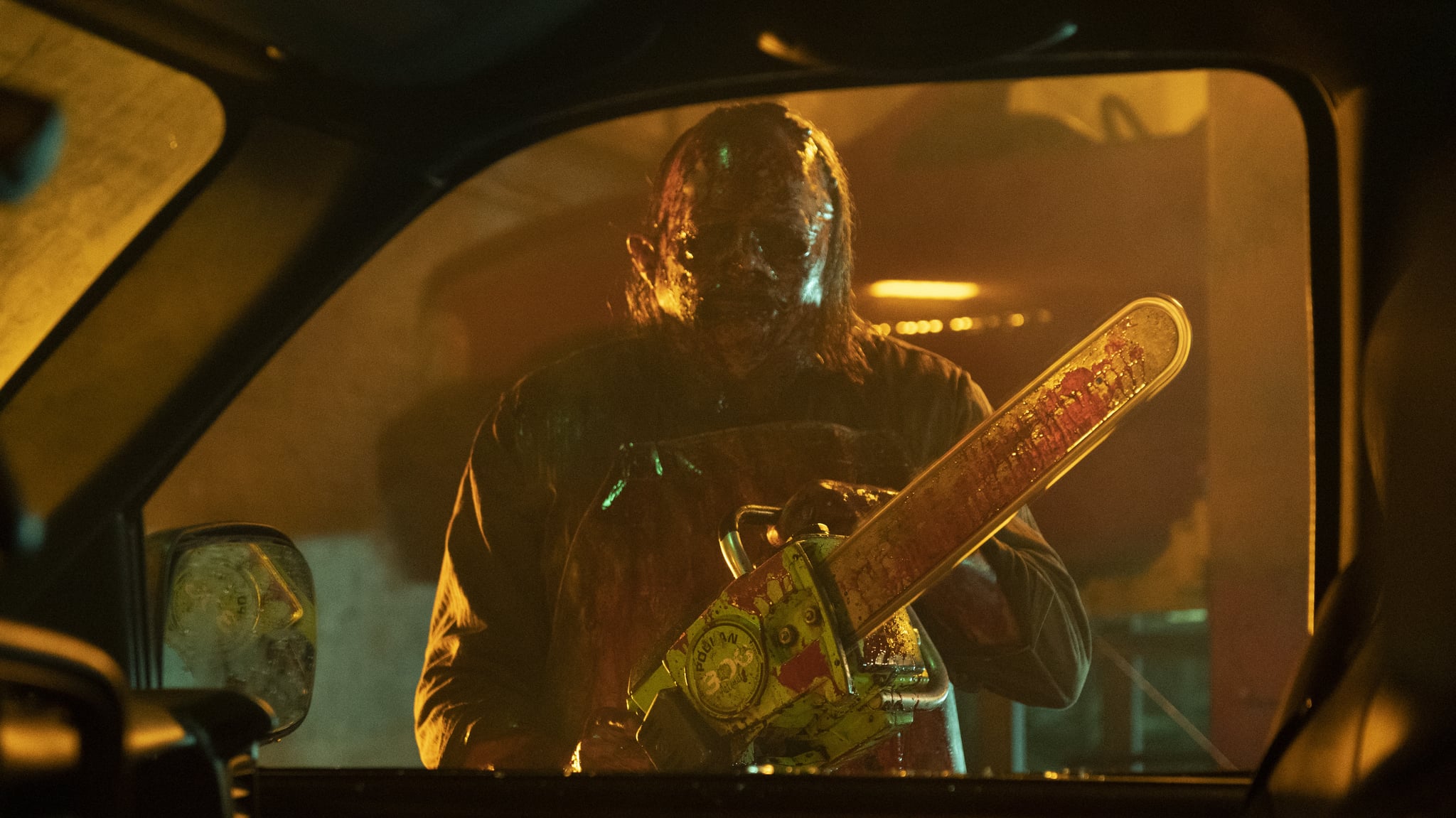 Image Source: Netflix
When the chainsaw rips, horror movie fans know it's time to start running just in case Leatherface is nearby. For Sarah Yarkin — who plays "final girl" Melody in David Blue Garcia's "Texas Chainsaw Massacre" sequel on Netflix — that adrenaline-induced fear skyrocketed to 1,000 percent when she was filming one of the movie's most terrifying scenes. Speaking with POPSUGAR, Yarkin relived some of her most difficult filming days, including the time she was asked to cram herself into a makeshift crawl space and scramble away from a chainsaw-wielding serial killer while covered in chocolate oatmeal.
"I'm going to be covered in sh*t and blood — sign me up. This is going to be freaking sick."
"[There's a] part in the movie where I've fallen beneath the house and I'm in a crawl space with Leatherface with the chainsaw above me, trying to get me," Yarkin says. "They had built this crawl space in the sound stage and you had to get up a ladder to get into it. Then you're kind of stuck in it. They had covered it just with tons of dirt and dust. This is also towards the end of shooting where I'm already just completely messed up, mentally and physically drained."
Yarkin gets another chilly surprise when a sewage pipe bursts over her character's head, oozing what looks to be poop onto Melody's head. "So then I'm crawling on my hands and knees for three or whatever days. It was something else," she says. "I think that I was in survival mode — you've just got to keep going. It was bananas. Then at the end of the scene, a sewage pipe explodes on me, so then I'm covered in poop and freezing cold. [The poop] was fake snow that had been dyed brown. Then the rest of the movie, it was chocolate oatmeal that the makeup woman would make every night for me."
Of course, the crawl-space scene wasn't the only terrifying moment Yarkin filmed. More than anyone else in the film, Melody is forced to confront Leatherface head-on. For Yarkin, these scenes were emotionally and physically exhausting, but satisfying to look back on. "It's one thing to read it on the page and I'm like, 'Oh my God, I'm going to be under a bed. I'm going to be crying. I'm going to be hiding in a closet. I'm going to be covered in sh*t and blood — sign me up. This is going to be freaking sick.' And then when you're in it, you're like, 'Oh, a half page of me hiding under the bed is three days of me crying under a bed with blood on me.' It's a totally different reality, and it's more emotionally and physically draining than I could have probably ever imagined."
During one of Yarkin's first days on set in Bulgaria, the makeup team took a full cast of her face and body to create a replica of her character that could be used in the film's final minutes. "I'm claustrophobic, so that was maybe the scariest part of all of Bulgaria because I didn't know they'd cover my eyes and my mouth and most of my nose. So that was horrifying," she says. Three months after the cast was made, Yarkin came face to face with her prosthetic head.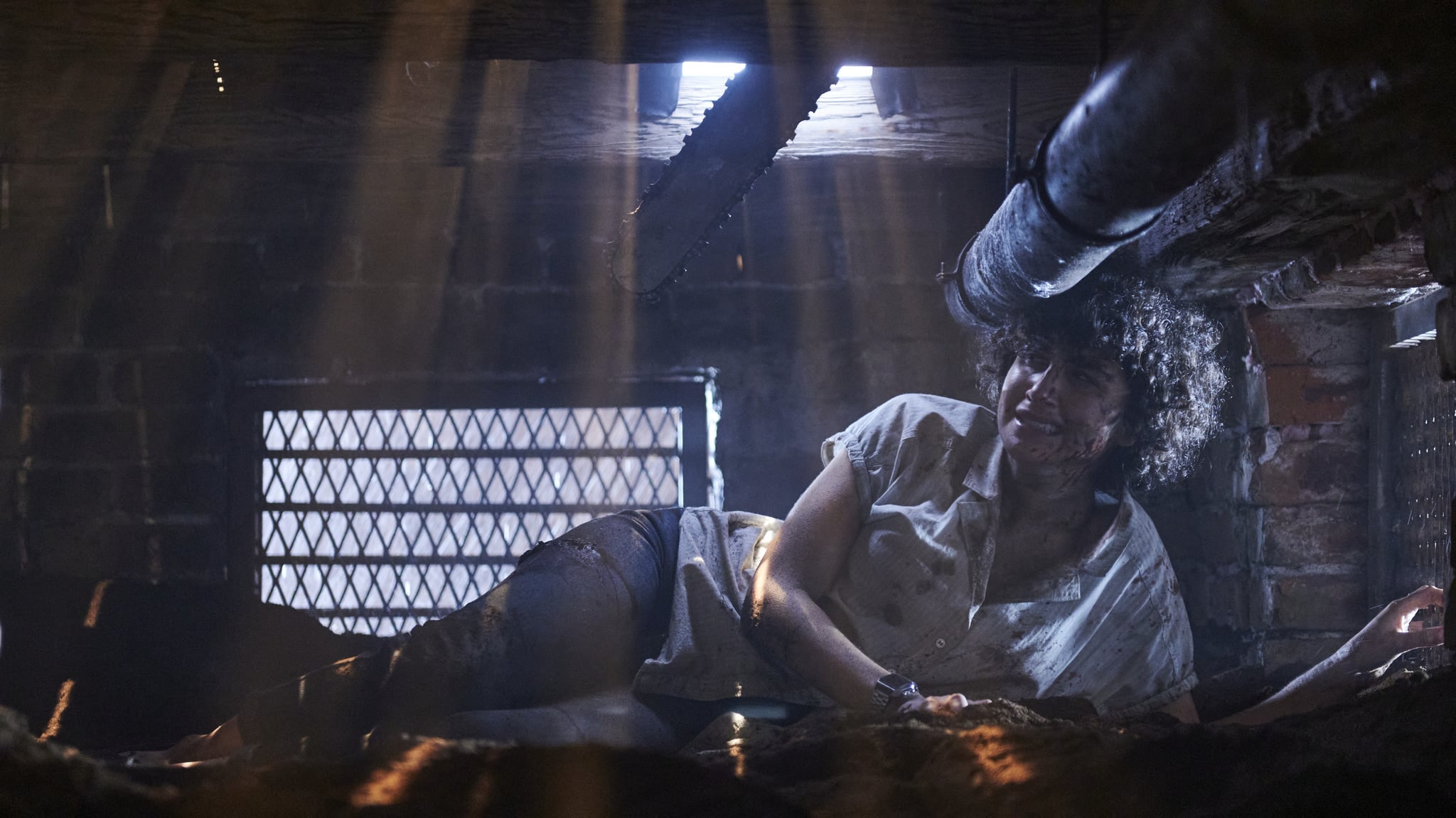 Image Source: Netflix
"The producers and people were like, 'Have you seen your head?' and I was like, 'No . . . no.' The hair looked just like mine. They ended up, obviously, CGI-ing my face onto it because the face itself looks like a doll. It doesn't look like me, but everyone's taking pictures, sending it to me like, 'Look what you look like.' And the head's on the ground, and they were like, 'Look at you.' It looks like a baby doll. The technology's amazing, but I'm looking at it and I'm like, 'Do I look like that? Do I look like that?' It just looks like me, but a really messed up version. I was joking and I was like, 'I've got to take this back with me and get it in my suitcase and see what Customs has to say.'"
Character death aside, Yarkin did have one revolutionary moment in the movie that felt like redemption for her character and every other woman-led role in a slasher film. Near the end of the movie, when Melody and Lila are taking on Leatherface in the abandoned warehouse, the sisters are able to distract him enough to knock the chainsaw out of his hands. Thinking quickly, Melody grabs onto the weapon and uses it to give the serial killer a satisfying uppercut that sends him teetering backward into a pool of water.
"That was probably my favorite couple days of shooting because the majority of the movie is me running and hiding and crying," Yarkin says. "So to have this action sequence, I felt like I got to be a cool little badass for a sec. And I got to be a little action hero, which felt super cool. I was taking control. I got to work with the stunt coordinator and do some of the stunts and work with the amazing stunt doubles."
No, Melody and her severed head likely won't be back to enact any more revenge on Leatherface. But there's always hope that Lila will follow in her footsteps in any potential sequels that come our way. For now, we'll quietly be reliving every chilling scene and catching up on some horror-movie classics to prepare ourselves.