Want a Lesson in Rock en Español? Watch the "Thalia's Mixtape: El Soundtrack de Mi Vida" Docuseries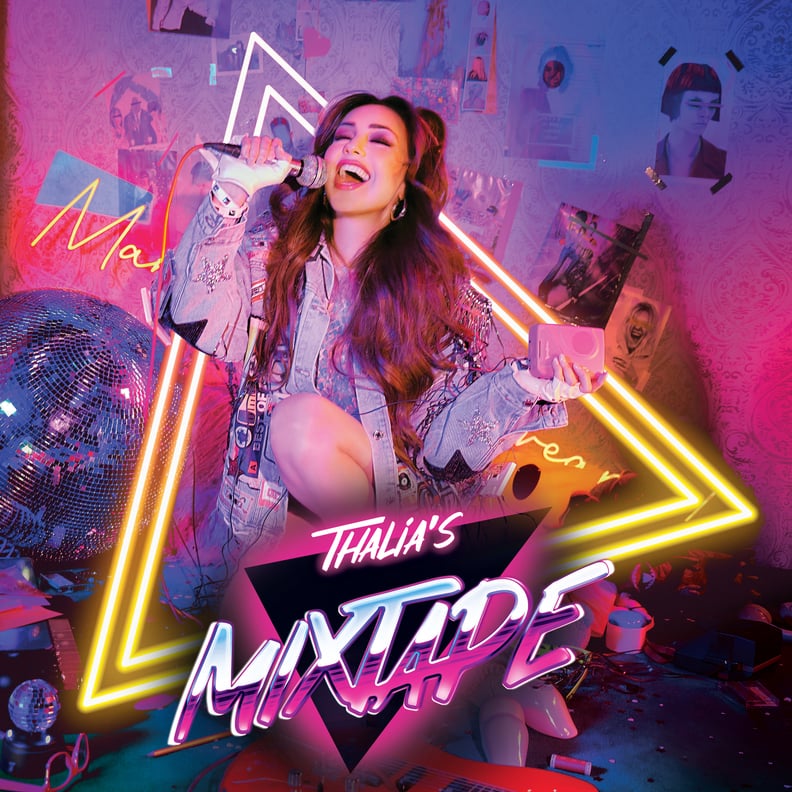 Enrique Vega
Enrique Vega
Latin music artists — even global superstars — don't get enough credit for the mark they leave. So many of our musical stars have broken barriers, and Mexican pop star and actor Thalia is one of them. From constantly evolving her sound to maintaining her spot as one of the leading women artists in Latin music, Thalia has the power to shift culture — and respectfully gives credit where credit is due. Her latest project honors the legends before her and highlights the artists on the rise. "Thalia's Mixtape: El Soundtrack de Mi Vida" is a three-part docuseries that premieres exclusively on Paramount+ on May 2 in the US and Canada. It celebrates the music and artists that have influenced Thalia throughout her life and complement her latest album, "Thalia's Mixtape," which dropped on April 28 via Sony Music and features re-recorded versions of classic covers.
The docuseries, which was executive produced by Thalia and Tommy Mottola, feels like a course in music history. Thalia introduces viewers to some of the legendary artists and pioneers of rock en Español that she grew up listening to, like Charly Alberti, the drummer of the Argentine rock band Soda Stereo, and singer Roco Pachukote of the Mexican rock group Maldita Vecindad. The docuseries also charts the history of how recorded music evolved from vinyl to streaming, complete with footage of Thalia interviewing the featured artists.
"This era touched my heart," Thalia tells POPSUGAR at the Sony offices in Manhattan while dressed in a chic 1980s-inspired outfit. The '80s mixtape era heavily influenced the singer's musical taste. "I was a big fan of recording my melodies and mixtapes with my cassettes and giving those as presents. It was a part of your heart that you were giving away," she says. "This is an amazing project. . . . I'm going to talk about the evolution of music precisely . . . in a visual way that you can digest next to your kids."
While Thalia is an icon and legend to many younger artists, in the docuseries, she positions herself as a fan looking to her idols who made it into her mixtapes throughout her teens and young-adult years. The inspiration for the project came to Thalia while she was taking a long car ride in 2019. During her drive, she says, she started playing some of her favorite artists' hits.
"The moment I started listening to those original mixtapes, the playlist, the track list — the movie — came like a download to my brain [and] to my heart," she says. "I saw 'Thalia's Mixtape: The Soundtrack of My Life,' and I saw the possibility of reaching out to my idols and telling them, 'Thank you, because right now, I'm still feeling what you made me feel for the first time with that song. And I want to ask how you did that song, what was happening in society back then?' . . . and then singing the songs with them."
But in typical Thalia fashion, in the third episode, she also introduces viewers to rising Latin music artists Kenia Os, Bruses, Ben Carrillo, and León Leiden.
"They're so excited because they are also learning about everything and understanding the responsibility of redoing these songs," Thalia says of the rising artists who took part in the project. "It's just a big responsibility to share it with all this care and love to their audiences."
The docuseries isn't structured like your typical docuseries, either. The documentary switches to a music video quite seamlessly in the pilot episode featuring the song "Devuélveme a Mi Chica" with Pachuco. The singer was intentional about making it a really entertaining watching experience for all viewers. For Thalia, one of the motives behind the project was using the docuseries to explain to her 11-year-old son how music could live on a cassette tape or vinyl record.
But the artist shares that the project was also for her.
"It was so important to me, but it was also important for my teenage heart. I needed that. I love what is happening in the music industry right now. It's the best that ever could happen for the Latin music industry," she says. "But I was lacking this kind of music . . . I love all the songs that I've been doing during these last decades. I adore that . . . but I needed this beautiful retro feeling and to touch base with these idols and tell them thank you."
Thalia even took things up a notch, making sure a cassette version of the album was made available for retro-music-lovers to purchase. The process wasn't easy, though.
"It was a nightmare for my record company," she says. "It was a process to find who can make cassettes, because that was tricky. Right now, that's not easy. Not everybody does cassettes."
But the challenges paid off. The artist says this is one of her most personal and heartfelt projects. As she explains: "In these four years of the process of creating this, I've been confirming that when you do things from an honest part of your heart and you talk about it with others, it's contagious."