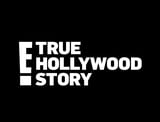 We partnered with E! True Hollywood Story to get you excited for the return of the legendary docuseries, because there are always more secrets to uncover.
Do you remember where you were when you first heard that Alice Johnson had been granted clemency after Kim Kardashian West's appeal to the president? Was the Nicki Minaj versus Cardi B. feud the topic of many conversations over dinner? Sounds like you have your finger on the pulse of all things pop culture, learning about the cultural moments that are shaping history is what you live for. We've got good news for you: the groundbreaking series E! True Hollywood Story is coming back to blow your mind with never-before-heard celebrity secrets and deep dives into topics that move the needle on the cultural zeitgeist.
Even better news? We got the inside scoop on five episodes of the new season and are here to give you the deets ahead of the premiere on Oct. 6.
"NXIVM: Self Help or Sex Cult?" kicks off the series and features an interview with Barbara Bouchey, who actually lived within the group. The episode delves into the women in the group, as well as reveals exclusive shocking secrets about the conviction of NXIVM founder Keith Raniere and soon-to-be sentenced former actor and NXIVM member Allison Mack. "Who is Kim Kardashian West?" is the next installment, with an inside peek into the life of one of the most famous women in the world. Through interviews with her family — including Kanye and her childhood best friend — we get a more comprehensive picture of what it's like to live such a public life of your own making. In "Does Hip Hop Reject Women?" the history of the rap industry is investigated from the POV of the women it often pushes to the sidelines. OG female MCs like Salt-N-Pepa and Da Brat lend their insights, and up-and-comers like Rapsody and Young MA talk about the future for women in the hip hop world.
"Horror Movies: Cursed or Coincidence?" dares us to question the existence of the paranormal, with haunting stories of incidents that happened to actors on the sets of horror movies told through interviews with The Exorcist actor Linda Blair, paranormal investigator Zak Bagans, and #Brainwaves radio host Steve "Uncle Creepy" Barton. Finally, "Is Fame an Addiction?" dives into the lives of self-made Internet stars like Frankie Grande and Brittany Furlan whose need to be adored has turned into a full-blown addiction, causing them to make drastic decisions in their lives.
Tune in to the premiere of E! True Hollywood Story on Sunday, Oct. 6 at 10 p.m. ET/9 p.m. CT to hear the full stories for yourselves.