These SNL Skits Are Proof Timothée Chalamet and Pete Davidson Need Their Own Show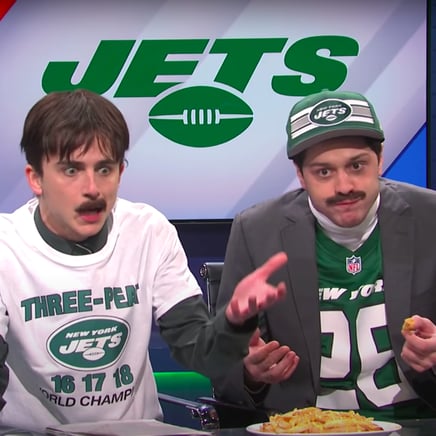 Did anyone have more fun than Pete Davidson and Timothée Chalamet on Dec. 12's SNL? Probably not. The Dune actor made his hosting debut on Saturday, and he got plenty of support from longtime cast member Davidson. You can spot the King of Staten Island comedian in Chalamet's monologue, a rage-filled skit called "Sportsmax," and a purposely cringey "yeet" moment — bringing plenty of laughs to the audience and each other. I'm honestly surprised they didn't break more.
You might forget Davidson and Chalamet are pals outside of their SNL bond. Nearly two years ago, they hung out at mutual friend Kid Cudi's birthday dinner, which included Kanye West and Kim Kardashian. We finally got a glimpse of their real-life friendship on the show, and yes, it was worth it. Check out their SNL sketches below.
Watch Timothée Chalamet and Pete Davidson's "Sportsmax" SNL Skit
Watch Timothée Chalamet and Pete Davidson's "Rap Roundtable" SNL Skit
Watch Timothee Chalamet's SNL Monologue With Pete Davidson