Unbreakable Kimmy Schmidt: Ranking Titus Adromedon's Musical Moments
Unbreakable Kimmy Schmidt has a lot going on in every episode. From Lillian and Jacqueline bringing their own individual brands of crazy, to Kimmy's adorably fresh take on the world, to whatever amazing one-liner is going to come out of Titus's mouth next — sometimes the series even manages to delve into Kimmy's trauma from being in the bunker and still keep its wicked sense of humor.
But perhaps the most fun ongoing thread is Titus's musical antics. Actor Tituss Burgess is carrying around some legitimate talent with those golden pipes, made all the funnier because of the absurd things he sings on the show. To celebrate Kimmy Schmidt's triumphant return to Netflix for season three, we're ranking Titus Andromedon's best musical moments. Be warned: There are a few included here from season three, so light spoilers ahead if you haven't watched it yet.
11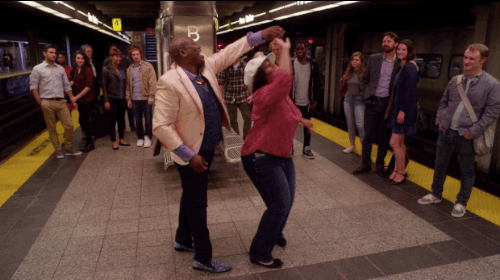 Wedding Dance Routine
No, there's no singing involved — not that Titus couldn't slay some Paula Abdul — but it is still super sweet that he patches things up with Vonda, the wife he abandoned at their wedding reception when he couldn't hide who he was anymore. They may not have been perfect romantic partners, but they are perfect dance partners.
10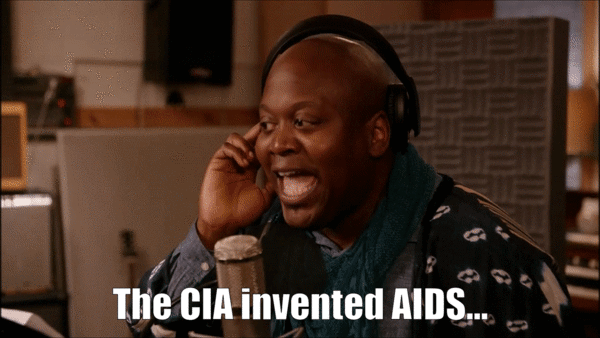 Crazy Guy Songs
It's well established that Titus will do . . . pretty much anything for a buck. So it's no surprise that he gives it his all when an insane conspiracy theorist (played by 30 Rock alum Judah Friedlander) asks him to lay down some crazy tracks in the studio.
Sample lyrics: "Fluoride makes you dream gay" and "The CIA invented AIDS to sell quilts."
09
Spider-Man 2: "Too Many Spidermen"
In the Kimmy-verse, the Broadway bomb Spider-Man: Bring on the Dark has a sequel, subtitled Too Many Spidermen. It's quite the showcase for Titus' singing and dancing talents, plus who doesn't love a good flying harness gag?
Sample lyrics: "And I will crush that Spiderman! And then that other Spiderman! And all the Spidermen 'til I'm the Spiderman!"
08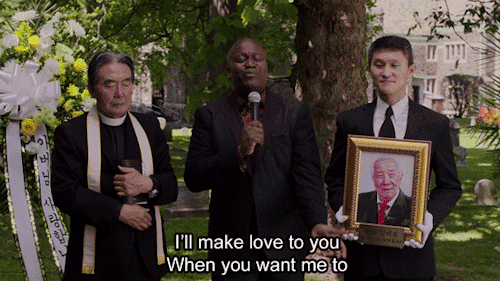 "I'll Make Love to You"
As part of a lie to get out of paying his rent, Titus drags Lillian to a random funeral and picks up the mic to sing a touching song — except he picks "I'll Make Love to You" by Boyz II Men. The best part? When he gets to the chorus and realizes his mistake, Titus doesn't stop, he just runs with it. That's our Titus.
Sample lyrics: "Close your eyes. Make a wish. And blow out the candle light."
07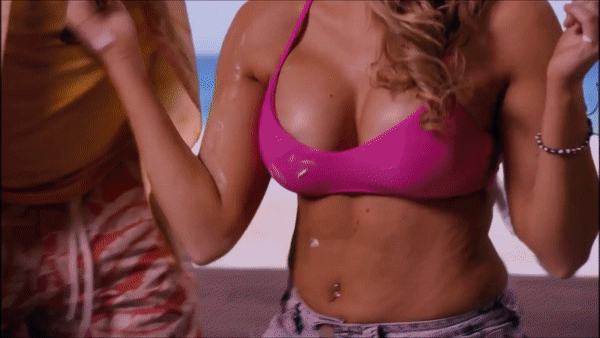 "Boobs in California"
Titus doesn't have a problem with crazy guy's conspiracy theory lyrics, but he does have some qualms about singing a song that exists solely to praise the "boobs in California." He muscles through, though — that music video is real, and it's spectacular.
Sample lyrics: "I love dogs in California, hikes in California, but the boobs in California are the greatest boobs around."
06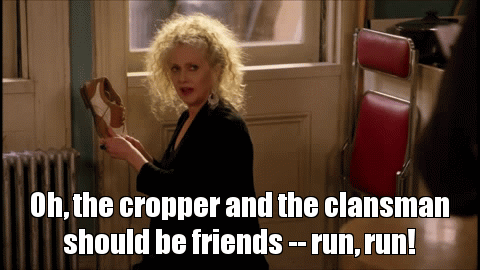 Fake Musicals
In a season two episode, Titus treats Lillian to a plethora of songs from musicals that don't actually exist in our world — though we really, really wish a couple of them were real.
Sample lyrics: "Oh, the cropper and the clansman should be friends — run, run!" from Alabama, and "When it comes to love, I have to feel my way around" from the unauthorized Helen Keller musical Feels Like Love.
05
"Gonna Be Famous"
Titus gets caught in a hot-mic moment when he's supposed to do an interview about Kimmy's mole women trial, but the channel goes live before he is aware he's on TV. Oops. Within the show's universe, it gets made into a viral video, because of course it does — and it's particularly awesome when Titus falls down and boops out a fart.
Sample lyrics: "Gonna be rich and burn off my skin tags."
04
Trident Audition
In season two, Titus' boyfriend Mikey (Mike Carlsen) gets sick, which he then passes on to Titus, just in time for a commercial audition. In his delirium from the illness, Titus makes up a jingle for Trident that is one of the funniest things the show has ever done. It's a small moment, but Titus calling teeth "outside bones" is still bust-a-gut funny, even after several viewings.
Sample lyrics: "Your teeth are bones that live outside, they hang from your lips like bats. Oh, outside bones! Outside bones! Never forget your teeth are outside bones."
03
Geisha Song
If you need any more evidence of the level of talent Tituss Burgess' poses, look no further than the Geisha song he sings as part of his one-man show about one of his past lives, a Geisha named Murasaki. The unruly crowd ready to riot over the cultural appropriation is silenced because of how beautiful and sincere the performance is, which is really the only way to play this scene and get away with it, even on a show as absurdist as Unbreakable Kimmy Schmidt.
Sample lyrics: "How can I be happy even when Bon Festival is here? I don't have nice clothes or a sash to wear."
02
Titus Makes "Lemonade"
In response to thinking Mikey found someone new while he was away working on a cruise ship, Titus puts forth his own version of Beyoncé's Lemonade, complete with fierce yellow dress and baseball bat. Titus calls his segments "Furiosity" and "Whatevers" and they're both amazing.
Sample lyrics: "What's worse, being heartbroke or roach bit? Heartbroke or roach bit?!"
01
"Peeno Noir"
Can anything usurp "Peeno Noir"'s reign at the top? If Lemonade can't do it, we're not sure anything can. This season one music video cemented Burgess as the secret MVP of Kimmy Schmidt. Listing off randomly hilarious things, punctuated by a soaring chorus, this "ode to black penis" is truly a masterpiece. It even inspired a parody video from fellow Netflixers, the Orange Is the New Black cast.
Sample lyrics: "Caviar, Myanmar, mid-sized car / You don't have to be popular / Find out who your true friends are / Peeno Noir."